Estimated read time: 3-4 minutes
This archived news story is available only for your personal, non-commercial use. Information in the story may be outdated or superseded by additional information. Reading or replaying the story in its archived form does not constitute a republication of the story.
HERRIMAN — When a Herriman family faced a traumatic event, it could have torn them apart. Their lives changed dramatically, and they questioned everything.
"July 17, 2017, and it was just like a normal day," said Taylor Cutler, a senior at Herriman High School. "We drove up Yellow Fork Canyon. We went flying down the canyon, and I just turned really quickly and I rolled my car."
Maren Cutler, Taylor's mother, remembered, "The phone call was: 'You need to come now, she's been in a serious accident.'"
Taylor, "My whole life was dance; my whole life was being active," Taylor said. "I was like, 'What is a life without, like, your legs?'"
Taylor was paralyzed from the chest down.
Taylor's father, Greg Cutler, said it was hard because he couldn't fix what had happened to his daughter.
In the difficult days and weeks after Taylor's accident, her older brother, Jaden, was devastated. He was starting his college football career.
"I thought about her 24/7," said Jaden Cutler who attends school and plays football at Snow College. "It took me longer to get over it, more than my parents, kind of getting used to it, not over it, but more like accepting it."
The night of the accident, Jaden had offered Taylor a kindness: the keys to his car. He never dreamed her joy ride with a friend would go so wrong.
"For a long period I thought it was my fault," Jaden said.
At home, 12-year-old Brock and 8-year-old Boston tried to understand.
"I was feeling sad. Because then she couldn't like, play with us, come downstairs, wrestle or anything like that," Boston said.
Brock tried to be strong, but inside, he struggled.
"I felt like really sad, because she couldn't like walk anymore," he said, crying.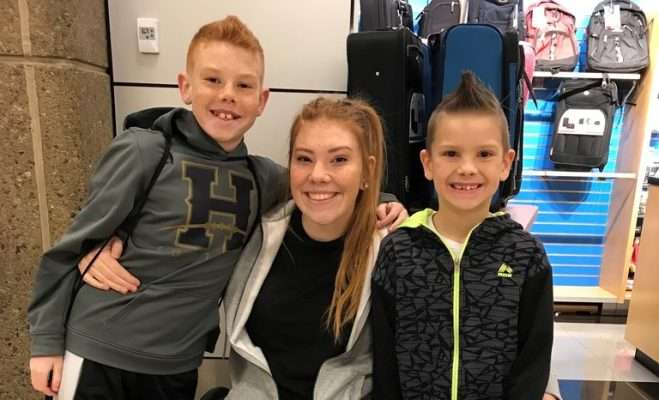 To help them cope, Taylor gathered her brothers together to set things straight.
"I just wanted them to know that I'm the same person," she said. "I'm still Taylor, I'm still me. I can still tease you. I can still fight with you. Like, I'm still the outgoing girl. I'm still the crazy, talkative girl."
Then, there was progress.
"My little brother like pushed me, and I was like, 'thank you,'" Taylor said. "I was just like, 'see, this is normal.'"
They began discovering something remarkable.
"They're still pain in the 'you know what' kids. Everyone's wanting to come home more. Instead of, hanging out with their friends a little less. I don't know," Greg Cutler said. "I've noticed that you don't want to miss out on something,"
---
I just wanted them to know that I'm the same person. I'm still Taylor, I'm still me.
–Taylor Cutler
---
Taylor and Jaden have found their same sibling rhythm, laughing and teasing each other on FaceTime while he's away.
They've also found the most important things are intact.
"Last summer was when I finally was home, and got to see how she lived," Jadon said. "She's very independent. She does stuff on her own, and it makes me happy."
And their bond is unbreakable.
×
Photos
Most recent Utah stories