Estimated read time: 5-6 minutes
This archived news story is available only for your personal, non-commercial use. Information in the story may be outdated or superseded by additional information. Reading or replaying the story in its archived form does not constitute a republication of the story.
LOGAN — Coming from his California high school football team and driving through the canyon into Cache Valley where he was to play for Utah State University more than 40 years ago was a magical moment for Eric Hipple.
The magic continued for four years as the university's starting quarterback, surrounded by a close-knit team and supportive coaches and staff.
But darkness that had shadowed Hipple throughout his life moved in, essentially keeping him in bed for an entire semester. Only the visits from his teammates and coaches brought him light, and eventually the young athlete pulled himself up and completed summer classes in order to remain eligible to play football.
"But I never asked and it was never discussed what had caused me to miss class in the first place," Hipple said Thursday, speaking to graduates at his alma mater.
Depression.
That wasn't the only time Hipple found himself buried beneath mental health obstacles, and he spent many of the years that followed battling inwardly, self-medicating and doing what football had taught him to do.
"I never learned anything about depression. But when I was knocked down, I would always get back up."
Thursday Hipple shared encouragement with the class of 2019, as well as the lessons he said have been "most valuable" in his life, assuring the students "mental illnesses are treatable."
"The sooner the recognition the better, and many are treatable through just talk therapy," he said, explaining that the neural connections in the brain make humans "problem-solving wonders."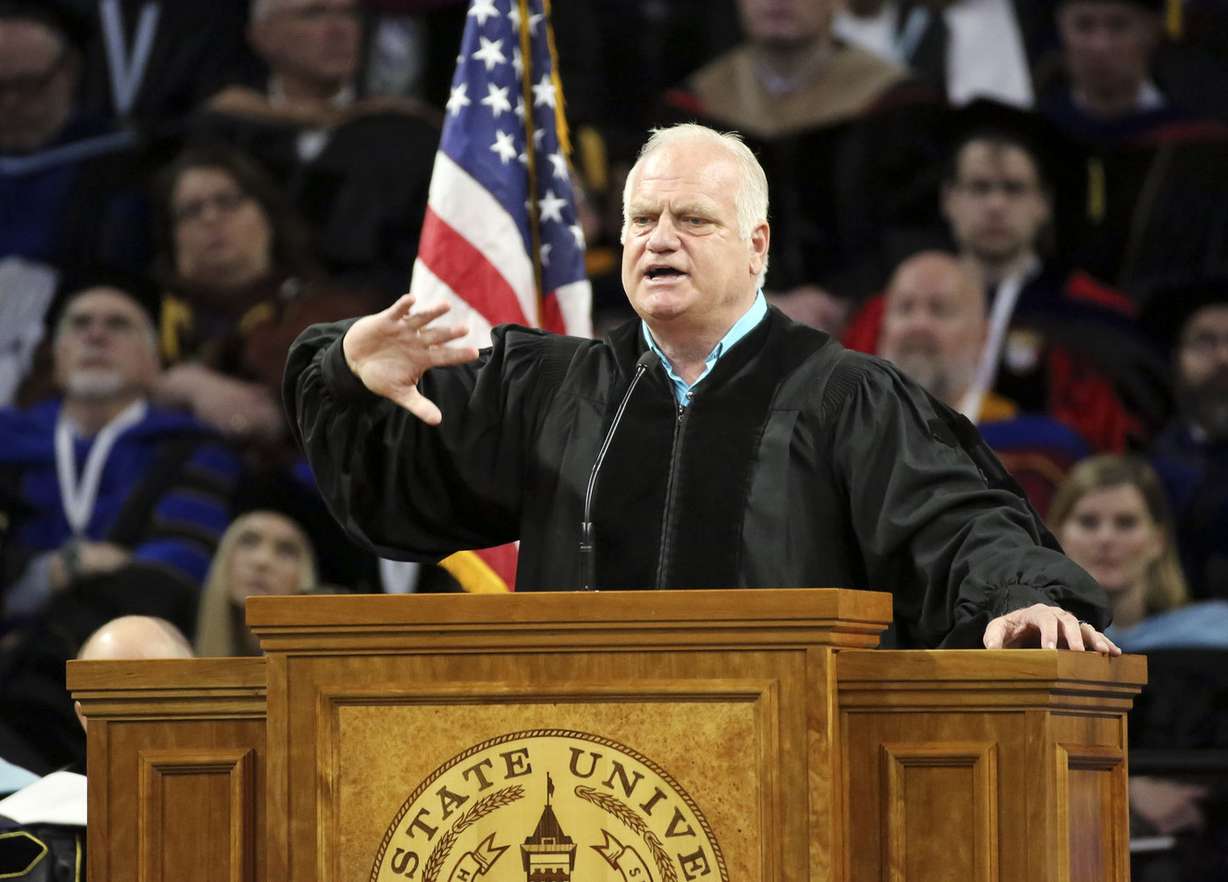 He urged the graduates to identify the barriers to their problem-solving abilities, like stress and anxiety, and to strengthen themselves psychologically just as they would physically, striving to be "mentally fit."
"Mental health is a continuum, it is not a diagnosis. It is defined as a state of well-being and a sense of who you are," Hipple explained.
After graduating from Utah State he was drafted in 1980 by the Detroit Lions, was named the Lions' MVP for the 1981 season, and played for 10 years that included two playoff bids and a divisional championship. His time with the team included being sidelined by injuries for two years, until Hipple returned as a starter but in his first game threw two touchdowns — for the opposing team — and was cut the next day.
Hipple fell back to his USU degree in business administration and started his own company, but "transitions can be very tough," he said. From age 9 to 32 he had been a football player, and he struggled to be anything else.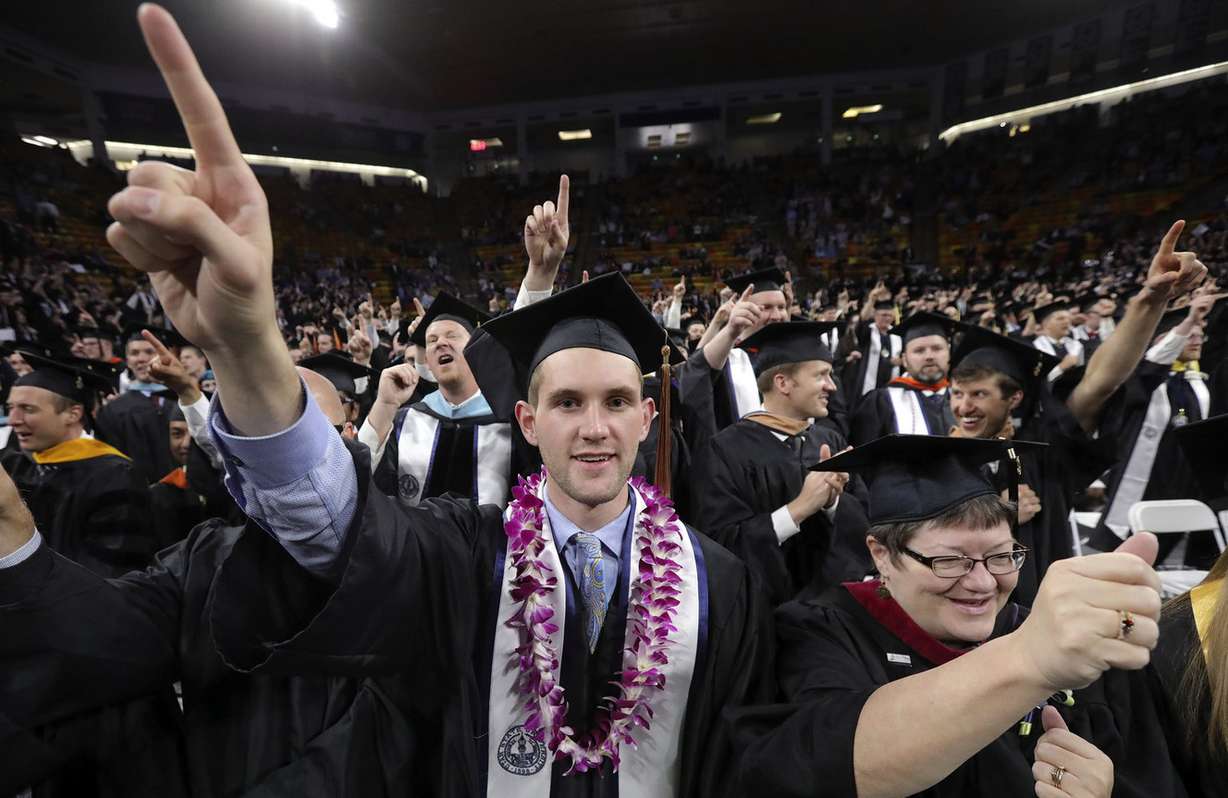 He was still trying to define himself and manage his own mental state in 2000 when his 15-year-old son, Jeffrey, was fighting his own battle against depression.
"It was on a Saturday morning at 6 a.m. that I woke him to say goodbye because I was leaving on a business trip. And he had tears in his eyes, and I told him, 'When I get back we'll figure this stuff out,' and I left," Hipple recalled.
The next day, Jeffrey took his own life.
Hipple passed several self-destructive years after that, until he came to the University of Michigan Depression Center, where he received treatment and participated in therapy for the first time.
"That was a term that had never been in my vocabulary," Hipple said, emphasizing the word "depression" in the center's name. "Mental illness and brain illnesses have names, and mine was depression."
The progress and self-discovery he found there led to 11 years working at the center and a book chronicling his football career, the tragedies in his life and his personal rebuilding.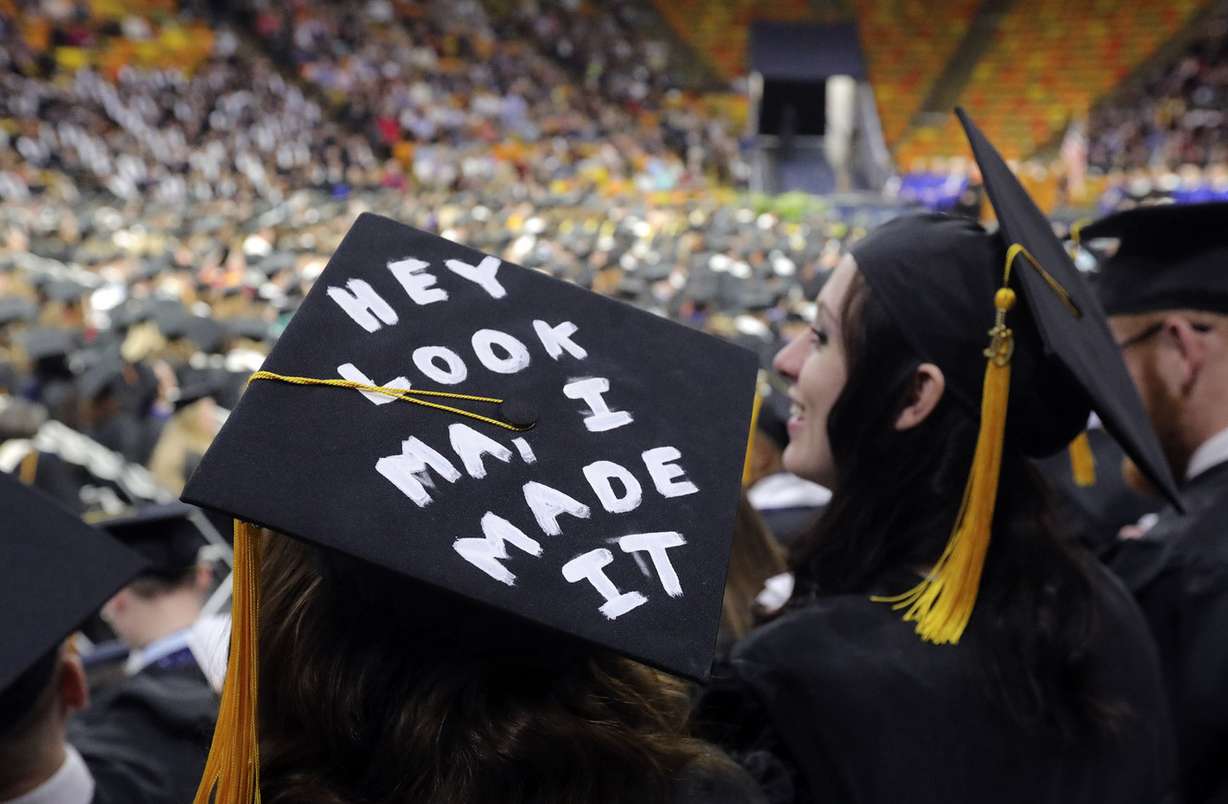 Hipple left the graduates with a final message of encouragement, urging them to "be committed."
"Be committed to others. Be committed to yourself. Be committed to something spiritual. Be committed to life."
Utah State President Noelle Cockett praised the graduates and took a moment to remember the many individual and shared experiences that brought them to graduation day, asking for a show of hands from students who got married or had children while in school, worked one or more jobs, volunteered, found a mentor, and attended campus activities or sporting events.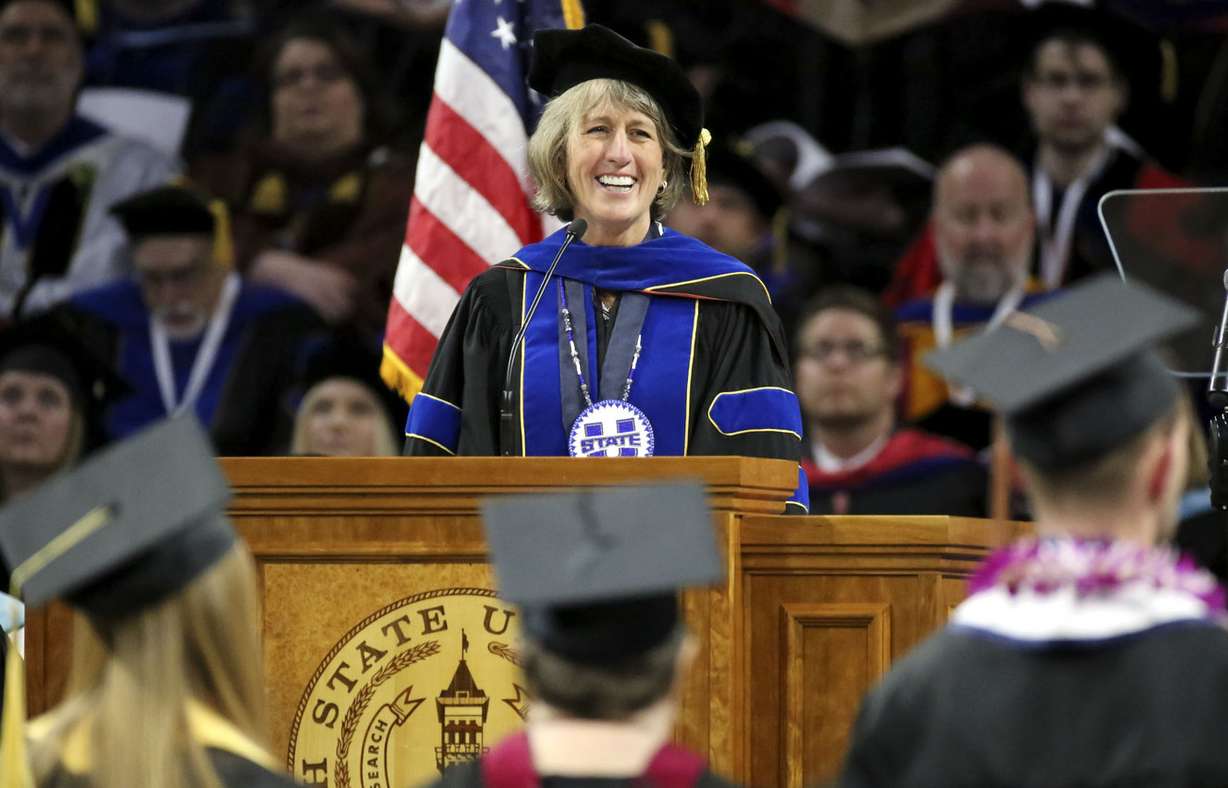 This year the university is conferring 1,095 graduate and 6,009 undergraduate degrees, Cockett noted. Of those, 57 percent are female, she said to applause.
Along with Hipple, two other USU alumni received honorary doctorates.
Author and philanthropist Mehdi Heravi left his home in Iran with a dream of pursuing an education in the U.S., including studying political science at Utah State where he received both bachelor's and master's degrees from in 1963 and 1964. His ongoing support of the university includes several scholarships he established. After graduation, Heravi returned home to serve as vice president at the National University of Iran, according to a Utah State news release. Following the Islamic Revolution, Heravi turned to philanthropy and humanitarian work, including supporting an orphanage in northern Iran and working with several organizations related to cerebral palsy, a disease that affects his son.
Ronald W. Jibson worked for 36 years at Questar Corp. (now Dominion Energy), including as chairman, president and CEO, before he retired in 2016. Jibson studied civil engineering at Utah State and earned a master's of business administration from Westminster College, according to the news release. His service in the community has included participation on several boards, including the college's board of trustees, where he served as chair, and USU's College of Engineering Advisory Board. He has supported endowed scholarships at the school.
Correction: In an earlier version, Eric Hipple's surname was misstated on second reference as Higgins, and his son Jeff was misidentified as James.
×
Photos
Most recent Utah stories