This archived news story is available only for your personal, non-commercial use. Information in the story may be outdated or superseded by additional information. Reading or replaying the story in its archived form does not constitute a republication of the story.
IVINS — It's a sure-tell sign of summer in Utah — firefighters clad in green and yellow.
Although it's not quite summer yet, it's definitely time for wildland firefighting crews to start getting ready for it. Several fire crews in Southern Utah participated in a training Saturday to prepare for the upcoming wildfire season.
"Fire season is only about a month away," said Charles Peterson, a firefighter with the Santa Clara-Ivins Fire Department. "This is a good opportunity to get engines out and get the equipment running."
During the training, crews spent time in the Kayenta area working on fire trucks, pumping water and going through different scenarios.
"Kind of knock the rust off and get everybody ready for the upcoming fire season," Washington County Fire Warden Adam Heyder said.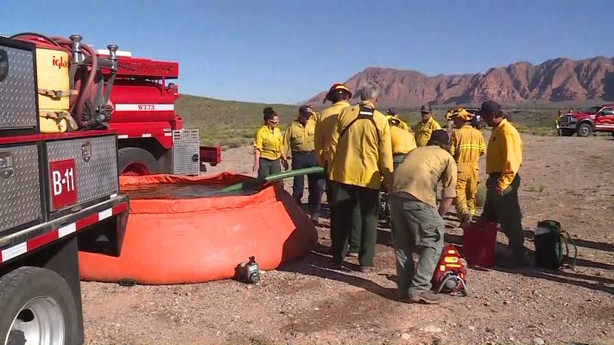 Utah had a lot of rain and snow this winter, which caused a good amount of vegetation to grow. That vegetation will eventually dry out and become possible fuel for a wildfire.
"There's potential there to have large, fast-moving grass fires throughout the fire season," Heyder said.
A big part of Saturday's training included visiting homes in Kayenta where the desert meets houses. Crews simulated going door to door, looking at escape routes and predicting where a fire could burn.
"There is a lot of potential for fire here," Peterson said.
And because local departments usually are the first crews on a fire, they practice together to get used to each other.
"It's super important for multiple agencies to come together," said Santa Clara-Ivins Fire Lt. Mark Youngberg. "The more we can train together, the better we work together in real life scenarios."
No one knows for sure what the fire season will bring this year, but fire crews train as if it's going to be the worst one on record.
"That's how we train," Heyder said. "We have to have that kind of mindset going into every fire season so we're prepared and things don't catch us off guard."
Read more:
×
Related Stories