This archived news story is available only for your personal, non-commercial use. Information in the story may be outdated or superseded by additional information. Reading or replaying the story in its archived form does not constitute a republication of the story.
PROVO — Next door to Thursday's commencement and convocation exercises at BYU's Marriott Center, there was a reunion of former Utah Valley basketball historians.
Blink and you may have missed it — but it's hard to miss a pair of 6-foot-10 coaches in brand-new business suits.
But Thursday was the day former UVU coach Mark Pope, who now holds the same position at BYU, brought in two former assistants in Chris Burgess and Cody Fueger to meet the media, tour the Marriott Center Annex, and finally put to rest who won the competition for the only assistant coach's office with a window (spoiler: it was Burgess … but more on that in a moment).
It was also the day Nick Robinson, the former head coach at Southern Utah, was introduced to a small crowd of reporters, athletic department personnel and visiting family members while thousands of students were receiving degrees on the other end of the Marriott Center plaza.
Conner Toolson, who recently capped off his senior season at Utah Valley, and Hayden Schenck, the oft-injured UVU hooper who also has an MBA from the school, were both there to support their former coaches in their new positions.
And about an hour after the three-man press conference, Trey Stewart — the former American Fork standout who had previously committed to Utah Valley — committed to play for Pope at BYU upon his return from a two-year mission for The Church of Jesus Christ of Latter-day Saints in England.
So if it felt like a UVU reunion — well, it's easy to see why.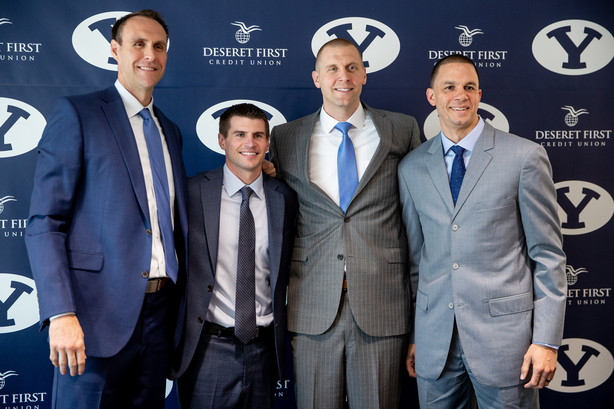 Maybe that's by design, though. Continuity isn't a bad thing as Pope takes on his second head coaching challenge of his career, tasked with bringing the Cougars back to the NCAA Tournament after a four-year absence and the departure of arguably the greatest coach in program history, Dave Rose, who had a .720 winning percentage spread out across his 14-year career as a head coach.
But dogged as he is, both as an assistant and with the Wolverines, Pope is going to try. And the staff he brought in has him optimistic.
"I think we've put together a staff that will do BYU men's basketball extraordinarily proud," Pope said by way of brief introduction of his trio of assistants. "I have guys who incredibly devoted to pursuing greatness here, that are fully capable as coaches, both in the film room and on the court."
Burgess and Fueger aren't alone, especially to Pope. Both were on his staff at Utah Valley, and Fueger followed the 6-foot-10 coach from BYU the first time, when he served as director of basketball operations.
So the chance to follow Pope — again — back to Provo was an easy choice.
"I've been here before, and playing in the Marriott Center, this place is amazing," Fueger said. "Being able to work with coach Pope again is second to none. I didn't want to work with anyone else."
Burgess is well-known in Utah, first for having spurned former BYU coach Roger Reid to sign with Duke, and then returning to the Wasatch Front to play a role in some of the great University of Utah men's basketball teams under the late legendary head coach Rick Majerus.
But no, he did not have to buy a new suit or the royal blue tie he wore Thursday afternoon. Even his friends from the University of Utah — past players like Casey Jacobson and Britton Johnsen — have been supportive of the latest career move for the Utah County resident.
"I have a lot of suits," he said with a smile. "I've lived in a lot of different places over the years. But I've had this blue suit and this blue tie, I promise."
Even college basketball fans in Utah know Robinson, if for nothing more than his four-year stint as the head coach at SUU. He flew in to Salt Lake City International Airport two hours before meeting the media, and he and his wife Megan are still preparing to leave their home in Seattle to return to Utah.
But he's also excited to get back to work in a state he's known well, even if the Missouri native elected to sign collegiately with Stanford over offers from a then-brand-new BYU coaching staff that included Steve Cleveland and Dave Rose in the summer of 1997.
This time, Robinson, who is a member of The Church of Jesus Christ of Latter-day Saints that served a mission in Brazil, found himself back home, as someone who has followed BYU basketball all his life before the possibility of coaching in Provo was anything more than a remote possibility — even when he and Pope first met each other as director of basketball operations 10 years ago in the SEC, with Robinson at LSU and Pope at Georgia.
"Everything here is brand new to me," Robinson said. "Obviously, I've been familiar with the program over the last couple of years. But I'm asking a lot of questions, which has been a great thing."
So back to that office contest.
Robinson wasn't involved in the shoot-for-the-window mini-sporting event in the Marriott Center Annex. If he had been, the Stanford product who still owns one of the top-10 shots in Pac-12 history might be looking at his window right now.
Instead, the office went to Burgess, though Fueger heaped the blame on a variety of factors, including his loafers and the fact that he shot from the post-friendly middle of the floor.
"If I had shot from the corner, it would've been a no-brainer," Fueger joked. "I would've won that thing easy. But we shot from where he shoots it all the time.
"Just for three months, though; then we are going to do it again."
Like a group with immediate camaraderie and chemistry, Robinson immediately interjected.
"Hopefully I'll be in the building this time," he said into the blue microphone sitting directly in front of him.
Fueger and Burgess looked at each other, then Fueger responded with a quip.
"Nick will be picking up a recruit, and we'll go, 'OK, Burgs, let's go,'" he said.
So maybe it's not all a good-natured coaching friendship.
×
Photos
Related Stories