This archived news story is available only for your personal, non-commercial use. Information in the story may be outdated or superseded by additional information. Reading or replaying the story in its archived form does not constitute a republication of the story.
SALT LAKE CITY — As rescuers expressed concerns Monday about the increasing danger posed by rushing rivers and streams in the coming days and weeks, one man hoped the story of his late wife would help bring attention to the risk.
On April 23, 2017, Lenny Feldman was with his wife, Liudmila "Lucia" Feldman, when the swift waters of the creek at Tanner Park, 2760 S. Heritage Way, began to sweep their dogs away.
"It was horrible," Feldman recalled. "The water just grabbed you and we were trying to get the dogs out and Lucia just made a step and the water hit her out, and that was it."
The dogs, named Russia and Maria, somehow survived, though Feldman's wife did not.
"Lucia was an absolutely great helper," he said. "I miss her so much."
Wayne Bassham with Salt Lake County Sheriff's Search and Rescue said crews remain worried about the potential for problems with anticipated high-running water over the next two months.
He cautioned people to not go within 10 feet of flowing water without a life jacket, to always remain within eye distance of others in their group, and to be firm that children not go beyond pre-determined boundaries. If someone does go into the water, Bassham said to call 911 immediately.
Bassham said if someone can reach the person with a stick or a tree limb, that is a good first option. A second option could be to throw someone a floatation device, following the concept of "reach, throw, row, go."
Feldman said after his wife's drowning, he questioned why there weren't more warning signs about the potential high water danger and hired a lawyer to look into it further, but he was eventually told nobody was at fault for what happened.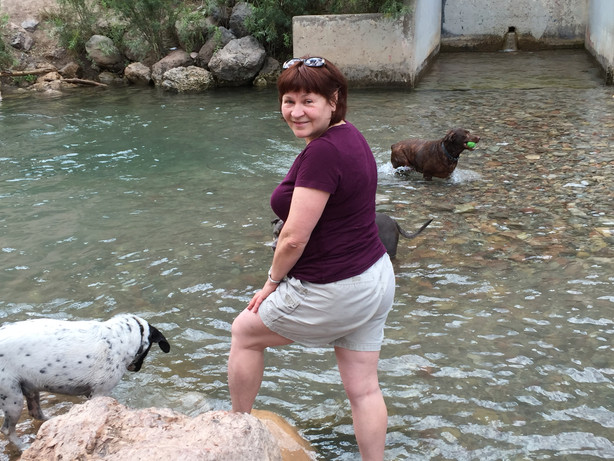 Feldman, who works as a ski instructor, said he was grateful to those at the ski school at Solitude Mountain Resort for offering support after his wife's death.
"I couldn't believe it but the whole school came for her memorial — even one of the general managers, ski school director, everybody," Feldman said. "They make like a wall to protect me. The ski school director — he's a very good guy — he lived together with me for three days, bringing me to the toilet, bringing me to feed me."
Feldman hoped others would learn from his story and pay attention to the dangers.
"There's going to be a lot of water and it's again going to be very, very dangerous," Feldman said. "I don't know what to say more."
×
Photos
Related Stories