This archived news story is available only for your personal, non-commercial use. Information in the story may be outdated or superseded by additional information. Reading or replaying the story in its archived form does not constitute a republication of the story.
Editor's note:This article is a part of a series reviewing Utah and U.S. history for KSL.com's Historic section.
SALT LAKE CITY — Twenty years ago Saturday, the seemingly unimaginable happened. Two students entered their high school and murdered 12 classmates and one teacher, as well as injuring 20 others before they took their own lives.
While Columbine High School (Littleton, Colorado) shooting was hardly the first ever school shooting or even mass shooting, it was the largest mass shooting at a public school in modern U.S. history (at the time). Sadly, it seemed to signal a new normal in the U.S.
Here's how Utahns reacted in the days after the shooting and how Columbine changed how we view school safety:
Days before Columbine
For some Utahns, the idea of mass shootings and protecting students from gun violence were already fresh on their minds.
On April 15, 1999, five days before Columbine, a 70-year-old gunman walked in the LDS Church Family History Library in downtown Salt Lake City and fired shots. A Deseret News report stated there were more than 200 people inside the library at the time of the shooting and 179 fourth-grade students from two schools on a field trip at the nearby church museum. Mass hysteria broke out.
"I was thinking everybody was going to die. I thought I was going to die," one 10-year-old student said, according to an April 16, 1999, edition of the Deseret News.
In the end, the shooter gunned down two people and injured three others before he was killed by police.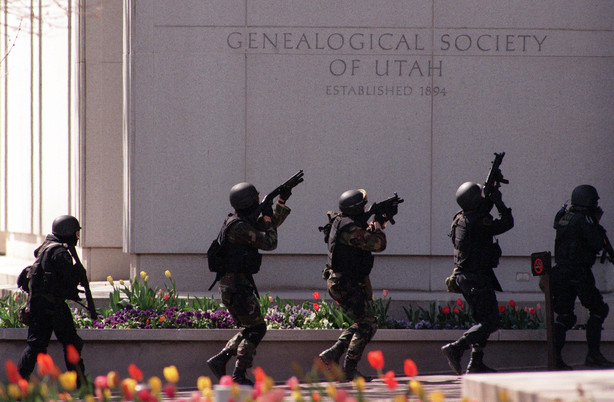 The chaos of the day continued later on, as police found a vehicle they thought may have contained a bomb. Park City Police Capt. Phil Kirk, who was a Salt Lake police lieutenant at the time, said officers were understandably concerned. It was just four years after the Oklahoma City bombing and the truck was awfully similar to the one used at the Alfred P. Murrah Federal Building.
The vehicle turned out to just contain gas used to help the driver avoid making fuel stops and didn't pose a threat, but a controlled explosion was still carried out.
Police later said the shooter was mentally ill. In response to the incident, then-Salt Lake Police Chief Ruben Ortega told media he believed there was a problem in the system that allowed the man access to purchase a firearm.
"We need to bring a little more control to the situation. This is not only a loophole in the law, it is a gaping hole," he said at the time.
Utah reactions to Columbine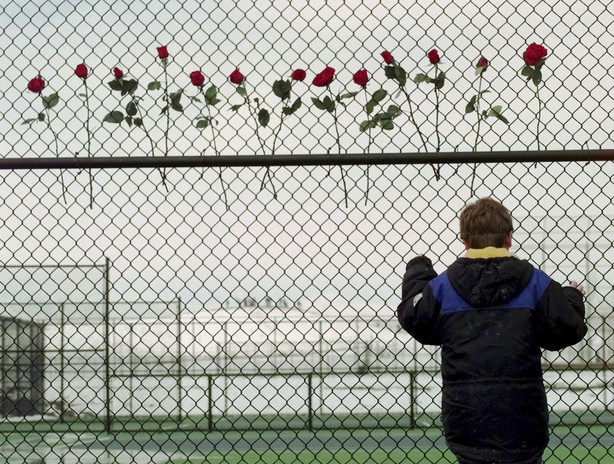 As word of a shooting at Columbine High School broke out, TVs everywhere aired the helicopter footage of students running from the school with their hands up as officers cleared the school. One broadcaster sighed relief as signs of life from the school were first seen.
Much like the rest of the world, Utahns were stunned by the news about the shooting. There were vigils and serious discussions. Many people wanted to know how something like that could happen.
Here were some of the opinions about the shooting reported by local media outlets:
How policies changed after Columbine
On Wednesday, when police responded to a report of possible shots fired not terribly far from a West Jordan elementary school, a shelter in place was issued for that school. That meant nobody was allowed in the school and an officer was dispatched to patrol the front doors.
The incident turned out to not be much, but with the anniversary of Columbine on people's minds and the unfortunate reality that school shootings exist, West Jordan Police Sgt. JC Holt said officers would rather be safe than sorry.
"We'd rather have too many officers and have it turn out to not be something than not send enough and not take the threat seriously," he told media outlets.
Kirk said authorities — not just in Utah but all over the country — realized after Columbine, they needed to change how they handled similar shooting situations in the future. Prior to Columbine, police traditionally had a standard procedure for threats, he explained. Officers would arrive on the scene, contain it and call in for a SWAT team to tactically enter a building. That's exactly the process taught when Kirk was a Salt Lake City police officer. He was there when tactics began to shift in Utah and elsewhere.
"After Columbine, pretty much all police departments decided that delay in getting an emergency response team to make tactical entry could mean there unnecessary losses of lives," Kirk said. "All departments, including Salt Lake City PD, looked instead to having the initial officers — even ones who don't maybe have the benefits of complete training in the equipment, strategy and tactics of a SWAT team — that it was our responsibility to form up mini entry teams of one to three officers to go in and do what we could to make it safe, and that might be deadly force against the perpetrators."
Police did train for mass shootings and active shooters before Columbine, but they became increasingly prevalent. School resource officers became more crucial and awareness continued. As an ABC News article from 2004 pointed out, some schools also installed metal detectors and some overhauled their security systems. Others made it possible that there was only one entrance into a school building, or installed more security cameras or drew up crisis plans.
---
After Columbine, pretty much all police departments decided that delay in getting an emergency response team to make tactical entry could mean there unnecessary losses of lives.
–Park City Police Capt. Phil Kirk
---
Unfortunately, post-Columbine safety changes haven't completely stopped school shootings and Columbine is no longer the deadliest mass school shooting in modern U.S. history. But there has been an improvement to response since Columbine. In 2013, the FBI wrote that more than one-third of 35 active shooter incidents in 2012 studied were ended within 5 minutes and nearly two-thirds within 15 minutes.
Utah's Legislature turned to phones to try to address the problem of school violence. In 2016, the state rolled out the SafeUT app, which allows students to anonymously leave tips of potential school threats. There were 534 potential school threat tips reported in 2018, according to the Utah Office of the Attorney General.
Sen. Daniel Thatcher, R-West Valley City, who sponsored the 2015 bill that created the app, told KSL.com earlier this month that the app is working to save lives.
"Now that we have the head's up and now that we have the way of knowing when these bad things are happening, we're able not only able to intervene and stop the potential for violence, but as importantly, we're able to give those kids who are having those thoughts … help," he said. "We're able to get them into counseling. We're getting to the root of what is leading to these thoughts of violence."
×
Related Stories