SALT LAKE CITY — Body camera footage and 911 call recordings released Friday gave more context to the chaos in downtown Salt Lake during a nearly 20-minute spree involving a "rolling active shooter" incident prior to a South Salt Lake officer-involved shooting on April 8.
However, there's still an open investigation into how the fatal officer-involved shooting was handled.
Harold Vincent Robinson, 37, of West Valley City, was shot and killed by police after he crashed his pickup truck at 3339 S. State in South Salt Lake following the series of reported shootings in downtown Salt Lake.
Fifteen total officers from South Lake and Unified police, as well as Utah Highway Patrol, remain on paid administrative leave, while West Valley City police review the officer-involved shooting.
A series of shootings
At 10:42 a.m. on April 8, emergency dispatch received the first of 65 calls about shots fired in downtown Salt Lake.
A man parked a white pickup truck at the Sheraton Hotel, 150 W. 500 South, drank from a bottle of beer and then got out of the truck and began firing "numerous rounds" from a long gun "upward at the hotel," Salt Lake Police Capt. Jeff Kendrick said. Nobody was hurt in the shooting, but it did create pandemonium.
"There was somebody just shooting at the Sheraton (Hotel) in downtown off of 500 South," a woman told dispatch. "They were driving an old truck. It looks like a Ford. I think it was white and blue. I'm not sure if there's any casualties. … I saw the gun, I saw them shooting."
From there, police said there were shots fired at various locations in downtown Salt Lake. "To my knowledge, this is the first time we've dealt with a 'rolling active shooter' in the downtown area," Kendrick said.
Kendrick went over the calls police received:
136 S. Main: A man reported he heard two shots fired from what he said "sounded like a rifle." Surveillance videos from the 111 S. Main building show Robinson's truck went around stopped traffic by driving on a TRAX line at the City Center station and nearly collided with a cyclist on 100 South shortly before the shots were fired
270 S. State: Marriott Hotel employees saw him fire several rounds outside of the hotel. One shell casing was found on the scene.
500 S. State: Robinson was observed throwing a glass bottle out of the pickup truck window. He then got out of the vehicle and shot "numerous rounds into the intersection with a long gun.
500 S. 200 East: The driver was observed pointing a long gun from the driver's side window before he fired rounds at Geo Prizm in an adjacent lane. Two people inside the vehicle were uninjured and words were exchanged between the drivers of the two vehicles and more shots were fired toward the vehicle, Kendrick said. The white pickup then went the wrong direction down a one-way road and continued firing shots.
500 S. 300 East: The first officer reaches the white pickup and observes the driver shooting a gun while driving. Shots continued to be fired as the vehicle fled from police.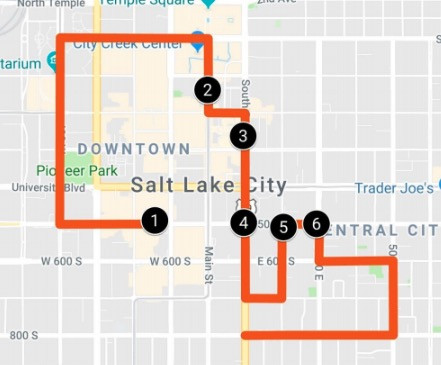 The pursuit was captured in real time by Utah Department of Transportation cameras as the white truck moved back onto State Street. Body camera footage picks up audio of shots fired as police chase the pickup truck. One officer states: "He's firing. Back off."
As the chase continued, Robinson ran a red light and his truck is seen nearly striking a pedestrian crossing at 1300 S. State. One of the officers notes the man is driving with an AR-15 in his hand and he's "weaving around lanes." There are notes that spike strips were placed at 2100 South and again at 2700 South that the pickup truck weaves past.
At 3300 South, a Salt Lake police officer tries a PIT maneuver to end the pursuit. An officer in the passenger seat of the vehicle South had his body camera rolling.
"There it is. There's the truck," he tells the officer driving. "Go up. Go up. Go up. OK. Hit him! Hit him! Hit him!"
The vehicles collide and the truck loses control and crashes into the building seconds later.
Officer-involved shooting and investigation
All Salt Lake police officers had body cameras, but only three officers had body cameras rolling at the time of the fatal officer-involved shooting. None of the videos give a clear look where Robinson was at the time officers fire shots.
The videos do offer different perspectives at the end of the pursuit.
One of the videos indicates officers fired toward Robinson's vehicle for close to 20 seconds, another shows Robinson lying on the ground outside of his truck with multiple bullet wounds and the other indicates the series of "rolling active shootings" took place in less than 15 minutes, giving a sense of the timeline of the entire timespan.
Robinson was pronounced dead at the scene. It's unknown how many bullets struck him, Salt Lake police public relations director Christina Judd said.
A long gun, shell casings and cash were found nearby, Kendrick said. The use of deadly force remains under investigation.
An internal investigation review will look into why other officers didn't have their body cameras on at the time of the officer-involved shooting, Judd said.
"We have some evidence and Force Science (Institute) studies have shown that there is some correlation between some high-stress environment — like the one they encountered — and the cognitive displays of action time, so we will look into that," she said.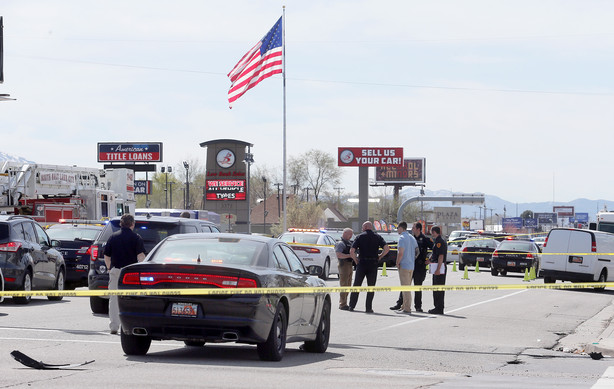 Officers learned Robinson's vehicle matched the description of a suspect vehicle in armed robberies at convenience stores in Taylorsville and Millcreek earlier in the morning in the middle of the State Street pursuit, Judd added.
The Unified police investigation of the robberies and the Salt Lake police investigation of the "rolling active shooter" remain under investigation.
Court records show Robinson had a criminal history in Utah dating back the past two decades, including some violent crimes.
He was convicted of committing assault, a class B misdemeanor, in 2017. He was later sentenced to 12 months of probation and required to complete an anger management course and was not allowed to possess any weapon or firearms during that time.
Robinson was found not guilty in another assault case in 2014. In 2003, he pleaded guilty to assault with substantial bodily injury, a Class A misdemeanor. As a part of the deal, two first-degree felony aggravated kidnapping counts and a second-degree felony robbery count were dismissed.
In a statement, Robinson's family said he had dealt with mental illness and was treated at a mental health facility and "trying to get back on track" prior to the April 8 shootings. They also apologized for the series of events that led up to the officer-involved shooting.
"We pray that this tragic event will increase awareness of the damages (of) mental illness and the effects it has on the community and the individual's family," Robinson's family said.
×
Photos
Related Stories