This archived news story is available only for your personal, non-commercial use. Information in the story may be outdated or superseded by additional information. Reading or replaying the story in its archived form does not constitute a republication of the story.
Update: State Street at 3300 South reopened Tuesday morning following Monday's incident, the KSL Traffic Center confirmed.
---
SALT LAKE CITY — A man is dead and an officer suffered minor injuries after shots were fired at a Salt Lake hotel and police chased a vehicle to South Salt Lake Monday morning.
The driver of the vehicle was identified by police as Harold Vincent Robinson, 37, of West Valley City.
Shots fired
Police responded to reports of shots fired at a Sheraton hotel near 150 W. 500 South about 10:45 a.m., Salt Lake County Sheriff Rosie Rivera said.
Lauren Bennett, a Deseret News reporter, was in the parking lot of the McDonald's across from the hotel when she heard the gunfire.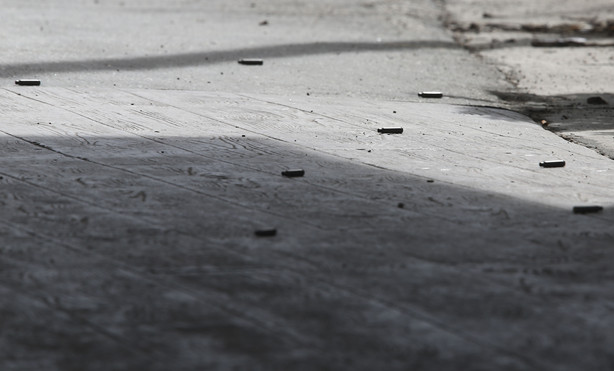 "It was terrifying," Bennett said. "From what I saw, he was just firing at the entrance of the hotel. He was in the driveway part at the front entrance of the Sheraton and just opened fire, shooting.
"It was absolutely rapid fire," she added. "I don't know guns very well, but I know that for a fact. It was like, 'pop-pop-pop-pop-pop.' It was very quick. … It was not intermittent at all."
When officers arrived, they spotted a vehicle that was fleeing the scene and began pursuing.
Pursuit down State Street
Officers chased the vehicle across the city and southbound along State Street as the driver fired a rifle out the window toward police, Rivera said. One officer suffered minor injuries from the ricochet of a bullet, but was not transported to the hospital.
Bystanders said they ducked for cover as they heard the shots echo down the busy street. Phillip Wesley told KSL TV he was driving south on State Street looking for somewhere to eat when he saw the man with his rifle out the window. He tried to pull a U-turn but wasn't able to move very far.
Raw video of police chase
"I just ducked down. I was just scared. I'm not gonna lie to you. I just ducked down. I couldn't do much else," he said.
Toni, another witness who has asked to be identified by her first name only, told KSL reporters that she heard the shots and immediately ran into a nearby business where other shoppers were also taking cover. She said she soon saw a slew of cop cars traveling down the road.
The chase ended when the driver crashed into Princess Alterations at 3339 S. State St., according to Utah Department of Transportation cameras. He died on scene and was identified by police as Robinson late Monday afternoon.
Officer-involved shooting
Rivera said there was an "officer-involved" shooting, but police would not say whether Robinson died from the impact of the crash, from an officer's bullet or some other cause.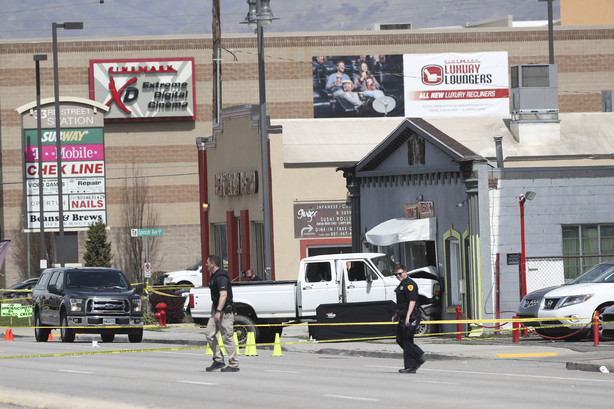 Thaer Mahdi, the owner of Princess Alterations, told KSL TV he can't believe what he witnessed.
"I just heard all the noises and explosions, and just everything was being thrown at me," he said through his son Bassam Hassan, who was translating. "I just froze in my place. (I was) just shaking."
Mahdi said police officers had to pull him through a broken window to get him out of the building. "I saw the person lying dead there on the ground," he said.
Mahdi told KSL he never thought he'd see violence like that again. It was "you know, (gun)fire, like back home in Iraq," he said.
Thaer Mahdi was just doing his daily business at Princess Alterations & Leather Work in South Salt Lake Monday when a truck crashed into his storefront and bullets started flying...@KSL5TV#KSLTV#Utah

Photojournalist: @TannerSiegworthpic.twitter.com/azyA2I7bVN

— Andrew Adams (@AndrewAdamsKSL) April 9, 2019
#aad_tweet
Investigation
State Street was closed southbound at 3300 South and northbound at Ford Ave (about 3400 South) so officers could investigate the area where the crash and final gunfire occurred. As of 11 p.m. Monday, UDOT's Commuterlink website showed the road remained closed.
Officers had earlier received reports of an armed robbery at a Holiday Oil in Taylorsville, 2729 W. 4700 South, then received reports of another armed robbery at a 7-Eleven in Millcreek, 3330 S. 700 East, according to Rivera. Minutes later, police received reports of the shooting at the Sheraton. Officers believe the three incidents are related.
One other person sustained minor injuries at 500 South and 200 East, and Salt Lake Police Chief Mike Brown said there are upwards of 15 crime scenes related to the incident throughout the city.
Criminal past
Court records show Robinson has a lengthy criminal history in Utah dating back the past two decades, including some violent crimes.
He was convicted of committing assault, a class B misdemeanor, in 2017. He was later sentenced to 12 months of probation and required to complete an anger management course and was not allowed to possess any weapon or firearms during that time.
Robinson was found not guilty in another assault case in 2014.
#mug_shot
In 2003, he pleaded guilty to assault with substantial bodily injury, a Class A misdemeanor. As a part of the deal, two first-degree felony aggravated kidnapping counts and a second-degree felony robbery count were dismissed.
Salt Lake City police are asking for the public's help to be their "eyes and ears" and report any details of Monday's crimes to their agency.
Contributing: Andrew Adams, Dan Rascon and Tania Dean, KSL TV; Carter Williams, KSL.com
____
Editor's note: An earlier version of this story indicated an officer-involved shooting occurred at the Sheraton. It has since been updated. The Sheraton's address was initially listed as 150 E. 500 South. The article has been updated to reflect that the Sheraton is at 150 West. Police also initially reported that someone was injured during an armed robbery in Millcreek. This article has been updated to reflect that someone was injured near 500 S. 200 East.
×
Photos