This archived news story is available only for your personal, non-commercial use. Information in the story may be outdated or superseded by additional information. Reading or replaying the story in its archived form does not constitute a republication of the story.
SALT LAKE CITY — The month of April, as usual, has been prompting hundreds of rock climbers who have been hiding out in gyms for the past six months to mob bouldering areas near Salt Lake City.
Take advantage of warming weather and prime time for climbing and dive into one of the Wasatch Front's many incredible outdoor bouldering areas. Here are some top local bouldering spots to test your finger strength on:
It might not be super visible from the road, but Little Cottonwood Canyon is positively littered with world-class boulders just waiting to be climbed. Secret Garden is one of the most heavily trafficked and is at the very bottom of Little Cottonwood Canyon (40.572, -111.773).
Most beginner and intermediate climbers find out the hard way that outdoor bouldering is quite a bit harder than indoor climbing, but Secret Garden still offers a few good beginner routes. Specifically, it hosts 48 climbs in total; 11 are V2-V3, six are V4-V5, seven are V6-V7, six are V8-V9 and there are three climbs over V10.
The "V" scale simply measures the difficulty of a climbing route, with the numbers indicating ascending difficulty. For example, V0-V3 would be considered beginner, V4-V7 would be moderate, V8-V10 would be advanced and V11+ is expert.
Some highlights include:
Direct North Face of Shothole (V0): This easy climb is located on the central, northern face of the All Thumbs boulder, which is the second largest boulder on the Secret Garden trail. A tougher V0, this problem is a must-do in the area and makes a good project for beginners and a fun warm-up for advanced boulderers.
Twisted (V4): Twisted is one of Secret Garden's most famous boulders and is a stout climb for intermediate climbers and a good challenge for more experienced boulderers. It is located off of the Secret Garden trail on the Copperhead Boulder (in the first group of boulders you come to from the parking lot).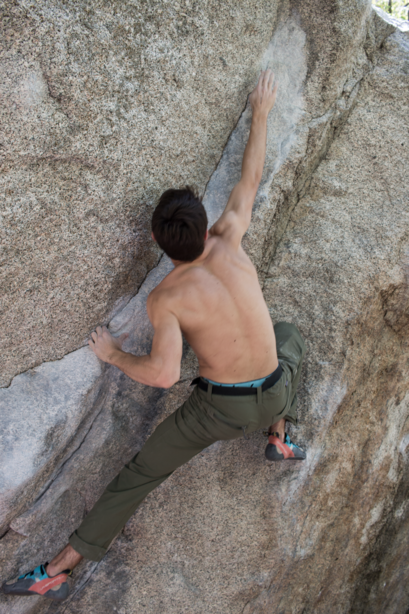 Lances Dihedral (V6): Known to be "a lot harder than it looks," this V6 has a sit-start on a dihedral before moving up and into a tricky ascent up a slab. It's on the Copperhead Boulder near Twisted and can be found close to the parking lot.
Copperhead (V9): Copperhead, as the name hints, is located on the Copperhead Boulder. This tough V9 is on the boulder's overhanging copper face and is located next to Lances Dihedral. It begins with a left side pull and a right crimp, on to another rough crimp, and then into bigger holds up higher.
Five Mile Boulders, as the name describes, is about 5 miles up Little Cottonwood Canyon on the north side of the road (40.572, -111.756). This bouldering area is accessible to all skill levels and has very interesting climbs that make it a heavily photographed and moderately trafficked area.
This area boasts 19 boulders, with five V2-3, six V4-5, two V6-7, two V8-9 and one V10-11 climb. Some highlights include:
Big Mouth (V1+): A deceivingly low rating, Big Mouth is a challenging crack climb on the Split Boulder. Engage both feet in this climb and lie back hard into your hands as you ascend the crack until you reach the top. This problem has been known to cause injuries, so make sure to climb with spotters and a crash pad.
Surfboard (V4): This route ascends a double arete that looks like a surfboard. Small hand and feet holds provide challenging climbing to the top, where it gets a bit easier. Surfboard is a top-rated boulder in 5 Mile Boulders and is a fun project for beginner and intermediate climbers and a great warm-up for experts.
Butt Trumpet (V8): A west-facing climb which is located about 10 feet from Baldy/Kung-fu (another fun route), this V8 is challenging but short. A very technical problem with a lot of slopers and a mantle, this will test finger strength and skill alike.
White Pine Boulders is Little Cottonwood's most heavily populated bouldering area with a total of 85 climbing routes. It contains 13 V2-3, nine V4-5, 17 V6-7, 14 V8-9 and eight V10-11 climbs. Higher up in the canyon (40.575, -111.689), this region is great during the summer when it's too hot to climb at lower elevations like Secret Garden. Some highlights include:
Right (V0+): Located on the south side of Eastern Boulder, Right is the southeast arete. The climb is simple— ascend the arete and top out. This is a good V0 for beginners and a fun warm-up for more experienced boulderers.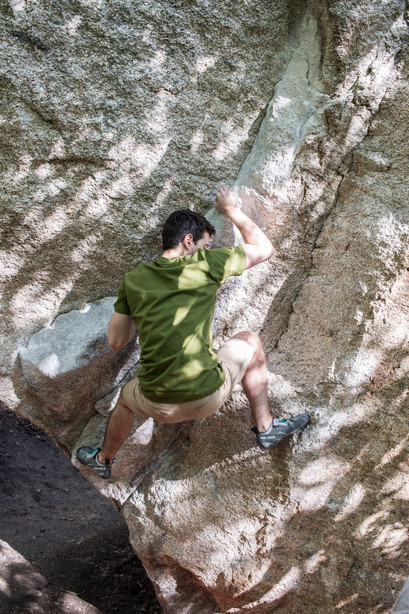 Tequila Sunset (V4): This V4 is the rightmost line on the west face of the Tequila Boulder, which is overhanging. The sit-started climb is a crimpy, enjoyable route for intermediate and advanced rock climbers.
Nest Egg (V6-7): The obvious line on the right of the south side of Nest Egg boulder, this climb is tucked away into a pleasant and shady grove of aspens. This is a strength-intensive route that will test crimp skills in even more experienced climbers.
Matt's Roof (V8): Located on the Matt's Roof boulder, this V8 is in the trees just down the canyon from the Tequila Boulder. It employs a mixture of finger strength on crimpy slab and cave strength, as it begins under an overhang before ascending out onto the roof. As with any climbing excursion, be sure to bring appropriate safety equipment. Bouldering necessitates a crash pad and spotters are highly recommended.
Want to find more boulders in Little Cottonwood Canyon? This list just begins to scratch the surface. Visit Mountain Project or Wiki Boulder for more.
×
Related Stories