This archived news story is available only for your personal, non-commercial use. Information in the story may be outdated or superseded by additional information. Reading or replaying the story in its archived form does not constitute a republication of the story.
THE GREAT OUTDOORS — The best temperatures for climbing, known as "send temps," are quickly approaching. As the weather cools and the leaves change color, it is time to start pulling out bouldering pads and the warm layers.
Though many rope climbers continue to fight the colder temperatures or will begin to travel south, the fall (and even winter) is the perfect time to boulder. Every bit of friction counts when bouldering and the cooler temperatures are optimal for shoe rubber to grip and not making your hands sweat.
Bouldering is a great way to spend the fall because it let's you focus on the details of climbing movement. Often referred to as the most distilled form of climbing, bouldering has not only a great emphasis on technique, but is also a super fun way to spend time with a group of friends outdoors.
No matter what kind of bouldering you are psyched about, Utah is packed full of canyons filled with some of the best bouldering around. Here is a guide to some of Utah's best bouldering, as well as some tips to get the most out of your fall and winter bouldering seasons.
Little Cottonwood Canyon
Little Cottonwood Canyon (LCC) is not only a great place for traditional climbing, but was one of the first areas to develop bouldering near Salt Lake. Scattered below the larger walls above are tons and tons of boulders. Some fell from above and others are the remnants of local quarrying and the sequences will follow the old drill scars. Primarily granite, LCC is definitely the spot for bouldering near Salt Lake and is the best option for a quick session before or after work.
Related Stories:
With a combination of large aesthetic features and subtle inconsistencies in the rock, LCC is the perfect place to improve your body position and refine your footwork. The climbing is not very forgiving and often a slight adjustment can mean the difference between sending and falling.
If you can't get outside all the time, you can prepare in the gym by choosing your problems wisely. Try climbing on hand holds that have very little in-cut, choose problems that follow a feature like an arete and practice using small slope-y feet. Make certain you are prepared to drop your heels and smear on even the smallest of features.
Other Resources: LCC on Mountain Project, The Black Bible
Joe's Valley
A little further from Salt Lake City is the sandstone paradise of Joe's Valley. Littered with boulders, Joe's is located outside of Orangeville about a two-hour drive from Salt Lake. It is a great option for a day trip or an entire weekend and has a variety of grades and styles. Most of the boulders are roadside and well- defined trails abound. Please stay on the main trails.
The boulders seem as if they were sculpted just for climbing in Joe's Valley. The climbs here make for an easier transition from the climbing gym because of the many obvious hand and foot holds. In fact, the area has every shape and sized hold you could imaging from pinches to crimps.
Despite the variety, it is a good idea to focus on crimp strength for the many small edges that make up the hardest sequences. One factor to consider while climbing on the abrasive sandstone is skin conservation. Putting in too many attempts on the same climb or spending too much time climbing on small holds can cause your skin to wear out before you do. Try to make every attempt count and don't spend too much time on the same holds, especially if they are small.
Other Resources: Joe's Valley on Mountain Project, The Black Bible, Joe's Festival and New guidebook info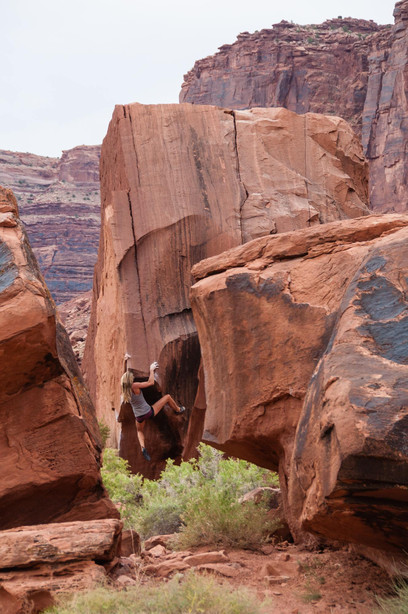 Big Bend Boulders in Moab
Of course Moab, the outdoor mecca of Utah, has its own collection of boulders to go with its world class crack climbing, rafting, mountain biking and four-wheeling. Only a three-hour drive from Salt Lake, Moab is loaded with sandstone.
Carved by the Colorado River, giant canyon walls wind through the region and at their base are some of the most aesthetic boulders in Utah. The most popular area is the Big Bend Boulders, but other areas exist nearby, including the Ninja Training Center and The Crack House.
The movement in Moab is unique and many consider the grades to be a little on the difficult side, but it is a great place to challenge yourself in a beautiful setting. Many of the problems are characterized by flat edges and powerful moves. Many of the classic climbs require compressing two holds together much like hugging a refrigerator. To prepare to climb here, make sure to climb on flat holds with little or no in-cut and be prepared to slap, compress and heel hook your way up the many prows and aretes.
Other Resources: Big Bend on Mountain Project, High On Moab Guidebook
As you boulder this season, make sure to take care of your skin by sanding always loose skin and stopping your session before you lose all of it. Pad properly and make sure to spot one another when the landings have hazards or when a movement can lead to a poor landing position. Have a safe bouldering sessions in the outdoors and make sure to stay psyched.
If you are new to bouldering outside, check out this guide to outdoor ethics from the Access Fund and commit to the ROCK Project Pact.
Where's your favorite place to boulder in Utah? Let us know in the comments.


---
Jonathan Vickers is the Digital Media Manager for Momentum Indoor Climbing. In addition to managing Momentum's online presence, he also coaches as part of the Momentum Climbing School and is an American Mountain Guide Association (AMGA) certified guide for Red River Adventures. His personal climbing is dictated by seasons and whims.
×
Photos