Estimated read time: 6-7 minutes
This archived news story is available only for your personal, non-commercial use. Information in the story may be outdated or superseded by additional information. Reading or replaying the story in its archived form does not constitute a republication of the story.
PROVO — Hundreds of Brigham Young University students gathered on campus Friday to protest aspects of the school's Honor Code after a popular Instagram account and an old petition galvanized the movement.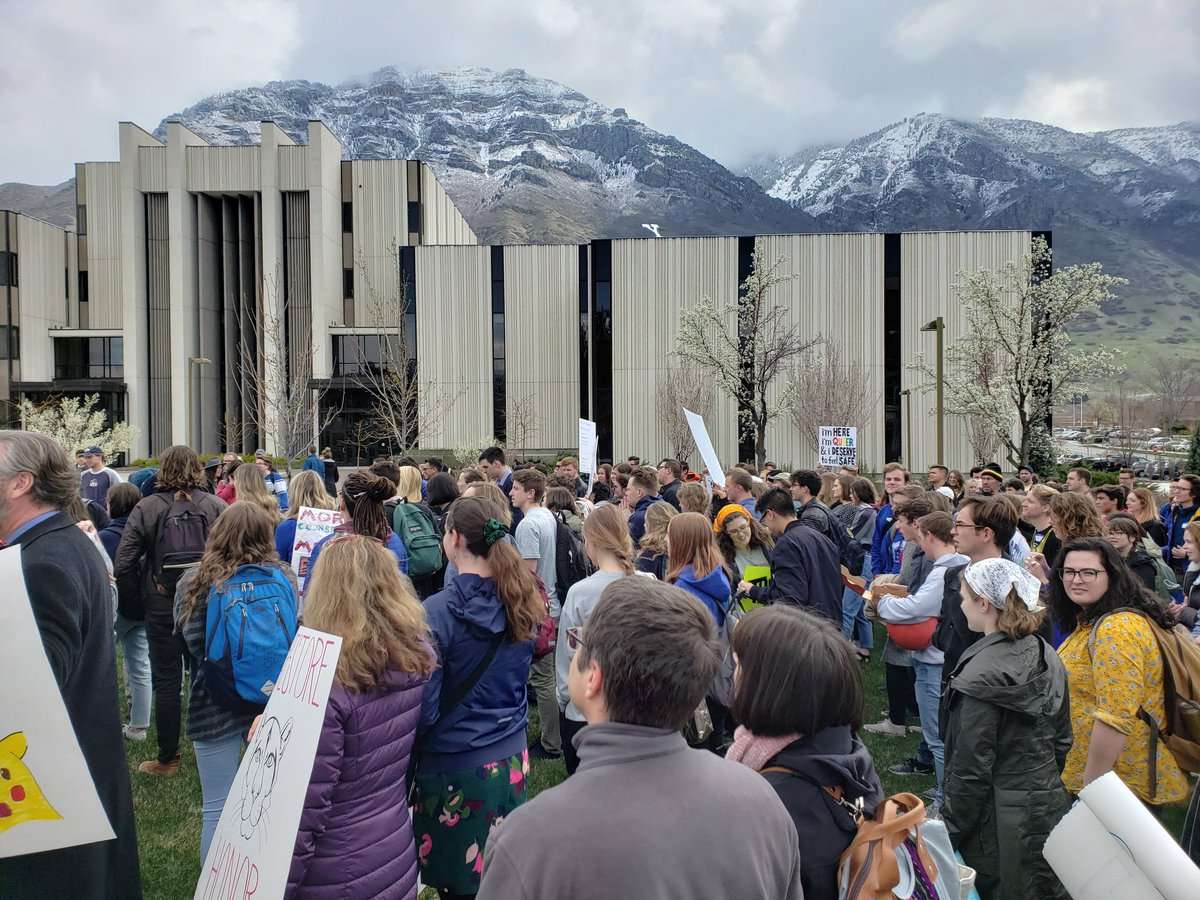 Some background
BYU, a private university owned by The Church of Jesus Christ of Latter-day Saints, requires students to sign a code of conduct if they choose to attend the school. The Honor Code asks students to live by certain standards, including abstaining from alcohol, drugs, premarital sex and following dress and grooming standards.
A recently-created Instagram account, @honorcodestories, details students' anonymous, unverified and negative experiences with the Honor Code Office. The account gained traction in early April with nearly 35,000 followers and gave new life to an old petition that sought updates to the Honor Code.
The change.org petition, which has now garnered nearly all of its 25,000 desired signatures, advocates for a "self-reported" honor code for things like law-breaking, premarital sex, alcohol or drugs and cheating. It wants to do away with an honor code that regulates dress and grooming standards, curfews, visiting hours and "encouraged tattling."
Students who submitted their stories to the Instagram account often expressed feelings of shame, confusion and anger after their experience with the Honor Code Office — especially when they were called in because another student reported them, they said.
The protest
A group called Restore Honor organized the protest after seeing the "energy" sparked by the Instagram account and petition. Keaton Hill, one of the group's founders, said they are hoping to take that energy and "restore honor" to the code by changing the language they believe is discriminatory to LGBT students, as well as changing the way the Honor Code is enforced.
"We're not taking a black marker and trying to scratch (the Honor Code) all out. It's the enforcement that's the issue," he said. "We want people to know their rights and know you can bring someone in, bring an advocate, create an advocacy group so people can inform you, 'Oh, you're going in the Honor Code Office? This is what you need to know.'"
The group did not specify which language they saw as discriminatory, or what they would have wanted changed.
Hill hopes both the office and the students see the process as one of rehabilitation and repentance rather than punishment. Sidney Draughon, the Instagram account's creator and BYU alumna, however, thought the changes should go further and eliminate the Honor Code Office, which she said should not be "enforcing personal repentance."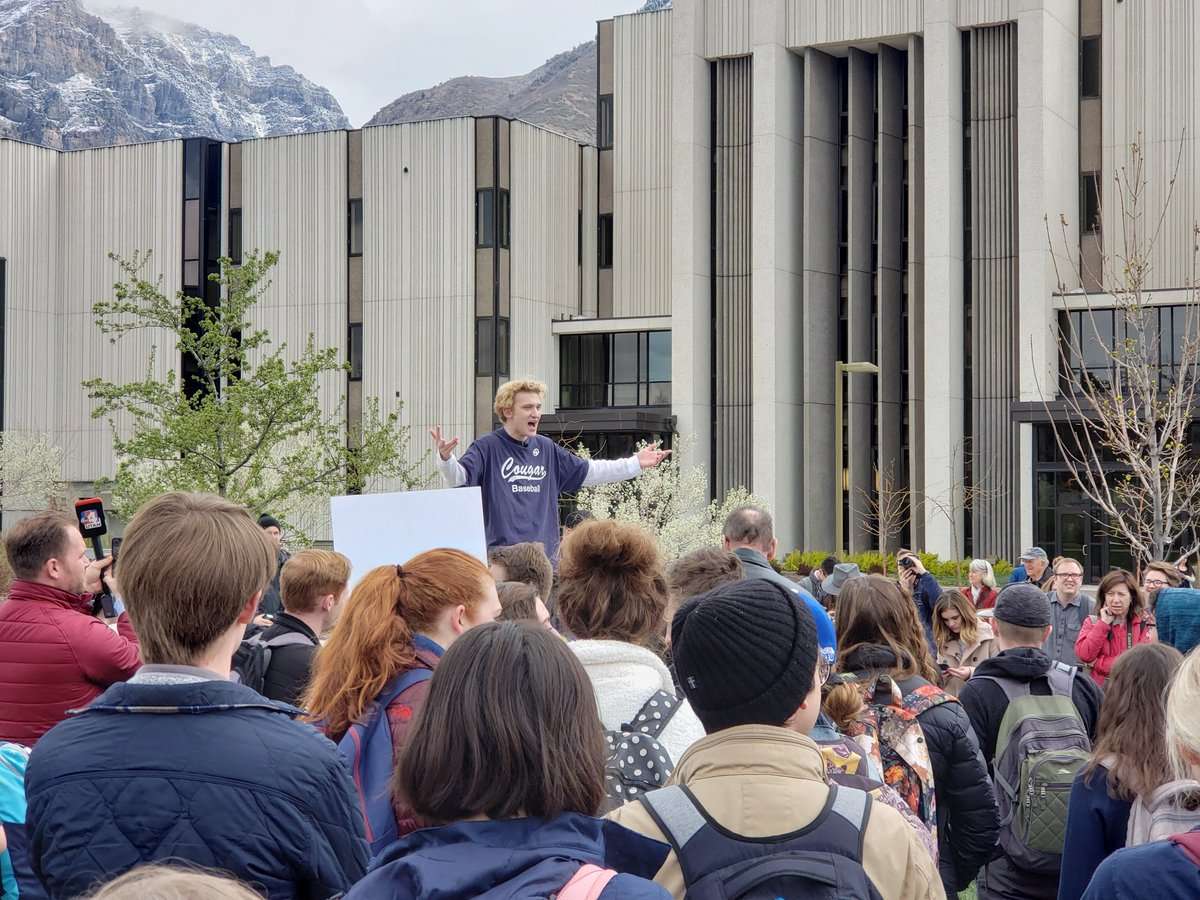 BYU responds
On Wednesday, the university affirmed that the purpose of the Honor Code is to maintain a code of conduct at the school, not to ensure that violators are disciplined, according to a statement on the school's website. The goal of the Honor Code Office is to help students come back into good standing as quickly as possible, the statement reads.
"The vast majority of students involved in Honor Code cases remain fully enrolled in the university. On average, between 10 and 15 students are expelled from the university each year from a population of 33,000 students, although the number is lower in the past 12 months," according to the statement.
The statement also clarifies that students will not get in trouble for failing to report another student breaking the Honor Code and that the university does not investigate anonymous reports unless the reported behavior could impact the physical safety of members of the campus community.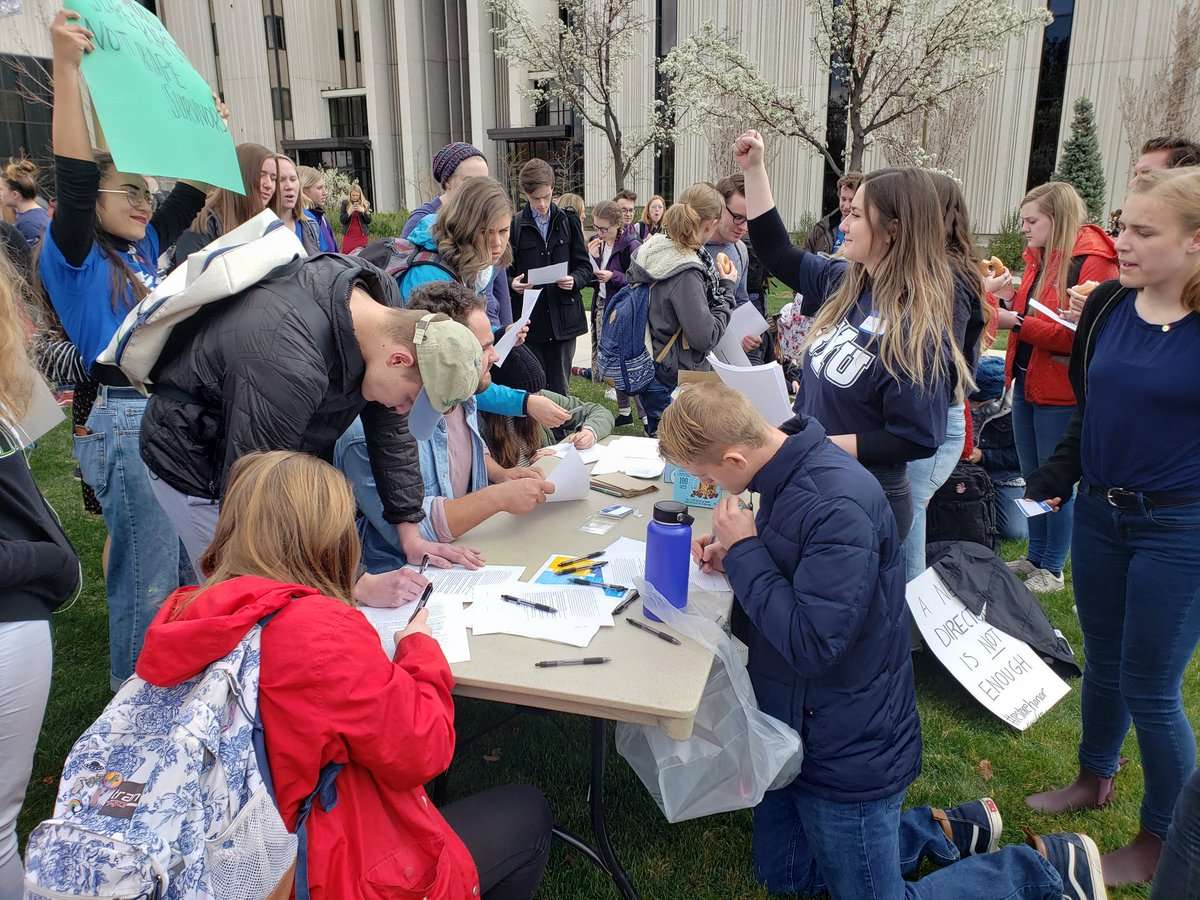 The statement also reiterated the Honor Code Office's processes and protocols and reminded students that ecclesiastical leaders cannot share private information with the office without the express consent of the student.
However, students who confess transgressions to their ecclesiastical leaders may be at the mercy of those leaders when it comes time each year for students to receive an ecclesiastical endorsement — essentially a recommendation from leaders that says students' conduct is appropriate for attendance at the school.
"Love one another"
At one point during the protest, the crowd of students began chanting, "Mercy! Not fear!" and others began singing a church hymn called "Love One Another." Addison Jenkins, former president of the LGBT club on BYU's campus, said he came to BYU as a closeted gay afraid of his sexuality and is delighted to see something like this.
"This kind of event changes people's lives. There are probably students here who think they're the only gay student on campus," he said. "The fact that there are hundreds of people showing up here to say, 'You belong here, and we love you. Please stay with us.' That will literally change people's lives."
Jenkins, who is not part of Restore Honor, said Restore Honor wasn't sure what kind of reaction the protests would receive, but it's "exceeded all our expectations."
BYU student Harrison Godfrey didn't participate in the protest, but watched from the sidelines.
"There are minor changes that I don't have a problem with," he said.
Godfrey takes pride in the school having high standards with the Honor Code and would be against any "lowering of the bar."
"I have a problem with them changing the standards and the enforcement of the code," he said.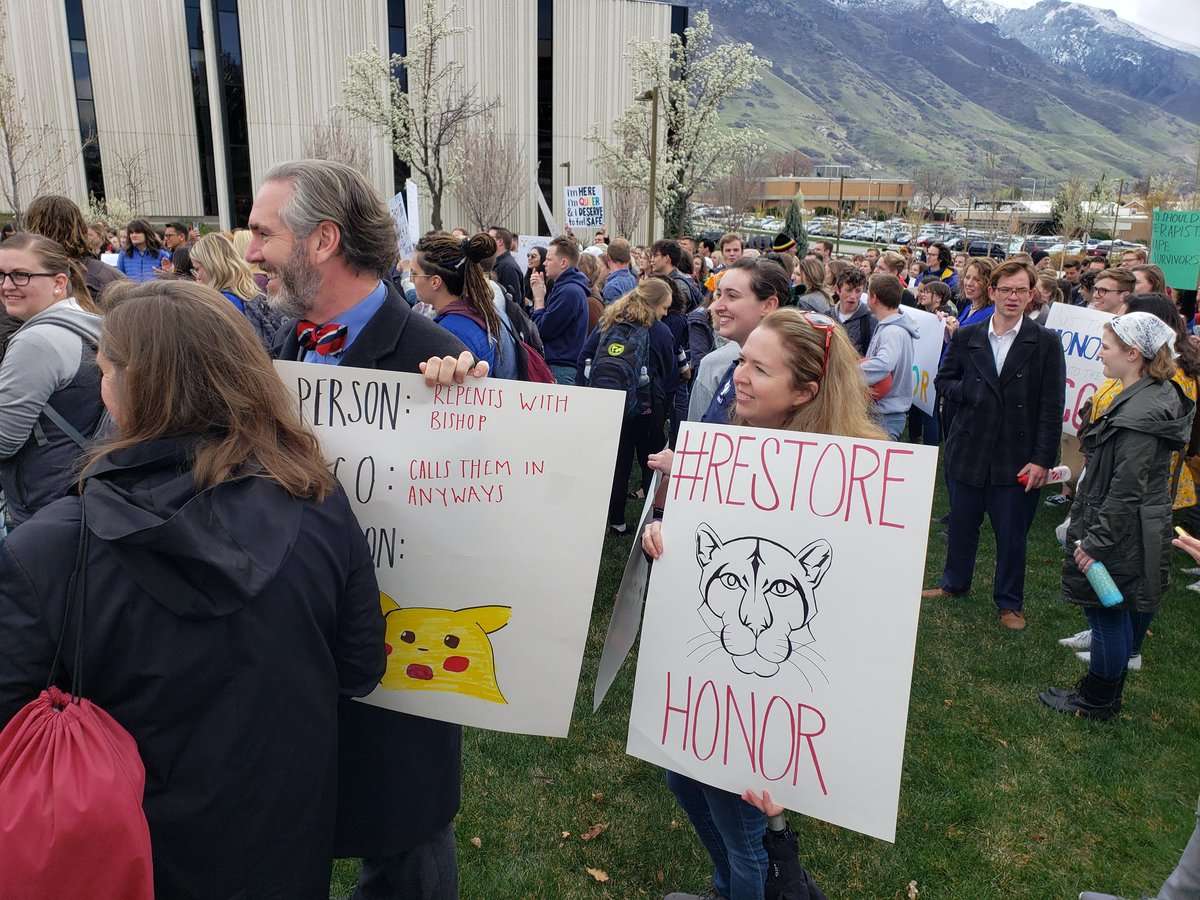 BYU's Honor Code Office director, Kevin Utt, met with students last week to hear their concerns and answer questions, then met with students before, during and after the sit-in Friday as well. He was unavailable for comment, but BYU released a statement which read, in part:
"BYU cares deeply about the welfare of our students. We want every one of them to have a positive experience at BYU. We've seen the conversations about the Honor Code Office on social media and have engaged in discussions with our students. The director of our Honor Code Office has been meeting with students since last Thursday. These conversations have been very constructive, as students have shared with us their concern for certain processes within the Honor Code Office. In some cases, these concerns do not reflect current practices; even so, we recognize that it is our job to help students understand what processes are in place."
Though students involved in the protests had different ideas of what should change, many of them expressed a desire for further transparency. Draughon, who flew out from her home in New York, said the movement is all about love.
"That's why we're here, and that's why we came here to be on a Christ-centered campus, and that's all we're asking for is that we can repent, and we can love, and everyone here is welcome," she said.
Watch a live stream of the protest here:
×
Photos
Most recent Utah stories