Estimated read time: 2-3 minutes
This archived news story is available only for your personal, non-commercial use. Information in the story may be outdated or superseded by additional information. Reading or replaying the story in its archived form does not constitute a republication of the story.
OREM — Jake Toolson's time at Utah Valley has likely come to an end.
The redshirt junior guard from Gilbert, Arizona put his name into the NCAA transfer portal Thursday, making him eligible to depart the Wolverines a day after head coach Mark Pope accepted the BYU job.
The departure was first reported by 1280 The Zone and Stadium and confirmed to KSL.com by a source close to the situation.
Players are not bound by regulations to transfer upon placing their name in the portal, but coaches are also not bound to renew their scholarship once the action has occurred. So while it is possible for a player like Toolson to return to their original school, it is often unlikely once the process begins.
Other schools may not begin officially contacting Toolson about transferring, as well.
Toolson transferred from BYU two years ago, sitting out the 2016-17 season due to NCAA regulations after spending his first two years at BYU. As a fourth-year junior, he will likely be eligible to graduate from UVU and play immediately in his final year of eligibility.
He averaged 2.8 points and 1.5 rebounds per game for the Cougars, but rebounded to become a consistent starter with the Wolverines.
The 6-foot-5 wing led the Wolverines with 15.7 points, 4.5 rebounds and 2.3 assists per game en route to Western Athletic Conference player of the year and AP All-American honorable mention honors this past season. He scored a season-high 26 points in the biggest game of the year, an 83-75 loss to WAC power New Mexico State, when he made 11 shots from the field.
In two seasons at Utah Valley, Toolson scored 905 points to go along with 307 rebounds and 176 assists, becoming the first player in program history to earn WAC player of the year honors.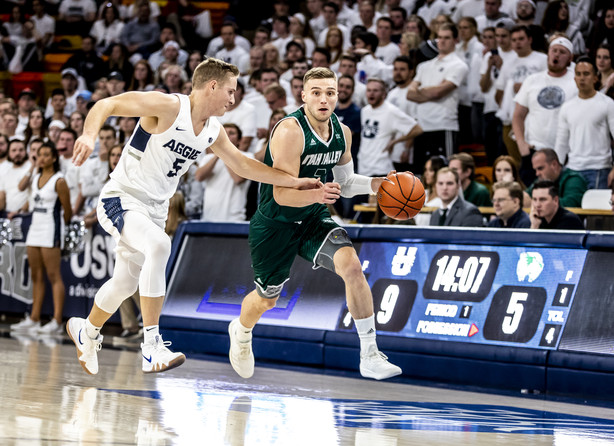 Toolson has not said where he is going, but he will likely have offers. He could follow his former coach back to BYU, though that possibility is unclear based on BYU's stringent requirements for graduate transfers. He could also find a home at Utah State, where he is good friends with several players, including standout guard Sam Merrill, according to a source. He could also move closer to his hometown at one of the Arizona schools.
Toolson, who is the nephew of former BYU star and Boston Celtics executive Danny Ainge, drew interest from Boston College, UC Davis and Utah State while in high school prior to committing to former BYU coach Dave Rose and the Cougars in 2013.
×
Related Stories