Estimated read time: 4-5 minutes
This archived news story is available only for your personal, non-commercial use. Information in the story may be outdated or superseded by additional information. Reading or replaying the story in its archived form does not constitute a republication of the story.
PROVO — Every time Mark Pope stepped into the gym the last four years, whether for gamely at the UCCU Center or practice at the Nuvi basketball facility in Orem, he repeated a mantra to his assistant coaches.
Make sure you have joy in the gym. Make sure you have juice in the gym.
He'll bring that joy and juice to his new job as head coach of the BYU basketball program.
But even though he'll be located five miles from his former stomping grounds at Utah Valley University, he'll be even closer in spirit.
Part of UVU will always be with him.
"I learned everything, right? I knew nothing before," said Pope, who went 77-56 in four seasons at Utah Valley, during his re-introduction to the local media. "I learned so much."
BYU is not Utah Valley, just as Utah Valley is not BYU. The two schools are different in academics, in allotment of resources and sports fielded at the Division I level, and its priorities — from an academic to a business to a spiritual sense.
But the two schools are connected, not just because of the five mile swath of University Parkway that connects the two, nor the thousands of college students who room together in the same apartments every year.
The Wolverines and Cougars will be connected by a new BYU head coach who learned his ways at Utah Valley, even while guiding a staff of mostly new basketball coaches, as well.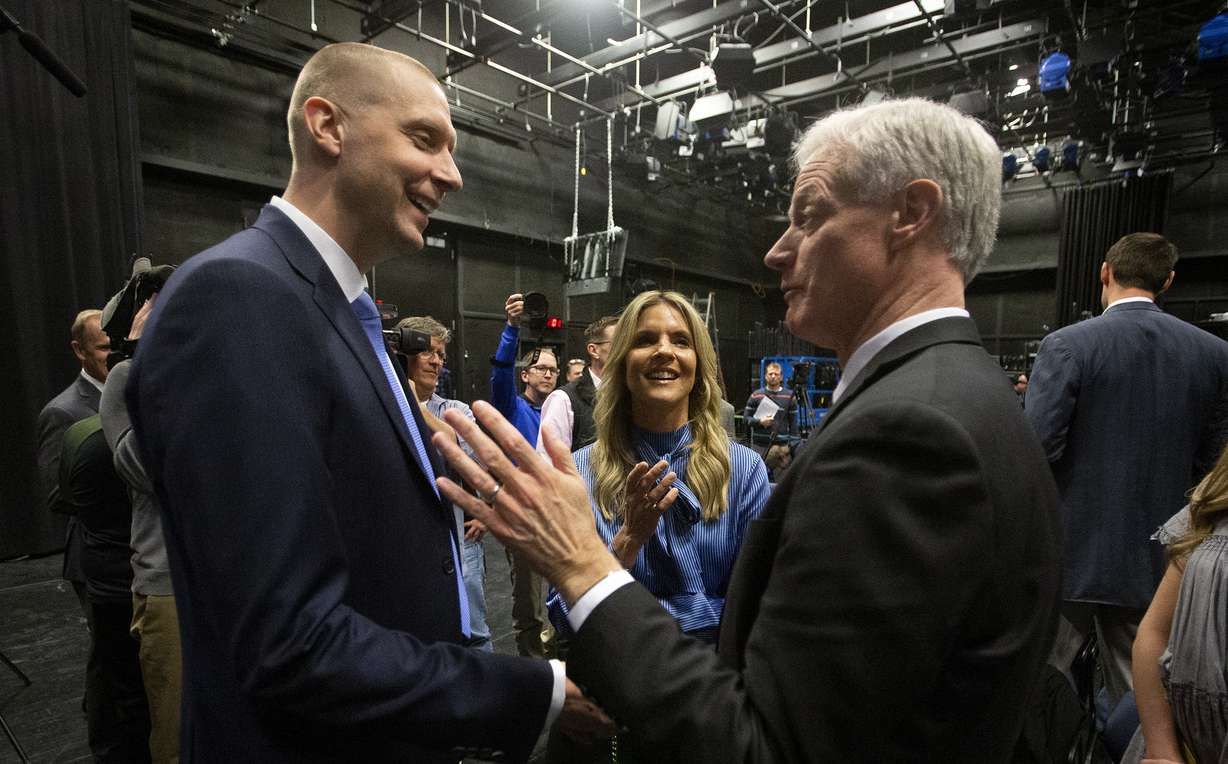 "I was fortunate to get involved with him in my first D-I coaching job," said Chris Burgess, who spent four seasons with Pope at UVU. "He taught me not just how to survive as a coach, but also how to get wins, to out-recruit people, to raise money, to get your players to buy in — to Orem, Utah? That's a D-II program, basically.
"He shouldn't even have a door. His door is always open to his players. But he has respect because he is quick to get on you, too."
That's something BYU athletic director Tom Holmoe saw in the man he made the 17th head coach in BYU men's basketball history.
"Mark is an outstanding leader and coach," Holmoe said. "He is also an exceptional recruiter who recognizes BYU's unique opportunities for success. We look forward to. Having him build on the great tradition of BYU basketball."
UVU and BYU basketball will be connected from now on and that is thanks to Pope.
Hard to believe that an unnamed Utah Valley administrator told Pope when he took over. The program, "don't ever schedule BYU; that will be the death of the program."
Good thing Pope doesn't deal in realistic possibilities.
Staying close to home
"I don't think athletes deal in realistic expectations," he said. "Let's go win big, or let's crash and burn. I'm not trying to put too much pressure on our team, but I don't like to deal in realism. That's why I'm in sports."
Pope didn't set realistic expectations when got to Utah Valley and spoke of beating New Mexico State, of winning the Western Athletic Conference, of getting to the NCAA Tournament.
He didn't deal in realism when he scheduled the "toughest 24," a back-to-back road set against college basketball powerhouses Duke and Kentucky by his green Wolverines.
Some of those expectations worked out well. Others, not so much.
But Pope won't change his attitude because he changed his office address to Provo. He wants to beat Gonzaga. He wants to win the West Coast Conference. He wants to lead the Cougars to the NCAA Tournament, where it hasn't been since losing to Ole Miss in the 2015 First Four.
But first, Pope wants to make his program better.
"You know what coach (Mark) Few has done?" Pope asked rhetorically. "He's done something that nobody thought he could do."
So what is the next step for Pope at BYU? The one that gets BYU to be more like Gonzaga, or his alma mater Kentucky, or national champion Virginia — the ultimate goal of any program in the NCAA?
It starts with the same things he did in Orem. It starts with certain "core principles" Pope learned in his first four years as a head coach.
"I think we'll schedule really aggressively," he said. "I think we'll be fearless in everything. We do. I think we'll take our lumps and we'll jump back up off the mat, and with confidence go off to the next battle.
"I think we'll be a team that's not afraid of failure, but that's afraid of nothing. I think all of those focuses will be important to what we do."
But always, more than anything, bring the joy.
"Those things are more important to him than probably anything — joy in the gym and juice in the gym," Burgess said. "And that's what you are getting as a head coach at BYU."
×
Related Stories