Estimated read time: 4-5 minutes
This archived news story is available only for your personal, non-commercial use. Information in the story may be outdated or superseded by additional information. Reading or replaying the story in its archived form does not constitute a republication of the story.
LAS VEGAS — Deja vu.
Utah Valley's run in the Western Athletic Conference basketball tournament ended in similar fashion to last year, falling to upstart newcomers Grand Canyon 78-74 in the tournament semifinals Friday night at Orleans Arena in Las Vegas.
Carlo Johnson scored a career-high 35 points with six 3-pointers, nine rebounds and four assists to lead the Lopes (20-12), who are in their second year of NCAA Division I postseason eligibility after transitioning from Division II.
"We're incredibly disappointed," UVU coach Mark Pope said. "This was not the outcome we were hoping for. Our guys put their heart and soul out on the floor, but we just fell a little bit short.
"I'm so proud of my seniors here who came when nobody thought we were anything, and they created something really special. And it's growing. I couldn't be more proud of them, and we'll be excited to play again."
Johnson could do it all Friday night in returning to the city where he played one season of high school basketball.
A 3-pointer from the wing? Got it. A drive to the rack? No problem. What about a one-handed flush over a pair of much larger Utah Valley defenders?
#WACvegas Update | Carlos Johnson drives and jams! @GCU_Lopes leads Utah Valley by three in the WAC semifinal with just over eight minutes to go... https://t.co/WLtvw8Q6JFpic.twitter.com/7gVCL6MLn3

— WACsports (@WACsports) March 16, 2019
Check and check.
"I had some great looks," said Johnson, whose team advanced to face WAC power New Mexico State in Saturday night's tournament championship for the second-straight year. "My teammates put me in a position to execute, and coach ran some great plays for me.
"Once you're feeling it, the rims just get bigger. That's what it felt like."
But even with his career night, the Lopes couldn't shake the Wolverines.
Conner Toolson led Utah Valley (24-9) with 16 points and seven rebounds, and Richard Harward added 12 points and nine boards for the Wolverines, who got 12 points on 5-of-6 shooting from Baylee Steele.
Ben Nakwaasah scored eight points with four assists for the Wolverines.
"This is not the outcome that we all had our goals on the whole season," Toolson said. "But you can find good in any situation, and I love these guys I've been playing with all year. I'm grateful for how much I've been able to grow, and I'mg grateful for the time I've had at UVU."
Grand Canyon held WAC player of the year Jake Toolson to just seven points on 3-of-11 shooting, and kept the Wolverines at arm's length for all but brief moments of the second half. The junior shot 0-for-4 in the second half, while Johnson was simply unconscious.
It wasn't just Toolson, though. Utah Valley was held to 50 percent shooting, and did not score for the final 3 minutes, 36 seconds at the end of the game. That defensive effort was a focus for Grand Canyon, a team recently off its NCAA Division I transitory probation that was eligible to compete in the WAC tournament for just the second year.
"When we played them, they really hurt us at Utah Valley," said GCU coach Dan Majerle, whose team split with the Wolverines during the regular season. "Jake is an unbelievable player, and we're fortunate. Oscar did a great job against him."
Johnson had 10 points in the first eight minutes, and finished with first half with 21 points, including five 3-pointers, to lead the Lopes at halftime. But the balanced Wolverines got eight points from Conner Toolson and shot 51 percent from the field to take a 44-40 lead into the break.
The junior who played one season at nearby Findlay Prep in Henderson, Nevada during high school dropped his sixth three to pace an 8-2 run and force a 48-48 tie with. 15:44 remaining.
Utah Valley built up a lead as high as six points in the second half. But Johnson and the Lopes never allowed them to pull away further. Trey Dreschel hit back-to-back shots to give third-seeded Grand Canyon a 62-56 edge with 9:34 left, and the Lopes took a one-possession lead into the final two minutes.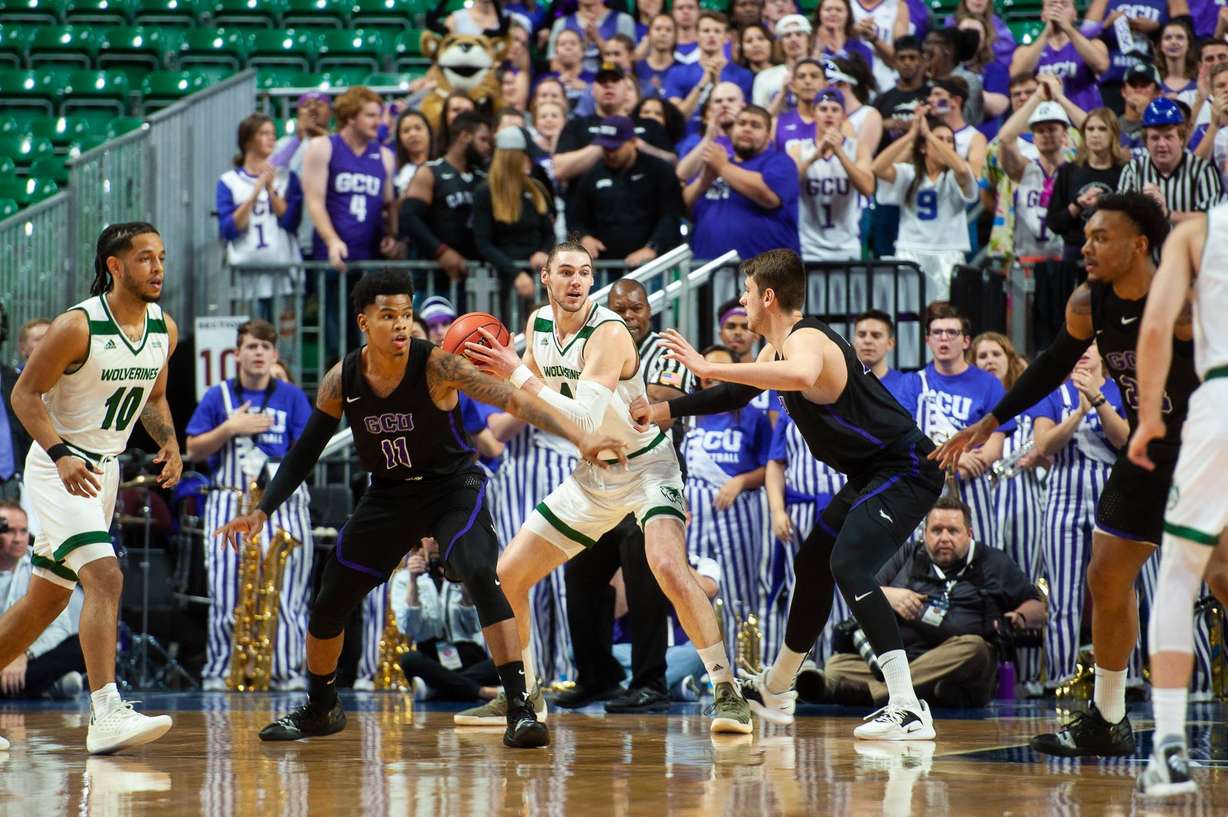 "He's a talented player, and he's really feeling it right now," Pope said of Johnson. "In the past, you've been able to contain him a little bit. But the last two games, he's 1-for-16 from 3-point land, and he's explosive and physical. He's playing great, and we just didn't quite have an answer for him tonight. He sure did play well."
After a 79-72 win over UT Rio Grande Valley, New Mexico State (29-4) will make its eighth-straight trip to the WAC tournament finals, and ninth in the past 10 years, for six conference tournament titles.
"I feel like coach Jans just prepares us for March," said AJ Harris, who had 15 points in the Aggies' semifinal win. "If you come to our school, he's got the picture in the perfect spot.
Utah Valley will learn its postseason fate next week after the NCAA Tournament selection is announced. The Wolverines are currently projected as a bubble team to the NIT, but will likely fall to the third-tier College Basketball Invitational or CollegeInsider.com Tournament with the loss.
"That was my last WAC game, but I'm grateful for the guys and the time to play for these coaches," Conner Toolson said. "The progress that we've been able to make the last three years makes me grateful to grow as human beings."
×
Photos
Related Stories