This archived news story is available only for your personal, non-commercial use. Information in the story may be outdated or superseded by additional information. Reading or replaying the story in its archived form does not constitute a republication of the story.
SANDY — Sponsors of the annual SheTech Explorer Day hope that putting a feminine face on STEM careers will draw more girls into often male-dominated fields.
And considering 2,500 high school girls from around Utah turned out for Tuesday's event promoting science, technology, engineering and math fields, the Women Tech Council may be onto something.
"I really love to see so many girls come out from all over the state to feel empowered by all these girls and all these careers," said Nicole Zinger, a senior at Skyline High School who plans to pursue a career in aviation. She attended SheTech last year and volunteered to be a student board member this year, which consisted of helping plan the event and encouraging other girls to attend.
Zinger said these events are helpful because they give girls the opportunity to speak with women and learn about their experience in tech careers. For her chosen field, she noted, fewer than 2 percent of the aviation industry is female, and the percentage of female pilots is even lower.
The event at the Mountain America Exposition Center is meant to accomplish several goals, one official pointed out.
"Expanding the number of women in tech has benefits far broader than diversity. It drives the bottom line revenue, profit and success of companies across industries," Cydni Tetro, president of the Women Tech Council, said in a statement.
Sneha Balakrishnan, a software engineer at Adobe, was one of about 700 mentors and volunteers from industries across the state teaching the girls through group sessions, displays and experiments. When telling a group about a robot programmed to follow their face, she noted how the girls "sparked up," bringing a high level of energy to the room.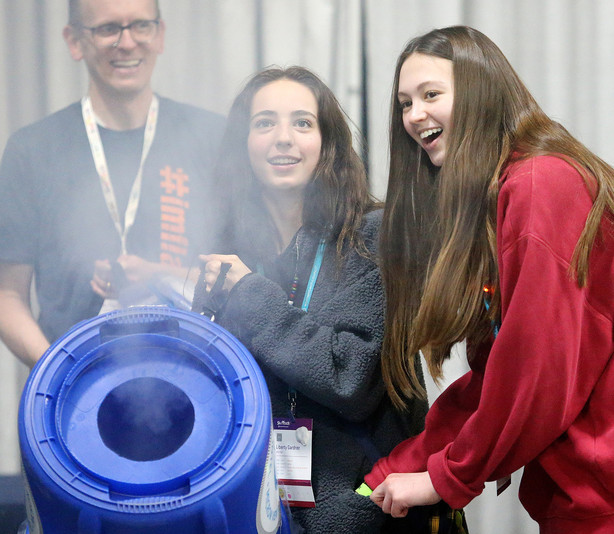 Balakrishnan said she is the only woman on her seven-person engineering team, but the ratio is improving and Adobe is working to help women receive leadership training.
The Women Tech Council has hosted SheTech Explorer Day for six years now. The first year drew about 250 girls, Tetro noted, but after Tuesday's event, the program has reached 15,000 girls.
Tetro said when girls are able to talk with mentors in STEM careers and have a hands-on experience, they are more likely to consider technology careers. She said in surveys they have conducted, 90 percent of girls say they don't choose STEM careers because they don't know women in the field.
"It's really hard for people to become something that they can't see, and so this is an opportunity … to see other women who choose STEM careers and really see that you could become that person," Tetro said.
Helen Knaggs, vice president of research and development at Nu Skin, helped teach a session on making and to share what working at Nu Skin would be like.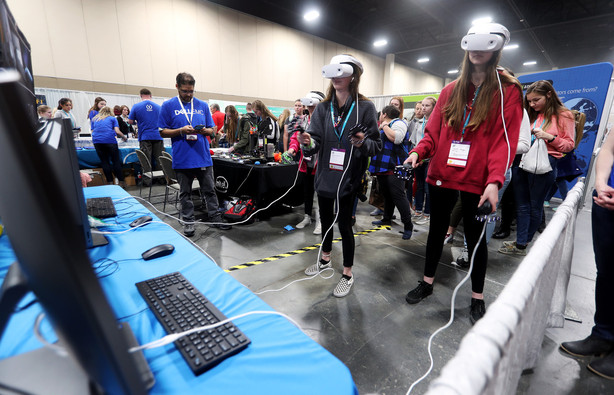 Knaggs said when she began her career about 30 years ago, it was predominantly male, but things are changing. She said in her lab there are more women than men, however, their team of engineers consists of only men.
"If there's one thing that I would like to get out of this it is to encourage more girls to become engineers … we could certainly use them," Knaggs said.
She also said there is a lack of women in upper-level positions, which would add to perspective and diversity.
Kimberly Vara, a senior at Ogden High School, said she enjoyed the tech zone, an area where the students can talk with professionals and take part in experiments.
"I really love the vibe that SheTech brings to all of these girls and it really just makes you think 'Wow, I really can be in STEM,'" Vara said.
×
Photos
Related Stories