This archived news story is available only for your personal, non-commercial use. Information in the story may be outdated or superseded by additional information. Reading or replaying the story in its archived form does not constitute a republication of the story.
Editor's note: For the next four weeks, KSL.com's "Homeless" series will feature four individuals experiencing homelessness in the Salt Lake Valley. This is Austin's story.
SALT LAKE CITY — Austin limps toward the door of the Clark Planetarium in downtown Salt Lake City as the rain beats upon the blue felt blanket wrapped around his shoulders.
He pulls the door open and walks past a line of school children, making a beeline for the trash can. A half-eaten bag of Cheez-Its doesn't last long before he's devoured it, washing the stale crackers down with a near-empty Red Bull.
The security guard by the front door is deep in conversation with a patron and doesn't notice Austin as he hobbles further inside. But a little boy stares at the young man's face, his eyes glancing over the matted dreadlocks and large scabs on his forehead.
It isn't long before Austin is back outside in the cold April rain.
On childhood and family
Austin grew up in Layton with his grandparents, after his mother became involved with drugs and wound up in prison, he says. He doesn't know his father at all, but he insists he had a happy, normal childhood with lots of friends. His grandparents were "good people."
Austin's grandfather was a military man who taught his grandson that some things are worth fighting for — a life lesson that may lurk behind Austin's limp and the scars on his face.
His grandfather has long since died and his grandmother now lives nearby, though he rarely sees her.
It wasn't until Austin's grandfather died that Austin said his uncle convinced his grandmother to "kick (him) out of the house." That was eight years ago. He's experienced homelessness in Salt Lake ever since — in and out of shelters and hazes of addiction.
---
Basically, I'm lost. My personage is found somewhere locked up in a childhood … or a childhood story that is being fed to my consciousness continually, trying to convince me of who I really am.
---
On homelessness
Austin says he knows people avoid him, that sometimes they're even scared of him. He knows he has his "crazy moments" when he walks around the streets of Salt Lake yelling and high on crystal meth.
But he wants people to know there's another side to him, too: a humbler, gentler side. Yet, he decides which side he'll show those around him. He wishes others would do the same.
---
I would like to not be homeless but it seems there's a lot of obstacles in the way.
---
On addiction
"Addiction is a definite obstacle, but, I don't know, I guess it could be beaten," Austin says.
He seems unsure, though, whether he wants to hurdle that obstacle just yet.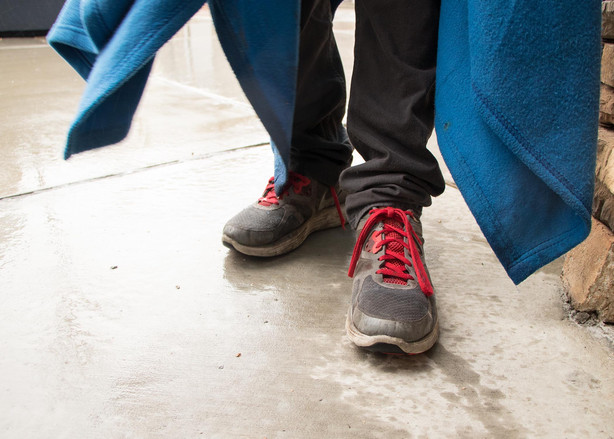 ---
I have my downfalls or my hidden secrets — my darkness. And it's hard to let people in to that part of my life ... the darkness part.
---
On goals
Though the darkness can be difficult to dispel, Austin's goal is to "make it to the end of the sentence." When asked what that means, he says it entails being "completely awake" to what he wants, then going after that goal.
He's not quite sure what he wants yet, but he says he needs a "one liner" — essentially a motto to live his life by.
If he had to come up with that motto on the spot?
---
Don't settle for less than you know you're worth.
---
If you'd like to help others like Austin experiencing homelessness in Utah, contact your local homeless shelter to find out how you can donate or volunteer.
×