This archived news story is available only for your personal, non-commercial use. Information in the story may be outdated or superseded by additional information. Reading or replaying the story in its archived form does not constitute a republication of the story.
MURRAY, Utah — A group of Cottonwood High School students is trying to raise money to compete in a world robotics championship after winning a regional competition.
The robotics team is made up almost entirely of refugee students.
"I came from Afghanistan and I've been here 14 months," said Abdul Bari Ayubi. "We are all from different countries, different religions, different cultures, different language — but we're all fighting for one thing. We're all trying for one goal."
The team spent the last six weeks building a robot that moves around on wheels and can carry around a large, inflatable ball. This was the first attempt the students have made at competing.
They took home the Rookie All-Star award at a competition in Utah in late March. That earned them the opportunity to compete in a world championship in Houston in mid-April.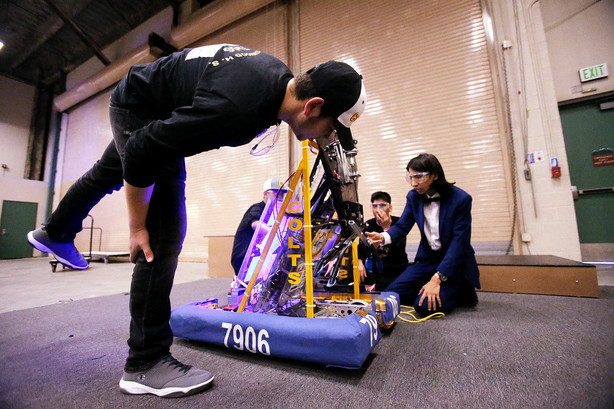 "I was so happy at that time. Not for myself… for all of my team because this is teamwork. We all come from different countries for one goal." Ayubi said.
"It's a fantastic thing to see. For an educator, that is a dream come true." said the team's coach, Dr. Yuri Perez.
Perez is originally from Argentina. That helps him relate to his students, who are from countries around the world including Afghanistan, Somalia, Haiti, Nepal, Myanmar, Brazil and Syria.
Students said the team is able to see things from many perspectives.
"We all come from different backgrounds," said Jevahjire France, who moved here from Haiti. "We all see life in a different way."
Read more:
Rachel Arlen, the only person on the team originally from Utah, enjoys learning from her teammates.
"I get to learn about their past experiences and the countries they come from and it's just a pleasure to get to work with people that I don't usually get to work with," she said.
Perez said it will cost about $2,000 per student to compete in the world competition. That means they'll need a minimum of $20,000. The benefits for this group of students, he said, is well worth it.
"We're giving them opportunity and the tools to do it, allowing those kids to be happy with themselves. That is priceless." he said.
---
We all come from different backgrounds. We all see life in a different way.
–Jevahjire France
---
Muna Abdullahi, who is originally from Somalia, said the experience has had a huge impact on her.
"It means that I'm part of something," she said. "It means that we have potential."
If you would like to help the team reach their fundraising goal for the world competition, you can donate online here*.
*KSL.com does not assure that the money deposited to the account will be applied for the benefit of the persons named as beneficiaries. If you are considering a deposit to the account, you should consult your own advisors and otherwise proceed at your own risk.
×
Related Stories