SALT LAKE CITY — The Salt Lake Stallions moved to 3-5 in their inaugural season Saturday with an 8-3 win over the San Diego Fleet.
The win wasn't pretty, but it kept the Stallions' fledgling playoff hopes alive.
But Arizona's 23-6 win over the San Antonio Commanders put those same postseason hopes on the edge of a knife.
How is a team like Salt Lake still in the playoff picture with just two games left in the inaugural season of the Alliance of American Football with just a 3-5 record? Because of the parity in the league's Western Conference.
The Commanders and Hotshots are tied for the top of the West at 5-3, while Salt Lake and San Diego are tied for third at 3-5. That's a two-game separation with two games to go — and no West team is eliminated from the playoff chase, unlike the East, where the Orlando Apollos and Birmingham Iron will be the two teams in the four-team AAF playoffs.
So the first part of Salt Lake's playoff equation lies entirely with the Stallions: they need to win out. All thoughts of a postseason berth start by the team winning its final two games of the regular season and getting to 5-5.
That's motivation enough for Salt Lake to accomplish the immortal words of the late Oakland Raiders owner Al Davis: just win, baby.
"When you're a professional, you play this game because it's your job," Salt Lake quarterback Josh Woodrum said. "We're not just going to go out there and lay down. As a professional football player, I'd like to think everyone on this team is a competitor.
"Every game we're going to go out there and do our best, regardless if we're 1-9 or 10-0."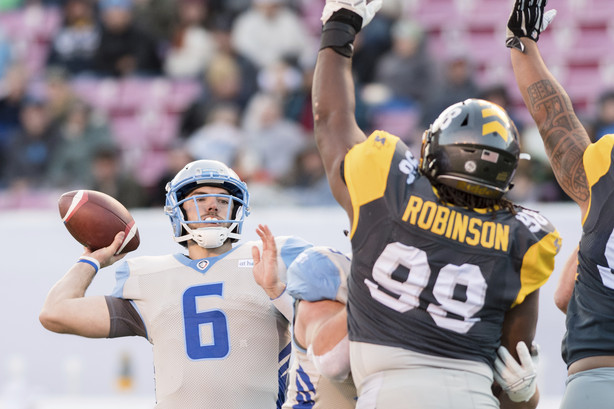 Even then, they'll need some help. Arizona or San Antonio will need to lose both games — it would help if both lost out — while San Diego can help muddy the waters by beating the league-leading Apollos and the Hotshots in their final two games.
If that happens, plus the Stallions win at Atlanta and at home against the Commanders in the season finale Friday, March 12, then as many as four teams could be tied at 5-5 in the Western Conference.
There are other scenarios involving a host of tiebreakers in which the Stallions could get into the postseason. But all involve Salt Lake winning out.
It's a long shot — but Utah sports fans are used to claiming long-shot victories.
The beginning starts next week in the Stallions' final road game in Atlanta. A win would be Salt Lake's first victory away from Rice-Eccles Stadium on the year.
And they'll have to play better than they did this past weekend, according to head coach Dennis Erickson, who called the game "probably the worst offensive game we've played all year."
"We've got two games left, so hopefully we can go to Atlanta and not turn it over like we have," Erickson said. "It's something that was emphasized in training camp, in high school, in colleges. They've heard it from coaches over the years. It's something they know."
Paul Done
Former Utah linebacker Gionni Paul was named a team captain before the Stallions' 8-3 win over the Fleet.
But his time on the field didn't last long.
Paul was injured on his first hit of the game, going down while defending a pass and landing awkwardly on his arm.
The 6-foot-2, 229-pound linebacker who played previously with the BC Lions, Montreal Alouettes and Cincinnati Bengals immediately left the field clutching his arm, and Erickson confirmed the status of the break after the game.
"I just know that because it happened in the one hit it had," Erickson said. "Doctors told me it was broken.
"I don't know where, but I know that it's broken."
Paul was one of 10 Utes who signed with the Stallions on opening day, but the list of active roster players is now down to six. Running back Matt Asiata, wide receivers Dres Anderson and Kaelin Clay have also been placed on injured reserved for Salt Lake.
Paul finishes his season with 27 tackles, including 23 solo stops, and 0.5 sacks.
Make your own press
A special guest joined the local media after the Stallions' win Saturday night — former BYU receiver Jordan Leslie, who finished with two catches for 9 yards.
Leslie asked Woodrum the final question of his post-game opportunity, trying to pry an answer about who the quarterback's favorite receiver was. He caught the 2-point conversion from Woodrum following the game's lone touchdown, and pulled out his imaginary sword in a duel with offensive lineman Ryan Cummings.
Woodrum wouldn't bite, though.
"I don't have to answer that, do I?" Woodrum responded. "I love my offensive line, so my offensive line is my go-to."
×
Related Stories