This archived news story is available only for your personal, non-commercial use. Information in the story may be outdated or superseded by additional information. Reading or replaying the story in its archived form does not constitute a republication of the story.
SALT LAKE CITY — It may have been the worst offensive game of Salt Lake Stallions coach Dennis Erickson's career.
Or maybe it was the best defensive game the Salt Lake Stallions have played.
Either way, it was a win.
Joel Bouagnon scored on a 3-yard touchdown dive off a fumbled snap, and Josh Woodrum hit former BYU receiver Jordan Leslie with the two-point conversion to give the Stallions an 8-0 lead that held up until the fourth quarter en route to an 8-3 win Saturday night against the San Diego Fleet at Rice-Eccles Stadium.
In the waning minutes of the game, San Diego had the ball and was driving down the field. But a game-sealing interception by Salt Lake defensive back Steve Williams at the Stallions' 11-yard line gave Salt Lake the win.
Woodrum threw for 155 yards with two interceptions, and Bouagnon ran for 45 yards and a touchdown on 15 carries to lead the Stallions (3-5), who kept their playoff hopes alive while climbing into a tie with San Diego for third place in the four-team Western Conference.
Salt Lake has been on the losing end of several close losses — four by an average of 4.5 points, to be exact — that the Stallions just enjoyed coming out ahead in a close fight.
"Defensively, I think we are one of the better teams in the league. In the second half, they were unbelievable," Erickson said. "Offensively, we were good in the beginning of the game … and then played terrible the rest of the way. Of all the games we've played, that was probably the worst offensive game we've played all year."
Salt Lake's defense pitched a shutout until Donny Hageman converted a 29-yard field goal with 10:45 left in the game. That included Hageman's first missed field goal in the third quarter after San Diego's longest drive of the game.
The win keeps the Stallions' fledgling playoff hopes alive, moving them one game behind Arizona for the No. 2 spot in the West before the Hotshots' Sunday night shootout at conference-leading San Antonio.
"I think it means that we are technically still alive in the playoff race," Woodrum said. "If some weird things happen, we can still get in at 5-5.
"So it's huge."
The two teams combined for just 110 total yards in a scoreless first quarter, and San Diego out-gained the Stallions, 264 yards to 245. Both teams totaled six turnovers, so maybe it was fitting that the game essentially ended when Salt Lake's Steve Williams went up and intercepted Mike Bercovici as the Fleet threatened the game-winning drive in the final minutes of the fourth quarter.
"I've been coaching a long time, and I don't know if I've ever seen anything like that," San Diego coach Mike Martz said. "They're a good team. But I'm a little upset coming up those steps. I'm upset at the opportunities that we had that we failed to make. I'm upset at missing a field goal from the 5-yard line.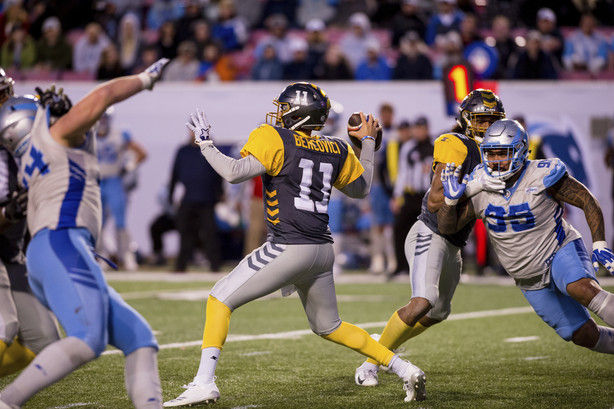 "Defensively, I thought we battled them pretty good. Keeping them to 8 points means we should win that game. … What I watched out there kind of makes me angry."
Make no mistake, the Stallions' defense won the game — and Woodrum knows it.
From Greer Martini's nine tackles to Karter Schult's tackle for loss and two quarterback hurries, the Stallions matched San Diego's offensive ineptitude with a defensive showcase for the ages.
"They're the best defense in the league," Woodrum said. "We've known that this whole year. Our offense has not been able to put up as many points or yards as we want, but our defense has kept us in so many games.
"When it's all said and done, they are the reasons we have success."
Williams and CJ Smith each had an interception for Salt Lake, while San Diego's Ryan Moeller had two interceptions in the loss.
"It felt good to be around the ball again," Moeller said. "It always feels good to make plays for your team. But I always want to do more."
That's a "W" for the Stallions. 🐎🐎🐎 #FullSteedAheadpic.twitter.com/mCkrm4Cd3n

— The Wild Stallyns Podcast (@Wild_Stallyns) March 31, 2019
The same could be said of Woodrum, who has thrown five interceptions in two games against the Fleet. But for one night, he walks away the victor, avenging a 27-25 loss in San Diego and alleviating a small portion of the sting.
"We've got to make plays," Woodrum said. "We drove the ball right down their throat for two drives, and I threw a pick and fumbled it. It would've been 16 points right there.
"I have to take it upon myself to play better."
Next up
The Stallions travel to Atlanta to face the Legends (2-5) in the final road game of the regular season. Kickoff is scheduled for 2 p.m. MT on Bleacher Report Live.
Salt Lake's final home game of its inaugural regular season will be Friday, April 12 at 6 p.m. MT against the West-leading San Antonio Commanders.
×
Related Stories