MURRAY — For Matthew Thompson, a 32-year-old father of three, donating his kidney to a stranger was the same as helping a neighbor carry in groceries.
"Why would I be selfish and keep it when someone else needs it that bad?" he said Friday.
Mitchell Salas, 30 of Woods Cross, has suffered from kidney problems since he was a child. He'd been on dialysis for the past three years, and even though people in his life offered to donate kidneys to him, things kept falling through. At one point, his father, Willie Salas, was going to donate his kidney but he was eliminated during the screening process.
"I didn't have anybody and was kind of like, 'Man, I don't know what to do,'" Salas said.
That all changed when he got a phone call three weeks ago and doctors told him he would receive a kidney from a good Samaritan donor — someone who chooses to donate an organ to a complete stranger.
Salas broke down and said he knew this was the answer to his prayers.
The two men met for the first time Friday at Intermountain Medical Center, surrounded by Salas' family, just two days after the transplant surgery.
Salas' family was first to arrive to the meeting. When Thompson arrived, Willie Salas embraced him and tearfully thanked him "from the bottom of our heart" for "giving life back to my boy."
When Mitchell Salas entered the room shortly after, he was immediately choked up when he saw Thompson. He hugged him and told him through tears, "I don't know how I could ever repay you, I'm forever in your debt."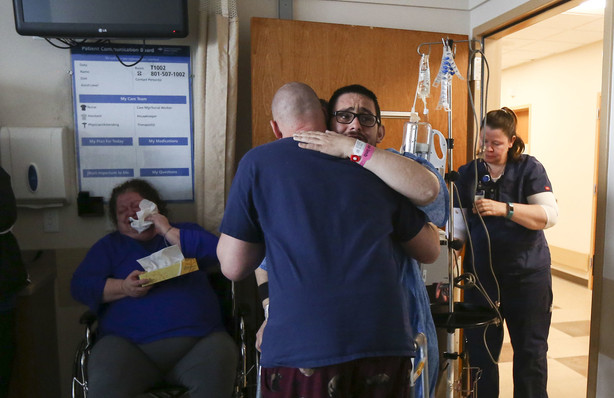 "Just knowing that I've helped somebody is good enough for me," Thompson told Salas.
The pair sat down and held hands as they each shared their stories.
The idea of donating an organ came to Thompson five years ago, when he added it to his bucket list after listening to a talk by John Bytheway, a well-known Latter-day Saint author and speaker.
"You're the hero of this story, man," Mitchell Salas told Thompson.
But Thompson said he never thought of himself as hero. He just knew he wanted to help someone.
"Donors do something wonderful to save the lives of others," said Srini Srinivas, medical director of Intermountain's kidney/pancreas transplant program. "Whenever a kidney donation occurs, when a recipient receives a kidney, the lifespan of that recipient is doubled.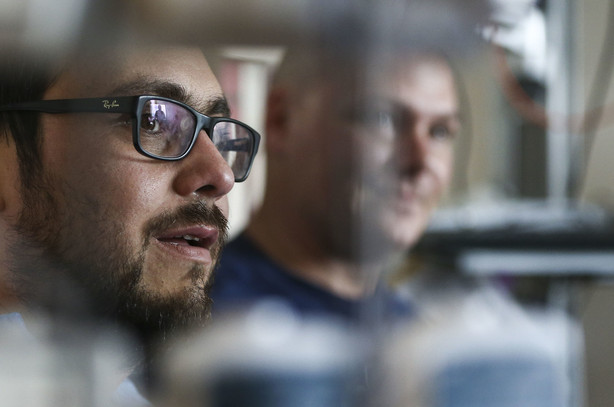 "There's not too many instances in medicine where we can double somebody's lifespan through somebody else's goodness."
Srinivas said the vetting process for good Samaritan organ donation is especially intense and helps to ensure that donors won't regret the decision.
Thompson, who lives in Stansbury Park, said once people knew he wanted to donate an organ, some friends approached him and told him about people they knew who were in need. However, matching with people can be difficult.
Thompson knew the organ donation list is long and can be a grueling process, with people sometimes waiting years for organs.
"I just need to take the next person off the list," Thompson recalled thinking to himself.
He still has some pain, but thought it would be worse. But, he said, it's not about the pain for him.
"The pain is nothing compared to knowing I helped someone," he said.
Thompson's wife and father initially felt he was acting selfishly as a father and husband to give a piece of himself to a stranger. But since they've seen the difference it's made, they've been supportive.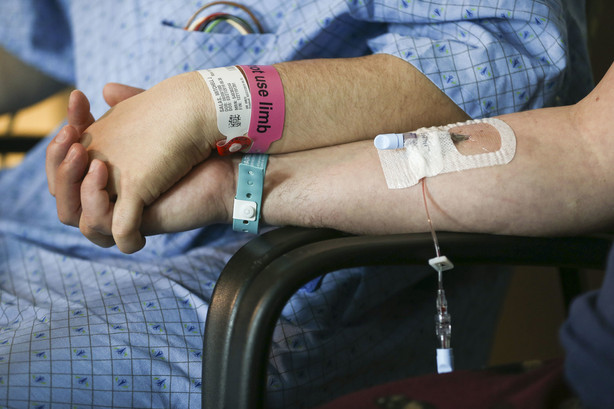 His father is proud, but told his son "don't do it again," Thompson said with a laugh. However, he said if he could, he would donate an organ again.
Doctors told both men the kidney was doing great and Nancy Salas remarked that her son's coloring was the best it's looked in years.
"He's my warrior but … (he's) been through a lot," she said.
Both men are members of The Church of Jesus Christ of Latter-day Saints and said they feel this was a spiritual experience and part of God's plan.
They also discovered they are both Denver Broncos fans and Mitchell Salas said the two should go to a Broncos game together.
There are risks for organ donors, including the risk of losing 25 to 35 percent of kidney function, and 3 in 10,000 donors die in surgery, according to the United Network for Organ Sharing.
Over the last three years, Intermountain teams have performed 80 living kidney donation surgeries, seven of which were good Samaritans.
While Salas desperately wanted a kidney to live, he felt selfish and conflicted about the situation.
"I didn't want anyone to have to pass away to live," he said. And even though he felt relieved and grateful to receive a good Samaritan donation, he worried about Thompson's health.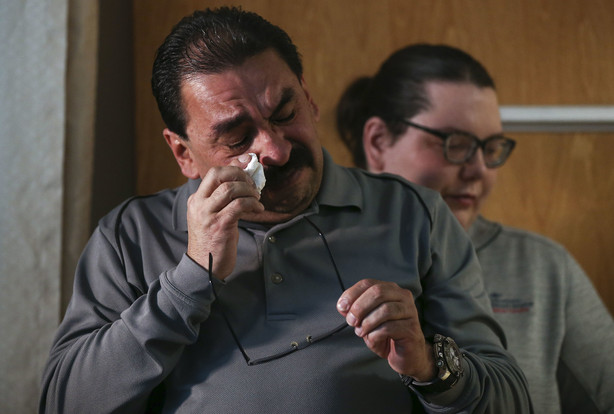 He said he and his family prayed and fasted before the operation for Thompson's safety during the procedure.
"We've been waiting a long time for this and just seeing what he's had to go through and the process of it has been very emotional. I'm just glad it's finally over," said Kayelin Salas, Mitchell Salas' wife.
Mitchell Salas had dialysis Monday, Wednesday and Friday, making it almost impossible to travel. The couple wants to take a vacation once he's recovered from the operation.
"This man right here — this angel — has done it," Mitchell Salas said of Thompson. "You are definitely my angel, there's no doubt about it. You're my brother now, you're a part of me now."
×
Photos