STANFORD, Calif. — In an alternate reality, Shaylee Gonzales might be preparing to suit up with Stanford in a second-round NCAA Tournament game against BYU.
The Cardinal recruited Gonzales pretty heavily during high school in Gilbert, Arizona. But the current BYU freshman opted for the Cougars, siding with head coach Jeff Judkins, who recruited her well in advance of Stanford legend Tara VanDerveer.
So when Gonzales leads the Cougars into Monday's second-round game at Maples Pavilion (9 p.m. MT, ESPN2), she'll have plenty to prove.
"Being at BYU means a lot to me, and playing against somebody who really wanted me makes me more competitive and want to play my best against them," she said during BYU's pregame press conference Sunday afternoon.
There are few she'd want to take on the Cardinal, because of the chemistry and friendships that have been built throughout the season — one in which only one player on the active roster will depart before next year.
Judkins has had a lot of teams in his years with BYU women's basketball. Some of them have been compartmentalized, with a heavy focus on families and non-basketball matters.
That's not a bad thing, especially at a school like BYU, whose founding faith puts so much emphasis on the family and eternal relationships. But it can also form cliques, or subgroups, within the team.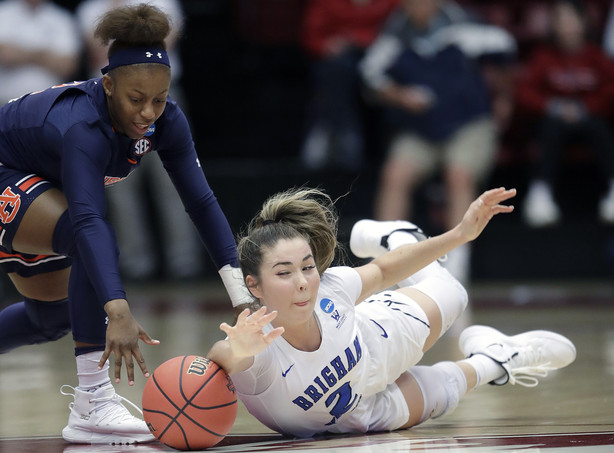 This team doesn't have that, Judkins said.
"We have a lot of young players, and maybe that's part of it," Judkins said. "The seniors and upperclassmen have done a fabulous job of letting them understand what is going on with BYU. And the players who have been stars are team players; they don't care about recognition. All they care about is winning."
They care about winning, and they care about each other, reserve guard Maria Albiero said.
There's no crying or complaining or moping for more playing time. There's no jealousy or animosity over roles.
The Cougars just want to win — and they don't care who gets the glory.
Basketball is supposed to be an unselfish game — it's why the assist stat was invented. But BYU has taken unselfishness to another level, even spreading out off the court to meet at each other's houses, go to dinner as a collective, or gather for Sunday night scripture reading.
"We truly love each other, and cheer for each other," Albiero said. "I think people notice on the bench — when someone else is successful, we are very happy.
"We really feel like a family. We have our three guards, the starters, and everyone can count on them. But on a night where something happens, everybody needs to be ready to help as much as they can. Our coaches do a great job of making sure they are ready, and they trust us and make sure our team is good to go."
That unselfish play pays dividends regularly. On any given night, a different player can go off and terrorize opposing defenses.
NCAA WBB Tourney
Many have seen what Gonzales can do, or Brenna Chase, the junior sharpshooter with 86 3-pointers on the year.
There's Paisley Johnson, the hard-working charge-taker and WCC Tournament most outstanding player. Or Sara Hamson, the 6-foot-7 center who ranks in the top-10 nationally in blocks per game.
Even Albiero has had her hero's moment, and Caitlyn Alldredge, the team's lone active senior who had a career-high 14 points in the Cougars' 73-64 first-round win over Auburn.
"It's so hard to guard. There are so many weapons we have," Hamson said. "There are so many things, and you can't account for all of them because you have to help off on Paisley's drive and Shaylee's drive, and both of them can shoot, too, like Brenna.
"They all do all the things, and we all do all the things and it's great. It's just hard to guard everyone at once."
Stanford is a women's basketball powerhouse that has been to the Sweet 16 for 11-straight years. The Cougars, meanwhile, are playing in the second round for just the fourth time in program history.
But experience can be just a number, VanDerveer cautions.
"Experience only helps if you've learned from it," the tenured head coach said. "Just because you've done it doesn't mean anything, really. But hopefully, the fact that people have been successful in the tournament, they can build on those positive experiences and learn from them, learn why we weren't successful, too.
"I don't think basketball or the tournament is rocket science. You've got to play great defense, you've got to rebound, you've got to execute offensively. It's probably no different than during the season."
It's a number that maybe, possibly, might be overcome with hard work — and a little chemistry.
"Just being here, it's an honor and it's a blessing," Gonzales said. "I feel very blessed to be in my position."
NCAA Women's Tournament: BYU (26-6) vs. Stanford (29-4)
When: Monday, March 25 at 9 p.m. MT
Where: Maples Pavilion in Stanford, Calif.
TV: ESPN2
Radio: BYU Radio
×
Related Stories