STANFORD, Calif. — Call it nerves, jitters, anxiety or the forlorn look of a mean Auburn press, but the BYU women's basketball team didn't start out well in its NCAA tournament opener against the Tigers at Maples Pavilion.
BYU trailed 11-5 midway through the first quarter of a game it went on to win, 73-64. But the most concerning stat wasn't the scoreline — Auburn had missed so many shots, that points weren't the problem.
It was on the boards, where Auburn out-rebounded the Cougars 27-20 in the first half — including an 11-2 margin on the offensive glass.
Enter Shalae Salmon.
The junior post replaced a foul-saddled Sara Hamson midway through the third quarter and did her thing. Salmon finished the first quarter with three rebounds and a putback bucket to help the Cougars turn its 11-5 deficit into a 13-11 lead after the first quarter.
And the rest was history.
"My role on the team is to rebound, and I took that to heart," Salmon said. "I went back in and made sure I had my eyes on the ball. Move over; I was getting this."
Salmon finished with 5 points and six rebounds in 14 minutes off the bench, a line that doesn't necessarily jump out of the box score. But she finished with a plus-minus of six, the fourth-best mark on the team.
"It's kind of doing all the dirty work, just getting in there and muscling in. That's kind of what I like to do: get in and bang bodies and post up," Salmon said. "I like to head around, whereas Sara is more of a lobbed finish. To be able to bang around, that was fun."
Her impact was certainly noticed — and felt — and she relieved 6-foot-7 center Sara Hamson. The duo combined to limit Auburn forward Unique Thompson to 10 points and 19 rebounds, including six boards in the first quarter and a scoreless third.
The Tigers only made five field goals in the third quarter.
"I knew she had the height advantage over me, so I tried to get her on the move and even though she was on the move, they still weren't calling the fouls that I thought were fouls," Thompson said of facing Hamson and Salmon. "We knew she was down there and that she was going to be effective in that she was a shot blocker. She is 6-7 — who wouldn't block shots who is that tall?
"I wanted to crash the boards and get rebounds, but my guards' shots weren't falling. So it was kinda hard to do both."
The Cougars advanced to face No. 2-seeded Stanford in Monday's second round.
But were it not for Salmon, their NCAA dreams may have died in the first quarter.
"Shalae was a big part of the first half," BYU coach Jeff Judkins said. "I got a kid who starts for two-thirds of the season sitting on the bench, who has seen a season and she came in and played outstanding. She is not as good in the zone and active because she doesn't have the length. But offensively, she rolls the basket very, very hard and sets tough screens — and tonight she got herself open for it."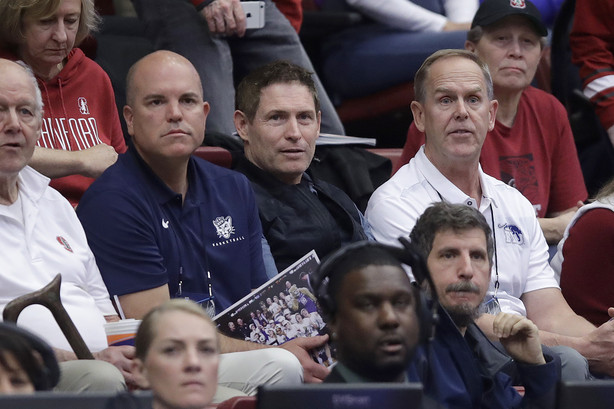 Seen in the crowd
No official attendance was announced for Saturday's game, but the crowd was certainly at less-than-capacity.
You may have recognized a few faces, though.
One of them was former BYU quarterback Steve Young, who also starred San Francisco 49ers from 1987-1999. The three-time Super Bowl champion and seven-time Pro Bowler joined BYU athletic director Tom Holmoe and associate athletic director Brian Santiago on the second round, directly behind the Cougars' bench, for a game that pitted his alma mater playing in his a city where he built his professional career.
Judkins made the off-hand remark when the Cougars learning their place in the bracket, and Young called into BYUtv's SportsNation to officially accept the request.
"Coach, this is great," the QB said after he surprised the coach. "Palo Alto is going to come out in power; we're going to be there Saturday.
"This is big. Stanford's been a powerhouse for years, and you're coming to Zions, man. Way to go."
Also among the dignitaries were Seattle Seahawks quarterback Russell Wilson, whose sister Anna is a junior guard with the Cardinal, and USA basketball player Ruthie Bolton.
WBB | For the first time in conference history, two #WCCHoops teams advance to the second round of the #ncaaW Tournament as #5 @ZagWBB (68-51 vs Little Rock) and #7 @byuwbb (73-64 vs Auburn) both earn big wins on neutral courts pic.twitter.com/N7nJKAYH64

— WCC Basketball (@WCChoops) March 23, 2019
West Coast power
The West Coast Conference made history Saturday.
In addition to BYU's win over Auburn, who ran roughshod through the conference except for three losses to the Cougars that includes a loss in the WCC tournament finals, defeated Arkansas-Little Rock, 68-51.
It marked the first time in West Coast Conference history that the league has won two games in the first round of the NCAA Tournament.
×
Photos
Related Stories