This archived news story is available only for your personal, non-commercial use. Information in the story may be outdated or superseded by additional information. Reading or replaying the story in its archived form does not constitute a republication of the story.
COTTONWOOD HEIGHTS — If you've driven up Little or Big Cottonwood canyons to ski or snowboard this winter, you've probably noticed a surge in traffic.
The Utah Department of Transportation has noticed it too, and it's working on solutions. The most immediate and effective solutions focus on changing the habits of people who play in the canyons.
"This year, it's been unbelievable, the amount of traffic coming up," said Jake Brown, roadway operations manager for UDOT in Little and Big Cottonwood canyons.
He supervises all of the plowing and the maintenance work done in the canyons.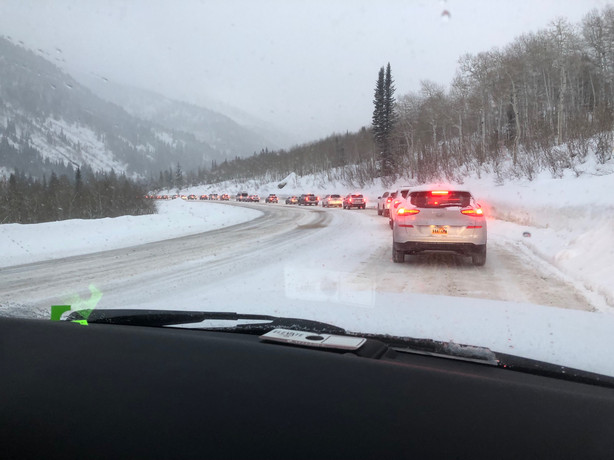 It's good for the state when a lot of visitors arrive to ski and snowboard, he said, but the crush of cars and trucks in the canyons can be too much for traffic.
"This is a problem that just arose this last year," he said as he drove through the canyon pointing out specific problems.
UDOT needs to keep traffic moving to keep business going at the resorts and because there are avalanche paths in both canyons.
"We've had big crowds before, but never have we seen the parking like this before," Brown said. "The massive amount of people that have gone up to the resort … there's just not adequate parking for everybody."
He shared recent pictures of skiers and snowboarders parking on the road in between the resorts in the canyons. That forced other motorists and people walking to the lifts out into traffic, compromising safety.
"I've had to shut down the canyon twice for unsafe driving conditions," he said, a first in the four years that he has managed the canyon.
So, what's going on?
UDOT and the resorts cite a big snow year — and a good economy — for starters.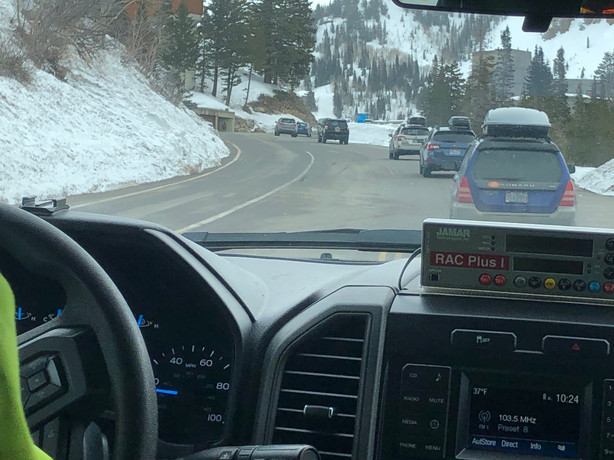 Plus, the Ikon Pass and Mountain Collective Pass bring more skiers to those canyons. Those passes give skiers and snowboarders opportunities to ski at different resorts in different states, and even out of the country. That means there are more visitors from out of state and out of the country, hitting the slopes with Utah's growing population.
Mishaps on the road can also stop all traffic for long periods of time. Brown said many visitors show up without four-wheel drive, snow tires or chains, and are unprepared for the conditions. Rental cars, without the proper equipment, are a big problem.
"When we have people that are not equipped to go up the canyon, then that stops traffic in the canyon and then we can't get people up, and we have traffic jams," he said.
UDOT has logged nearly 1,400 cars an hour on the busiest days — 5,000–7,000 cars for the whole day — all trying to drive up a two-lane road.
"Friday, Saturday, Sunday: huge amount of people," Brown said.
Weekend volumes of traffic start on Friday now, and fresh powder brings weekend traffic any day.
"It could be a Tuesday, it could be a Thursday," said John Thomas, a project manager with UDOT who is working on long-term solutions. "Any day when we get 6 inches of snow or more, we get a lot of people who want to go ski."
UDOT has already improved the flow of traffic at a couple of intersections in Little Cottonwood Canyon with new barriers, and similar plans are in the works for this summer.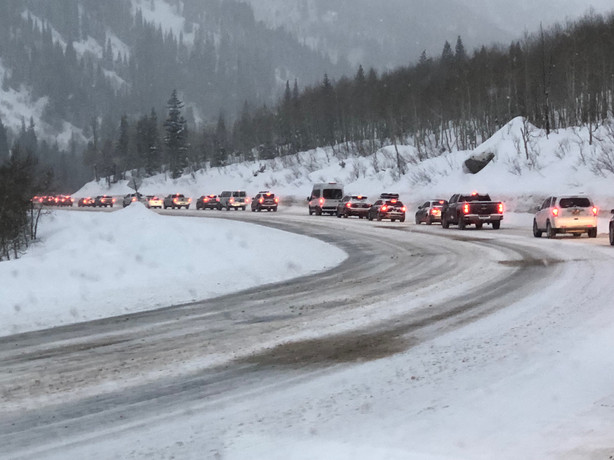 "We want people to come up to the canyons. We want people to come skiing. We don't want people to have this," Brown said, pointing at a picture of a traffic jam from Presidents Day.
Thomas said there are no simple fixes, though, and solutions come back to ride sharing and taking the bus.
After adding more ski buses last year, UTA saw a 30 percent increase in ridership, with another 40 percent increase this year.
---
If we all change our habits a little bit, it will be a lot better experience.
–Jake Brown, UDOT
---
However, that fills the park-and-ride lots, so Utah is in the process of trying to create more mountain transportation hubs along Wasatch Boulevard.
The best solution?
"Carpool," Brown said. "Find ways to increase the number of people in your car or ride with others."
At Alta, carpoolers with three or more get preferred parking. Snowbird has a ride-sharing app with rewards to encourage people to carpool.
Read more:
"If we all change our habits a little bit, it will be a lot better experience," Brown said.
UDOT is welcoming new ideas at an open house at the Cottonwood Heights City Hall, 2277 Bengal Blvd., on April 9 from 4–8 p.m.
×
Related Stories