Estimated read time: 4-5 minutes
This archived news story is available only for your personal, non-commercial use. Information in the story may be outdated or superseded by additional information. Reading or replaying the story in its archived form does not constitute a republication of the story.
SALT LAKE CITY — A group of key Wasatch leaders discussed recreation-related issues facing the Wasatch Front on Friday, highlighting the need for more funding.
Dave Whittekiend, supervisor of the Uinta-Wasatch-Cache National Forest, talked about financial struggles the forest faced during the 24th annual Stegner Center Symposium, an event focused on challenges of recreation on public lands.
There has been a 20 percent increase in site visits over the past five years, with 10.7 million visits annually and a 50 percent decrease in effective funding over the past 10 years, he said.
The forest struggles to keep up with the growth and the lack of funding while striving to meet the needs of the public, he said.
CEO of Ski Utah Nathan Rafferty examined the economic boost the ski industry brings to the area. According to the Kem C. Gardner Policy Institute at the University of Utah, it's estimated that total ski and snowboard out-of-state spending in Utah is around $1.1 billion. Local and state tax revenue is $226.4 million and total jobs is 21,361 with labor income of $654.1 million.
There were several questions from the audience about funding, specifically whether the canyons should implement a fee system, and how would that fee change the demographics of canyon visitors and impact accessibility?
All four panelists said they don't want to alienate populations from accessing the canyons, but Whittekiend emphasized funding is desperately needed for Uinta-Wasatch-Cache National Forest.
Whittekiend emphasized the need to find a balance between the two.
"We want to be able to provide the best quality recreation experience we can and the most sustainable resources we can for recreation that still allows people to be able to recreate out there, regardless of who they are or what their economic status is," he said.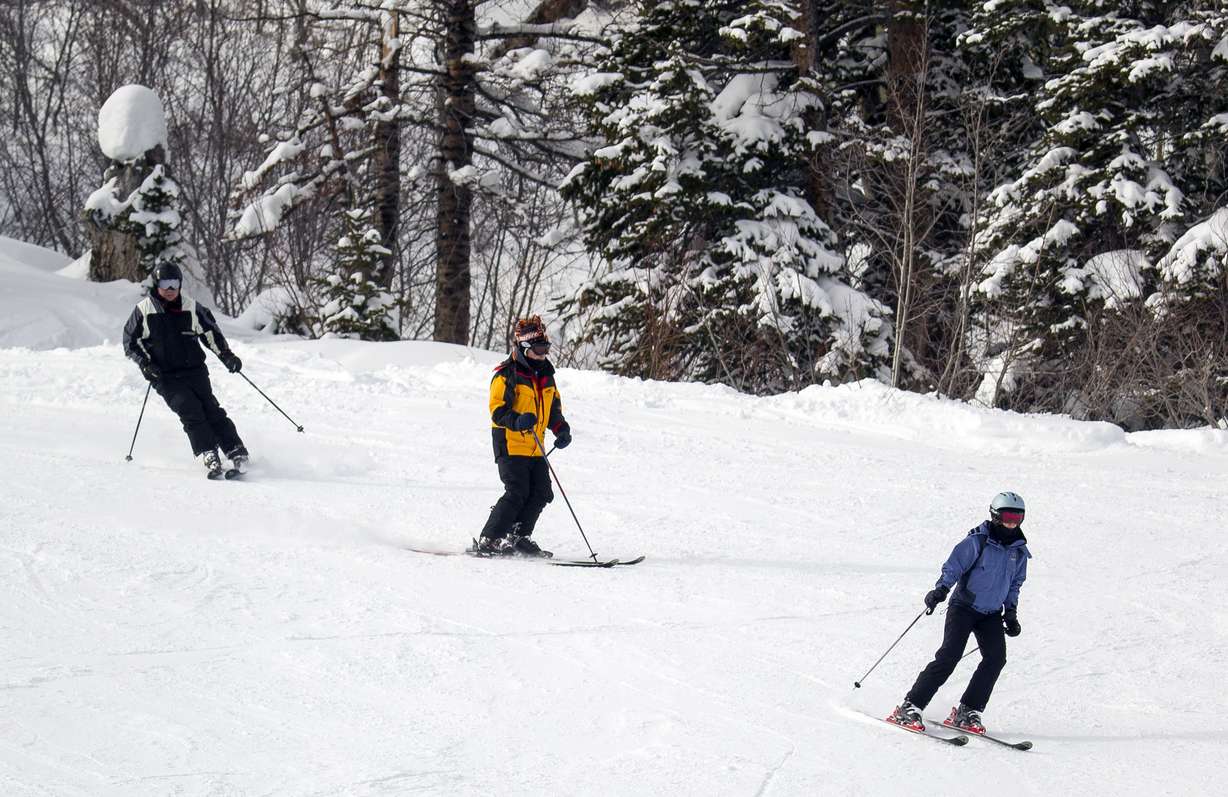 In the past, fees were proposed and the public was adamantly against it, he said.
Carl Fisher, executive director of Save Our Canyons, said a recent survey the group issued showed that some people would be willing to pay around $40 to $60 annually for a pass to enjoy the Cottonwood canyons.
Transportation was another hot topic panelists addressed, citing parking and waiting lines as issues. These problems reached a crisis point this year, noted Ralph Becker, executive director of Central Wasatch Commission and former Salt Lake City mayor.
He said more federal legislation ensuring public lands stay public is another necessary step to address the issues facing the canyons.
Increased use in the canyons makes it difficult to create sustainable plans for the area, Fisher said
"We're not really concerned with any one activity," he said. "We're concerned with all of them."
One big question from the audience was about the carrying capacity of the canyons — how much use and visitation can the canyons take?
"It's really difficult to assess because there's so many aspects to it," Whittekiend said in response.
He noted that visitor experiences are "deeply personal" and vary based on the person.
Whittekiend said the important questions are about resource depletion.
"Are trails sustainable, is the recreation resource sustainable, are we moving wildlife out of an area, are we having trails that we cannot maintain, can we pump all the toilets that we have out there?" he asked. "And we're trying to answer those questions."
Rafferty took a different approach to the question, not as focused on the environment.
"The resorts are, in my opinion, the best equipped to accommodate great numbers of people," he said. "They have obviously the parking facilities, but they have the bathroom facilities and all these things in place to accommodate lots and lots of people. So in terms of where you want people to be in the mountains, it's a great place to put more people."
Earlier in the discussion, Fisher said the ski resorts make canyons too accommodating and too comfortable, which plays a role in the overcrowding issue.
"I personally don't go up the Wasatch Mountains to see parking lots — I can go to Walmart for that," he remarked.
In order to make the area more sustainable, behaviors need to change, he said.
"If we don't have the proper framework in place in terms of management direction in law, that's going to be increasingly difficult over time," Becker said.
Conserving the canyons is important to Jess Oveson, an audience member who's worked various jobs in the Cottonwood canyons over the past few years.
"It's our home, it's the place where we go to recharge and to connect with our communities," she said. "It's those universal themes of solitude, community, wilderness and making sure that's something Salt Lake has to offer moving forward."
A better educated public would help solve some of these issues as well, Whittekiend noted. It's expensive and time-consuming to fix damage such as littering, trail cutting and graffiti.
"We really should be managing the trail systems and the resources and not fixing the damage that's out there," he said. Email: laurenbennett@deseretnews.com Twitter: laurmarben
×
Related stories
Most recent Outdoors & Rec stories