Estimated read time: 3-4 minutes
This archived news story is available only for your personal, non-commercial use. Information in the story may be outdated or superseded by additional information. Reading or replaying the story in its archived form does not constitute a republication of the story.
SALT LAKE CITY — With spring comes the blossoming of flowers, the colorful buds popping out on trees and, yes, the onslaught of mosquito larvae, or wigglers, that grow into adults capable of drinking 1½ times their body weight.
They also spread heartworm disease from dog to dog and cat to cat, and put Salt Lake City No. 1 among the top 10 cities in the country for the month of February for the number of dogs testing positive for the disease.
"Heartworm prevalences are increasing in the United States and it is a huge concern," said Dr. Craig Prior, a veterinarian and former owner of VCA Murphy Road Animal Hospital in Nashville, Tennessee, and past president of the Companion Animal Parasite Council's board of directors.
The nonprofit council has put out a variety of information on it website for both pet owners and veterinarians on heartworm disease, tracking its prevalence across the country.
Other cities that made the top 10 list include El Paso, Texas, Reno, Nevada, and Boise, Idaho.
People associate the problem of heartworm disease among their canine and feline companions with humid climates, but it is found in all 50 states.
Natural disasters like hurricanes are uprooting thousands of animals and relocating them in the West in states like Utah and Colorado, Prior said, spreading its commonality elsewhere.
"There is a massive movement of animals going on in the United States," he said, noting that in 2014 alone, 60,000 dogs were relocated from the southeast to Colorado.
Many of those dogs have heartworm disease, but they are not being tested and treated, he said.
The disease is caused by foot-long worms that live in the heart, lungs and associated blood vessels of affected animals, causing severe lung disease, heart failure and damage to other organs.
The adult female heartworms living in an infected dog or cat produce microscopic baby worms called microfilaria that circulate in the bloodstream. When a mosquito bites an infected animal, and then bites an uninfected animal, the larvae are deposited onto the surface of that animal's skin and enter through the wound.
It only takes one heartworm-infected dog to substantially increase the number of infected mosquitos that can transmit heartworm parasites to other animals, the council said.
Heartworm signs and symptoms in dogs
In the early stages of infection, there are few signs or symptoms. Here are symptoms of heartworm disease in its later stages:
Mild persistent cough
Reluctance to exercise
Fatigue after moderate activity
Decreased appetite
Weight loss
As the disease progresses, dogs may experience heart failure and a swollen belly from excess fluid in the abdomen. They may also develop caval syndrome, a sudden blockage of blood flow within the heart, which includes the sudden onset of these symptoms:
labored breathing
pale gums
dark bloody or coffee-colored urine
Info from the American Heartworm Society
If left untreated, the disease can result in several hundred adults infiltrating the heart and lungs of the animal, eventually resulting in death.
The council pulled data from major laboratories across the country analyzing 11 million tests that showed 148,000 positive results — a 25 percent increase over the last five years, according to Prior.
Those results, he added, only represent about 40 percent of the nation's pool of animals.
In the Salt Lake area, January test results of 666 dogs revealed one positive result for heartworm. In February, 675 dogs were tested with 11 dogs testing positive. Prior stressed it is not the numbers that are high, it is the increasing prevalence that is alarming for the council.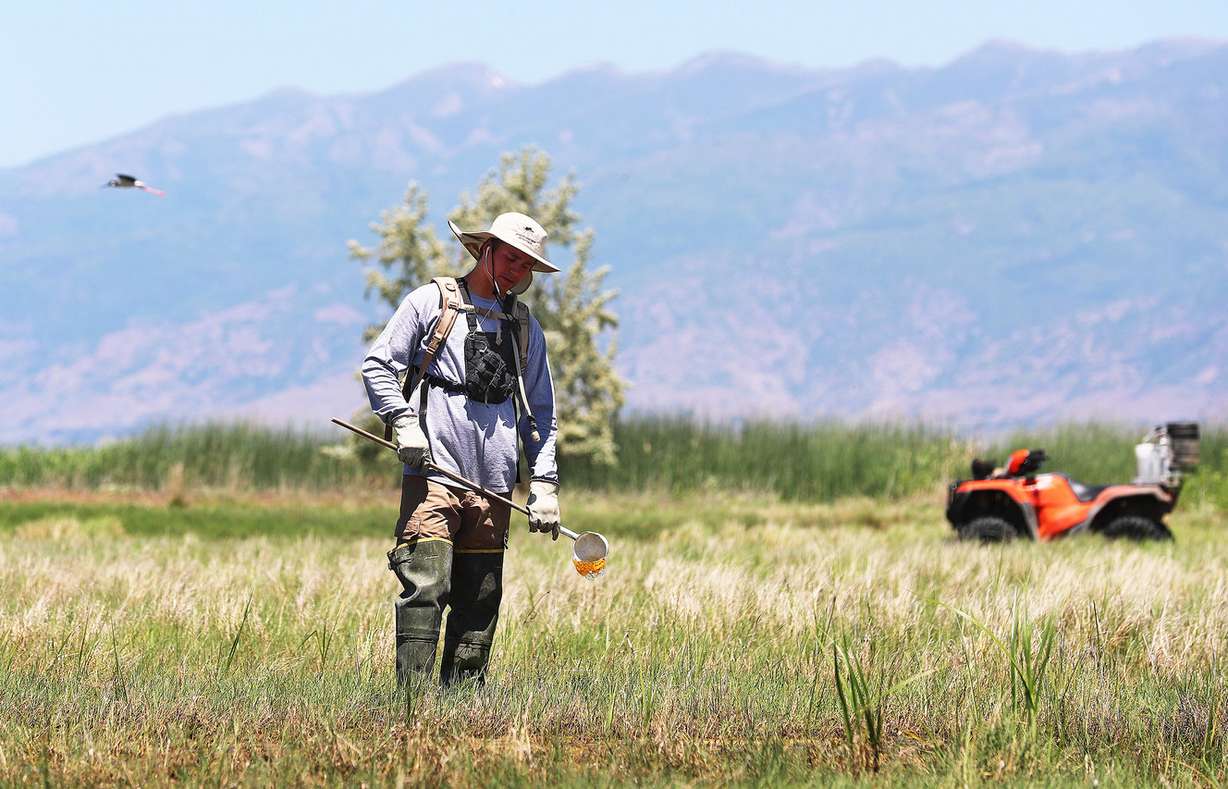 The council believes the prevalence of heartworm disease in dogs and cats will only continue to rise with changing climates that extend the mosquito breeding season. People becoming increasingly mobile with their pets also raises the risk the disease will spread.
According to a 2017-18 American Pet Products Association survey, 37 percent of pet owners are traveling with their pets every year — up from 19 percent a decade ago. And a recent TripAdvisor survey indicates travel with pets is expected to rise 49 percent.
Mosquitoes are not staying put either.
Local mosquito experts say they are extending their range, and Prior said there are about 70 varieties of mosquitoes that spread heartworm disease.
The problem of vectorborne disease is not limited to dogs and cats. Cases of West Nile virus among humans are on the rise in Utah, and during 2004 and 2016, the Centers for Disease Control and Prevention says, nine vectorborne diseases were reported for the first time from the United States and U.S. territories.
How to prevent heartworm in your pet
The American Heartworm society says that dogs, cats and ferrets can get heartworm disease. Here's how to protect your pet:
DO get your dog tested every year: It takes about 6 months for an infection to be detected in a test.
DO give your dog their heartworm medication on time, every time: Being consistent is essential to prevention.
DO make sure the medication is actually a heartworm preventive: There are a lot of parasite medications on the market, so be sure to check with the vet that your medication covers heartworm.
DON'T skip yearly testing because your dog is on preventive medication: The medication will likely keep them heartworm-free, but if your dog misses a dose by spitting it out or rubbing it off, it could create an opportunity for infection.
DON'T stop prevention just because you don't see mosquitoes outside: Heartworm preventives work retroactively, eliminating new infections that were transmitted months earlier. Don't guess when it might be "safe" to skip it.
DON'T forget that many heartworm preventive products also protext against other parasites: Some protect pets from intestinal worms, fleas, certain ticks, and mites. Talk to your vet about what your pet needs.
Info from the American Heartworm Society
×
Photos