This archived news story is available only for your personal, non-commercial use. Information in the story may be outdated or superseded by additional information. Reading or replaying the story in its archived form does not constitute a republication of the story.
SALT LAKE CITY — Jackie Biskupski embraced her wife in a large hug after she finished her announcement that she would not seek a second term, citing "a serious and complex family situation."
Biskupski, who had announced on Feb. 9 she intended to seek re-election as Salt Lake City's mayor, explained during a press conference Monday that she and her wife, Betty Iverson, had a family emergency emerge since then that required her attention.
She declined to go into further detail about what that situation was but said it involved the couple's children. Biskupski and Iverson are the mothers of two children, Archie and Jack, according to Biskupski's online biography.
"As parents, we have and will always put the needs of our children first," she said, standing next to Iverson and flanked by her staff at the Salt Lake City-County Building. "With that as our compass, we have made a decision for our family which will require an all-hands-on-deck-type approach. … For this reason, I have come to the difficult decision to withdraw from the 2019 Salt Lake City mayor's race."
While she will not seek re-election, Biskupski said she plans to finish out her term as mayor over Utah's largest city.
She mentioned the city-sponsored bus service is scheduled to begin during that time, as well as new homeless resource centers, new affordable housing programs, work on "major infrastructure projects," and additions to the city's clean energy plan.
Biskupski was also eager for Salt Lake City to host the United Nations Civil Society Conference in August, which she said will be the largest gathering in the city since the 2002 Winter Olympics.
Biskupski added the city will also move forward with its lawsuit over the state's inland port control planned for Salt Lake City.
"We have ensured that whoever takes this office next stands in a better position to further move our city toward resiliency and equal opportunity," she said.
Biskupski was elected in 2015 after defeating incumbent Ralph Becker in both the primary and general elections. She was the city's first openly gay mayor.
"What a journey," Biskupski said at the time. "I promise we will never lose sight of why we are here and the work that needs to be done. We will effect change. We will experience a cultural shift we have been needing for a very long time, and that is one that includes everybody."
Prior to being elected mayor, Biskupski became the state's first openly gay elected official when she was elected to the Utah House of Representatives in 1998.
Her time in office included participation in the massive Operation Rio Grande to curb crime, which began in 2017. In 2018, Salt Lake City was selected by the U.S. Olympic Committee in its push for the U.S. to host a future Winter Olympics.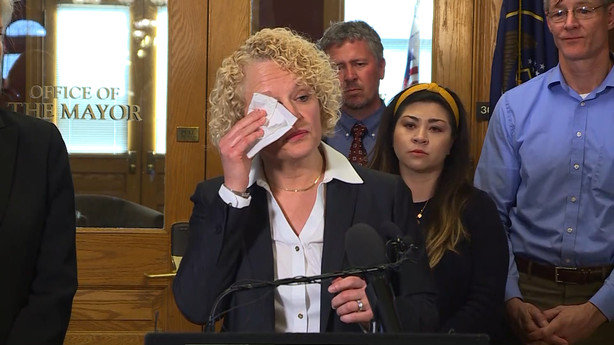 Biskupski said that she plans on stepping away from politics to focus on her family during the foreseeable future.
"At the end of the day, this is where I wanted to end my political career," she added.
Candidates in the Salt Lake City's 2019 mayoral race include former state Sen. Jim Dabakis, two-term City Councilman Stan Penfold, and businessman David Ibarra.
Biskupski said she will still pay attention to whoever her eventual replacement will be. She said she will challenge each candidate on issues dear to her, such as housing, air quality, infrastructure, climate change, transportation and jobs.
"I want my mayor to be someone we can believe in and who will fight for us," she said. "Salt Lake City is unique, complex, and requires thoughtful attention from a hard-working leader."
×