PROVO — There were chances at a let-down game, with BYU women's basketball rolling toward the West Coast Conference Tournament.
But let-down dates with league-low San Francisco and Santa Clara awaited the final week of the regular season.
No problemo.
Shaylee Gonzales poured in 16 points, three assists and three steals, and Brenna Chase added 13 points with three 3-pointers, as the Cougars put together two first-half runs that combined for 20-0 to roll past the Dons, 82-59, and secure a top-two seed for the upcoming West Coast Conference Tournament in Las Vegas.
Paisley Johnson added 15 points and four assists, and Sara Hamson added nine points, four blocks and a season-high 12 rebounds for the Cougars (22-6, 14-3 WCC).
"No matter what, we are at least in second or first — and nobody would've thought it at the start of the year," BYU coach Jeff Judkins said. "These guys have really learned to trust each other, and they've been really fun to coach."
Nia Kostic led San Francisco with 18 points and six rebounds, while Julia Nielacna supplied 13 points off the bench for the Dons (6-22, 2-15 WCC).
The win, combined with No. 16 Gonzaga's 83-60 win over Pepperdine, guaranteed a top-two seed for the league tournament. BYU is one game back of the Zags (26-3, 15-2 WCC) for the league's top seed with one game to play.
No matter what, the Cougars' tournament won't start until Monday, March 11 in Las Vegas.
"I think it's an advantage; that's why they did it," Judkins said. "But we won't be able to shoot on that gym and that'll be tough. We just have to make the best of it."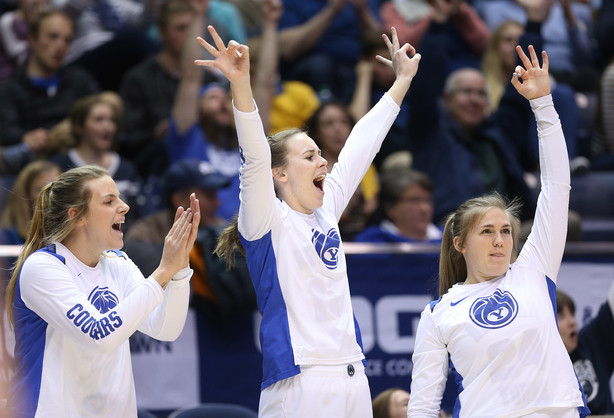 Part of that is thanks to a season sweep of the Zags. But part of it includes not having a let-down game against USF, playing so well that Chase only played 29 minutes, and the several bench players saw extended time in the second half.
Abby Mangum had a career-high seven points off the bench, Maria Albiero scored 10 points with an assist in 16 minutes, and Jasmine Moody added six points and six rebounds in 14 minutes.
"I love being on the court, but it was really fun to watch our bench tonight build on our lead," Chase said. "Abby shot really well and it was fun."
After a back-and-forth first quarter, BYU took control with a 7-0 run to end the opening period up 21-15. Chase finished the spurt with 10 points and an assist, a dime to post Sara Hamson, who also drew the foul to cap the quarter-ending run.
After the Dons came back to pull even via a shooting flurry from Shannon Powell, the Cougars ended the second quarter in similar fashion: with a 13-0 run to pull ahead for good, 41-27, at the break.
Powell scored eight points, including a pair of threes, during a 10-2 run that tied the game at 25-25 midway through the second quarter. She finished with eight points on 3-of-7 shooting.
"We did a really good job of getting our rebounds and then getting out in transition," Chase said of the two quarter-ending runs. "They struggled with that; the altitude here is high, and you get tired more easily. I think our transition game really helped us."
The Cougars have higher expectations than a No. 2 seed in the WCC Tournament, though. With two wins over a ranked Gonzaga, BYU's tournament projections are rising with their play. ESPN's Charlie Creme currently projects the Cougars as an at-large team, playing in an 8-9 game against Michigan in Louisville.
"It's really important to finish these two games and then go into the tournament with confidence," Chase said. "I think we can win it — but this will really help our chances of going to the NCAA."
Next up
The Cougars wrap up the regular season at Saturday against Santa Clara at 2 p.m. Tipoff is scheduled for 2 p.m. MT on BYUtv.
×
Photos
Related Stories