Estimated read time: 5-6 minutes
This archived news story is available only for your personal, non-commercial use. Information in the story may be outdated or superseded by additional information. Reading or replaying the story in its archived form does not constitute a republication of the story.
LAS VEGAS — San Diego opened its late-night West Coast Conference quarterfinal with a 13-0 run.
It didn't get better from there for BYU.
Led by 27 points and 12 rebounds from Isaiah Pineiro, the Toreros simply boat-raced BYU 80-57, eliminating the Cougars from tournament title contention in one night in Las Vegas.
Isaiah Wright added 15 points and Finn Sullivan scored 17 for San Diego (21-13), which won its third-straight game and advanced to face No. 2-seeded Saint Mary's in Monday's tournament semifinals.
For good reason, the Toreros were positively ebullient after the game — even when Pineiro was ribbing the 6-foot-4 freshman Sullivan, who grew up near USD's campus at Torrey Pines High School, for his 17 points on 5-of-8 shooting, including a back-breaking reverse layup as time expired in the first half.
"That shot you hit was dope," Pineiro joked, seemingly unaware that a live microphone was sitting in front of him. "I didn't know he scored that much, so I was surprised. But he played phenomenal; he really stepped up.
"And this his first time in front of the media."
Summary of the first half for @usdmbb can be seen below ⬇️ #WCChoopspic.twitter.com/XAU1UkA9jy

— TheW.tv (@TheWtv) March 10, 2019
Then Sullivan passed his next big test — his first question asked in a formal press conference by the media, courtesy of the local Las Vegas Review-Journal.
"I was just trying to win the game," Sullivan said, with a tongue-in-cheek attitude, knowing he would draw his coach's reaction for the drab and dreary response. "Possession by possession."
Yoeli Childs had 14 points and six rebounds for BYU (19-13), but the earliest postseason exit since 2013 raises questions about whether he will return for his senior season in Provo.
If Saturday night's game is an indicator, there's little reason to pass on a potential pro contract. Or maybe there is: Childs was held below his average, defended well by San Diego's bigs, including Sullivan, and shot just 6-of-18 from the field.
The junior from Bingham High averaged 21.5 points and 9.5 rebounds per game during the Cougars' regular season, one that finished with 19 wins and — barring an invitation to the pay-to-play College Basketball Invitational (CBI) or CollegeInsider.com Tournament (CIT) — will likely end with the fewest wins in BYU history since the 2004-05 season.
In that season, the Cougars finished 9-21 with a 3-11 mark in Mountain West play, and then-head coach Steve Cleveland was fired, while his one-time assistant Dave Rose was promoted to his first Division I head coaching job.
Yes, Rose carried a streak of 13-straight 20-plus win seasons into this year, (though two of them are currently being disputed as a result of NCAA sanctions levied against the program in a case involving junior guard Nick Emery, alleging improper benefits).
"I think that we got off to a tough start on both sides," said Rose, who was noncommittal when asked if the Cougars would accept an invitation to a non-NCAA or NIT postseason event. "Defensively, we had a tough time corralling them, but we contested quite a few shots and they were ready to roll. You get off to a 13-0 start, and that's a pretty good advantage to your confidence."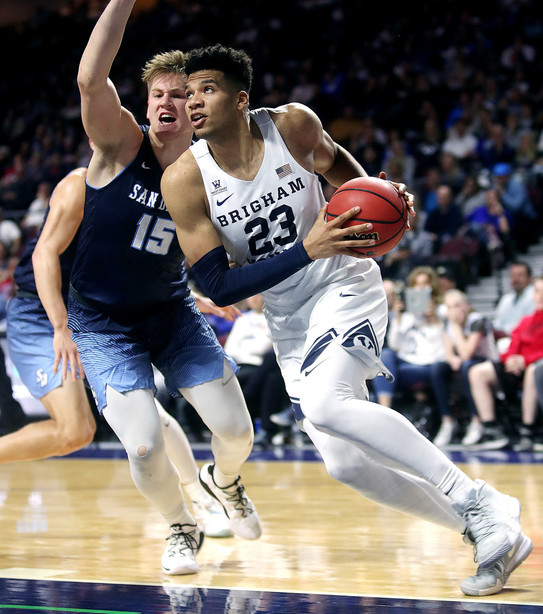 Freshman Connor Harding supplied 12 points for BYU, most of which were during the game's final stretch that included a 14-1 run that prevented the worst loss of the season — barely.
In a season where BYU suffered its worst home loss in Rose's tenure, (93-63 to Gonzaga), the Cougars topped the mark not just once, (102-68 to Gonzaga in Spokane), but twice, in a late-night clash in Sin City where the Cougars trailed by as much as 44 points.
The Toreros held the Cougars without a field goal until Childs hit a jumper six minutes into the game. They stretched the lead to 26-10 on Pineiro's 11th point in the first 13 minutes — a feat that was matched by Wright, who opened his account with three 3-pointers.
From there, it was off to the races — and USD was simply quicker out of the starting blocks, around the first turn, and down the home stretch than BYU.
"We've come back from some pretty big deficits," said BYU senior Luke Worthington, who finished with one point, three rebounds, a block and the unenviable task of addressing the media following an embarrassing blowout loss. "But San Diego threw it all out there tonight, and a credit to them for the way they play."
Moments after San Francisco lost its fourth-straight game, getting razed by No. 8-seed Pepperdine in the tournament's first quarterfinal, the Cougars were woefully unprepared for the seventh-seeded Toreros squad playing its third game in as many nights in Las Vegas.
But for one night in Las Vegas, San Diego didn't play like the No. 7 seed. They didn't play like a team that lost to BYU at home 88-82 in overtime, or 87-73 in the Marriott Center.
"A little over a week ago, we sat in the locker room up in Provo after they beat us pretty good — and instantly these guys laid out their track, and what they were going to do," USD coach Sam Scholl said. "It's a lot of fun to see — especially their defending. That's the identity of our program. That way they are coming out defensively is pretty awesome."
The Toreros looked like a team enjoying itself and playing its best basketball of the season. A team led by a burgeoning senior class that didn't want its season to end just yet. And it won't, at least not until Monday when they face the Gaels.
BYU was left simply looking for answers.
"His guys are playing probably as well as any group in the country, sharing the ball, defending the perimeter, making tough shots," Rose said of USD. "Saint Mary's has got their hands full."
×
Photos
Related Stories