This archived news story is available only for your personal, non-commercial use. Information in the story may be outdated or superseded by additional information. Reading or replaying the story in its archived form does not constitute a republication of the story.
PROVO — When BYU's high-scoring guards of Brenna Chase, Paisley Johnson and Shaylee Gonzales are hitting shots, the Cougar women's basketball team is hard to stop.
And it's a lot of fun.
Paisley Johnson had a team-high 24 points, and Brenna Chase added 23 points and seven assists to help the BYU women's basketball team cruised to an 83-58 win over Pepperdine to open West Coast Conference play with three-straight wins.
Shaylee Gonzales supplied 22 points, seven rebounds, seven assists and three steals for the Cougars (11-3, 3-0 WCC), who won their fifth-straight contest overall.
"This is as good of a guard lineup as I've had in a long time, all three of them," BYU head coach Jeff Judkins. "How do you guard them? You try to follow one, and then the others just make shots. They are playing well together and playing with a lot of confidence.
"We've just got to get an inside presence."
Yasmine Robinson-Bacote had 22 points to lead Pepperdine (7-6, 1-2 WCC), and former Mountain View standout Skye Lindsay added six rebounds for the Waves.
The Cougars assisted on 21-of-29 made shots, led by seven each from Chase and Gonzales — many of them to each other.
"Our big key is when we move the ball and make the extra pass," Chase said. "All five of us can score … and when we move the ball and make that extra pass, I think we are pretty unstoppable."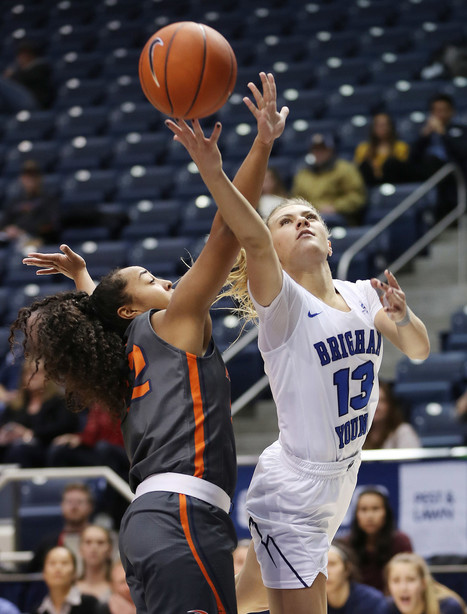 Most importantly, the team is having fun as it rides five-game win streak in the second weekend of conference play.
"As a team, we've really come together," Johnson said. "It's fun to play. When you're passing the ball and everyone is hitting shots, it's so fun to play."
BYU held the Waves to 29 percent shooting in the first quarter, taking a 26-16 lead out of the opening 10 minutes on a transition bucket by Chase with no time on the clock. The junior point guard had 11 points and two assists in the first quarter to lead all scorers early.
Even as the Cougars shot just 25 percent in the second quarter, hitting as many shots from 3-point range (two) as 2-point range, Pepperdine couldn't cut into the lead and trailed 40-29 at halftime behind a trio of BYU double-digit scorers in Chase, Gonzales and Johnson.
Jasmine Moody's bucket with 4:03 left in the third pushed the Cougars' lead as large as 20, 53-33. But Pepperdine responded with an 11-0 run capped by Barbara Sitanggan's bucket that helped pull the Waves within 12, 56-44 before the final period.
But every time Pepperdine threatened to cut the lead to single digits, BYU found a clutch shot.
"Defense is huge to fuel our offense," Chase said. "We get energy defensively, and that helps on both ends."
Chase's fifth 3-pointer gave the Cougars a 64-51 lead, and Johnson added a triple of her run during the 15-2 run that helped put the game away for good.
BYU ended the game on a 19-5 run, including a buzzer-beating three by Ashley Beckstrand, as Judkins pulled his starters for the final minutes.
It all added up to a win in the first home game of 2019, with a critical contest against Loyola Marymount (9-6, 2-1 WCC) on Saturday afternoon at 2 p.m. MT to keep pace with league-leading Gonzaga (14-1).
"Our goal isn't just to win three games, but to win all of these games," Chase said. "We want to win a conference title."
×
Photos