Estimated read time: 3-4 minutes
This archived news story is available only for your personal, non-commercial use. Information in the story may be outdated or superseded by additional information. Reading or replaying the story in its archived form does not constitute a republication of the story.
ROME — Latter-day Saint youth in Rome were the latest to enjoy words of love and encouragement from President Russell M. Nelson, a man whom they consider to be a prophet, seer and revelator, and who seems determined, even at 94, to personally visit members of the faith around the world.
A young man who attended the devotional said he traveled for six hours to attend.
"I was lucky, very lucky. I found the prophet and I (was able) to meet him face-to-face. It was really incredible, and I am so happy. I've never seen a prophet like that face-to-face, so I am really impressed by his spirit and by him personally," said Christian D'Onofrio, 15.
Having a temple in Rome led President Nelson to remark to the youth, in what the church's Newsroom said was a standing-room only crowd, "your friends will watch you more than they ever have before."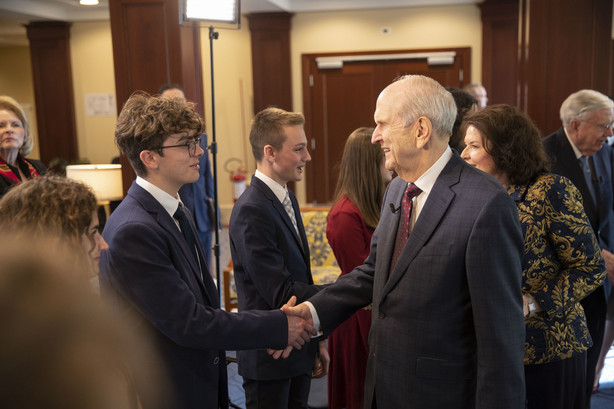 Those who attend a dedicated temple must adhere to rules of conduct and answer specific questions from their ecclesiastical leaders regarding their beliefs and behavior.
A dedicated temple, unprecedented in the historic city, has brought with it a slew of other firsts: The first time the entire First Presidency and Quorum of the Twelve, which make up the church's top leadership, have been together outside the United States; the first time two church leaders have led a virtual tour of the temple; and, the first time a church president has met with a pope, among them.
The assembled youth appeared to beam Saturday night as they also heard from Sister Wendy Nelson, President Nelson's wife, and President M. Russell Ballard, acting president of the Quorum of the Twelve.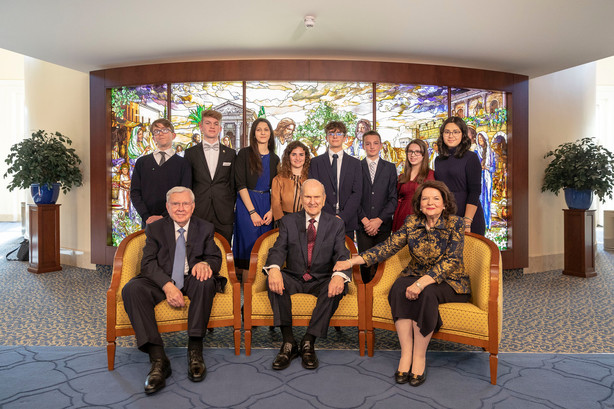 "We love you and we love being with you on this historic evening," Sister Nelson said, according to the church's Newsroom website.
President Ballard testified of God's love for the gathered youth.
"It's real," he said. "You are His sons and His daughters. He loves you. He wants to bless you. The Lord has given you a beautiful temple."
Elder Ballard's grandson, who is serving his mission in Rome, translated his grandfather's remarks Saturday, according to Newsroom. The familial connection was poignant, given that Latter-day Saints believe temples are where familes can participate in sacred ordinances that bind them together, forever.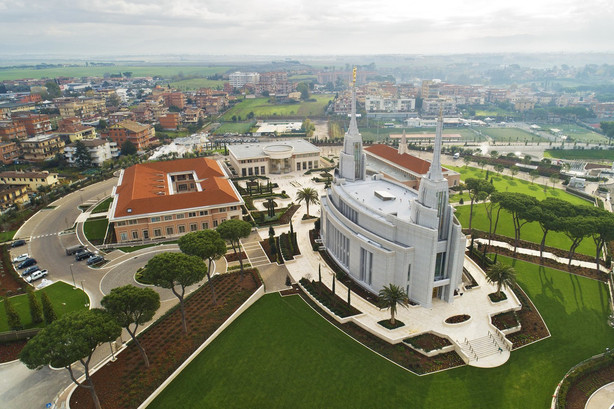 The devotional ushered in the dedication of the church's first temple of Rome. Dedication services begin Sunday, and will be spread out in seven sessions over three days to accommodate Latter-day Saints in the area who want to attend. Members of The Church of Jesus Christ of Latter-day Saints believe temples are houses of the Lord.
Though faithful members of the church are invited to participate in what Latter-day Saints believe to be sacred rituals and ceremonies inside the temple, the public is welcome to tour the buildings before they are dedicated for sacred use. Photos in this article and the attached gallery show a glimpse of this edifice in the Eternal City dedicated to families across generations. Email: wevans@ksl.com | Twitter: whitevs7
×
Photos
Related Links