Estimated read time: 4-5 minutes
This archived news story is available only for your personal, non-commercial use. Information in the story may be outdated or superseded by additional information. Reading or replaying the story in its archived form does not constitute a republication of the story.
SALT LAKE CITY — For many outside The Church of Jesus Christ of Latter-day Saints, the church's temples may seem a mystery.
Only faithful members of the church are invited to participate in what Latter-day Saints believe to be sacred rituals and ceremonies inside the temple — though the public is welcome to tour the buildings before they are dedicated for sacred use.
In an "unprecedented" new video released Thursday, however, two Latter-day Saint apostles walk viewers through a virtual tour of the newly-constructed Rome, Italy, temple and explain the symbolism, rooms and rituals inside.
Elders David A. Bednar and Ronald A. Rasband take visitors through a Latter-day Saint's typical visit to a temple, beginning with the "recommend desk" where members present the temple workers with their "recommend" — a small card issued by local leaders to faithful members that allows them to enter the temple.
The apostles draw the visitors' attention to the paintings and artwork that help visitors focus on Jesus Christ and his life throughout their visit to what faithful members believe is the house of the Lord.
The tour then moves to the baptistry, which the apostles say explains the age-old question in Christianity: What happens to those who never heard of Christ during their lifetimes? Many Christians believe the only way back to God is through Christ, but "only a relative few" heard about him in their lifetimes, Elder Bednar says in the video.
In the baptistry, members are given the opportunity to be baptized on behalf of their ancestors and others who died without receiving this "saving ordinance" — what many Christians believe is a sacred religious ceremony needed for salvation. Members of the church believe those ancestors then have the opportunity to accept or reject the baptism.
Those who are baptized on behalf of the dead dress in white and enter a baptismal font built on top of 12 oxen statues which represent both the 12 tribes of Israel and the strength of the church, the apostles explain.
Related:
Elders Rasband and Bednar then lead viewers to the chapel where members wait for another sacred ceremony called "the endowment" that, again, requires them to be dressed all in white.
"(Dressing in white) creates a sense of unity and reminds me that we are equal before God," Elder Rasband said in the video.
The endowment is also meant to remind members of their relationship with God as they move through two "instruction rooms" that are built to represent parts of each mortal's journey back to God. Faithful Latter-day Saints also make promises with God while in the rooms.
"As part of the endowment, we pledge to obey God's commandments, that we will be selfless, that we will live clean, pure and chaste lives and that we will develop and dedicate ourselves to God's purposes," Elder Bednar says in the video.
After members go through the "instruction rooms" they move to what is called the "celestial room," which is built to represent the "ultimate destination" for God's children, the apostles said. In the room, members can pray and ponder personal decisions or problems and supplicate God for his help and advice.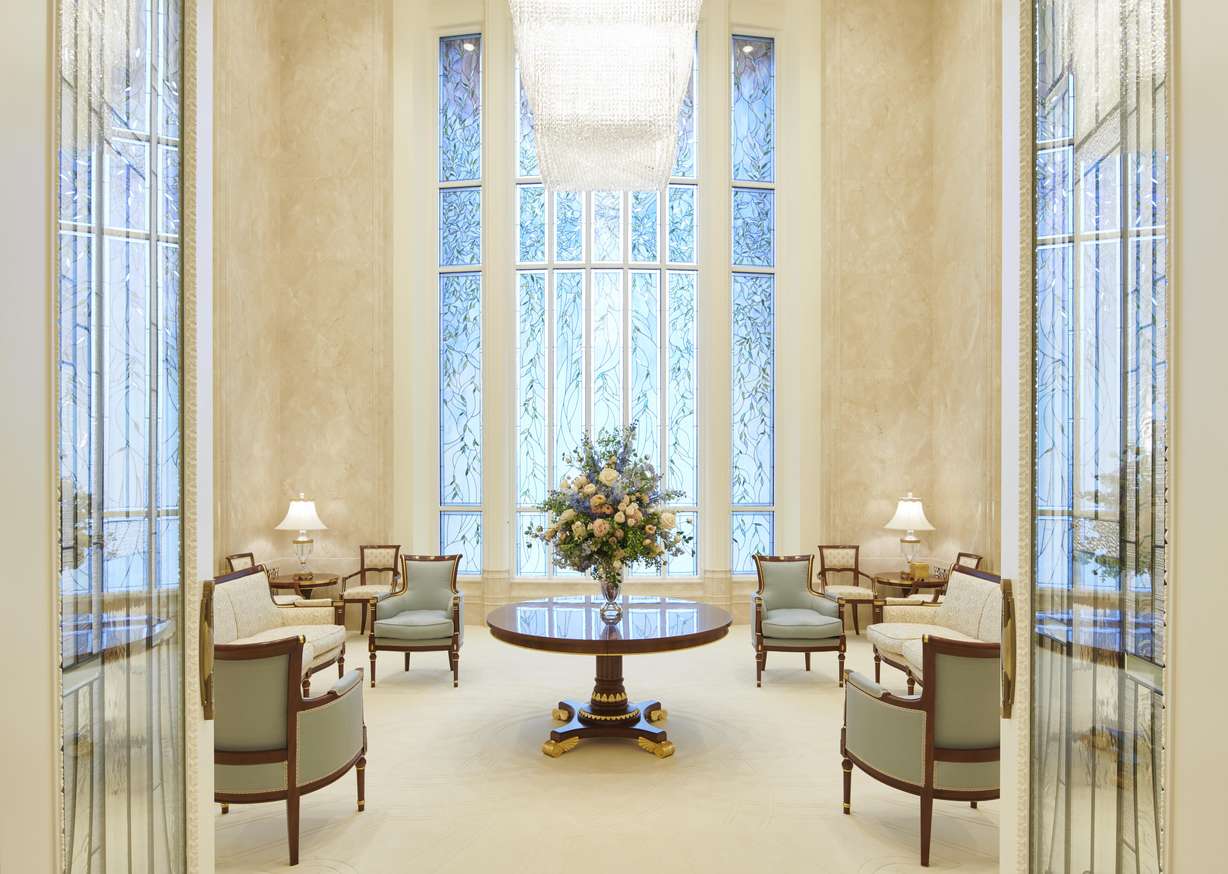 Near the celestial room are rooms where brides and grooms are married and "sealed for time and all eternity." Members believe couples and families who are "sealed" will remain together even after death.
Elder Bednar's wife, Susan Bednar, also joined the apostle to take visitors on a tour of the bride's room where women prepare for the sacred sealing ceremony. It is a beautiful room, Sister Bednar said, to remind brides that, no matter what their station in life, they are valued by their Heavenly Father.
"Every once in a while, when we have a misunderstanding or disagreement, I like for my mind to come back to the temple and remember those things I felt on our wedding day, and then it helps to put things into perspective, and big things become small and insignificant, and I remember that we're married not only for this life but for eternity," she said.
The apostles do not explain or demonstrate all the rituals and ceremonies in the temple, but the video gives an "unprecedented" amount of information about a building many have seen only from the outside.
Elders Rasband and Bednar end the tour in the visitors' center, where all are invited. The Rome center has a statue of Christ and his twelve original apostles — a unique aspect of a temple that has received much international attention.
"With all the energy of my soul, I declare (Christ's) living reality, His divinity as our Savior," Elder Bednar said.
×
Photos
Related stories
Most recent Religion stories