Estimated read time: 3-4 minutes
This archived news story is available only for your personal, non-commercial use. Information in the story may be outdated or superseded by additional information. Reading or replaying the story in its archived form does not constitute a republication of the story.
OGDEN — Heather McCollor used to ride her motorcycle until she was severely injured in a serious car crash last spring. Nearly a year later, she is still recovering.
MCCollor is telling her story in the hopes that drivers will be more cautious and aware of motorcyclists on the road.
McCollor was riding to go get her hair cut in last April when a truck turned into her because the driver failed to check his blind spot. She catapulted off the bike and, though she broke a number of bones, her life was saved thanks to the appropriate protective gear she was wearing at the time of the accident.
"It was a really pretty morning. I was driving eastbound on Hinckley Drive, from West Haven towards Ogden," McCollor told KSL.com. "As I crossed 1900 West, the last thing I remember is the corner of a truck and knowing I couldn't do anything."
Witnesses said that she didn't even have time to brake. The driver of the truck turned as soon as the person in front of them did, and he didn't see her until she had T-boned him at 50 mph.
McCollor cartwheeled over the cab of the truck and landed on the other side.
A retired state trooper was coming through the intersection shortly after and found her in the road.
"He came over to check on me and saw that I had no pulse and wasn't breathing," McCollor said. "So he got help to get me safely rolled onto my back and breathing again."
McCollor's injuries were severe and yielded many months of recovery time.
"I had pretty bad internal bleeding that had to be addressed as soon as I got to the hospital," she said "I received 9 units of blood, had an open tibia-fibula fracture on my right leg, shattered my pelvis, and broke my humerus, radius, and ulna in my left arm."
McCollor's first four days in the hospital were spent in surgery in their entirety. She was in the hospital for a total of 10 days, and then was transferred to the George E. Wahlen Veterans Center in northern Ogden for recovery until her body had healed enough to come home. She was there for three and a half months.
"I'm still recovering," McCollor said. "I still use a cane, I can't drive, I'm still dealing with a lot of pain, and I still have at least a couple of surgeries ahead of me."
It was clear that McCollor had hit her head due to damage on her helmet, and she believes she wouldn't have survived the crash if she hadn't been wearing it.
"Chances are I also would have lost my leg if I hadn't been wearing my riding boots because the open fracture was inside of my boots," she added.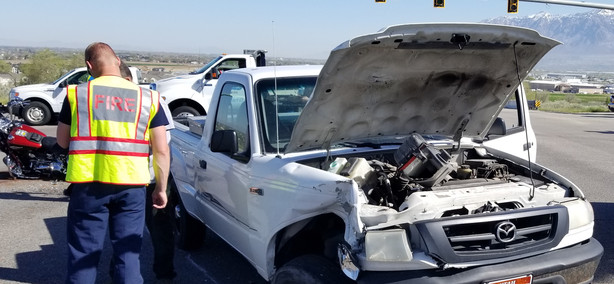 McCollor wants her accident to inspire awareness in both motorcycle riders and vehicle drivers who may encounter them on the road. Motorcycling fatalities reached a five-year high in 2018 with 47 deaths on Utah roads.
"I want riders to make sure they are wearing their protective gear," she said. "I also want drivers to wait until that car in front of them has turned enough into the intersection that they can have a clear view of what's coming. I think I was in his blind spot and he just didn't see me."
McCollor had been riding motorcycles for nine years prior to the accident, and she hasn't decided yet if she will pick it up again once she's fully recovered.
---
Editor's note: A previous version of this story state the arm McCollor broke was her right. This story has been corrected to state the arm McCollor broke was left.
×
Photos