Estimated read time: 3-4 minutes
This archived news story is available only for your personal, non-commercial use. Information in the story may be outdated or superseded by additional information. Reading or replaying the story in its archived form does not constitute a republication of the story.
SALT LAKE CITY — Here are 10 stories you may have missed over the weekend. As always, click on the headline to read the full story.
1. Man wanted in connection with Orem shooting charged with murder
Elbert Paule was charged in 4th District Court Saturday with first-degree murder in connection with the shooting death of Dominique Barnett, 26. The shooting happened Thursday evening in an Orem apartment, and police said Paule fled the scene shortly afterward. Paule turned himself in Saturday morning and was charged later that night.
2. Utah hiker dies after boulder rolls on top of her, police say
A 37-year-old woman died Saturday after a large boulder rolled onto her while hiking at Stansbury Island. The woman was hiking down a trail and was on the boulder when it moved and trapped her, Tooele County Sheriff's Lt. Travis Scharmann said. She then fell forward and the boulder somehow rolled on top of her.
3. Police: Man arrested after attempting to hit officer in early-morning car chase
Police took a man into custody after an early-morning car chase Saturday. The driver of the vehicle, Cody Ramseyer, 38, led police on a chase through Sandy and attempted to hit one of the officers who deployed a spike, police said.
4. Neighbor's dog bites off child's hand in Layton, police say
A husky on Sunday bit off the hand of a 4-year-old boy who was trying to play with the dog through a fence, Layton Fire Battalion Chief Jason Cook said. The boy was flown to Primary Children's Hospital in Salt Lake City in serious but stable condition.
5. Police: Utahn attacked mother, then announced stabbing at Olive Garden
A Saratoga Springs woman stabbed her 55-year-old mother several times in a Sandy hotel room Saturday before going to an Olive Garden restaurant to announce what she had done, police say. Jayde Lauren Altemeier, 31, was booked into the Salt Lake County Jail early Sunday for investigation of attempted murder and aggravated assault resulting in serious bodily injury.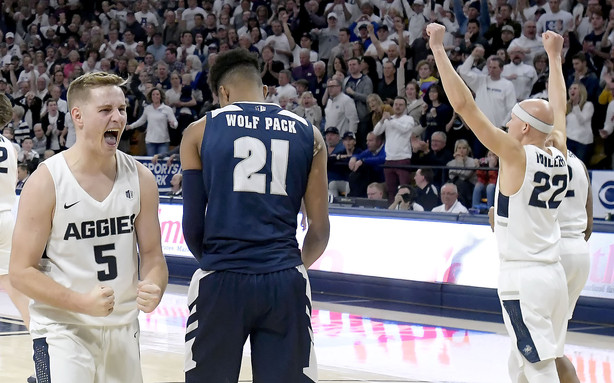 Sports
1. Merrill's 29 points leads Utah State to 81-76 upset of No. 12 Nevada
Utah State guard Sam Merrill finished with 29 points as the Aggies took down the No. 12 Nevada Wolf Pack, 81-76.
But that was just the beginning, after a postgame incident left a lot of questions and a mound of shattered glass near the Wolf Pack locker room.
2. Mitchell leads Jazz to a big comeback victory over the Bucks
The second-year star for the Utah Jazz scored 19 points in the fourth quarter to lead Utah to an improbable 115-111 win over the NBA-leading Milwaukee Bucks Saturday at Vivint Arena.
3. BYU pulls away from San Diego in regular-season finale, 87-73
TJ Haws poured in 26 points with four assists, and Yoeli Childs added 29 points and 13 rebounds as BYU pulled away for a 87-73 win over San Diego in the regular-season finale Saturday night in the Marriott Center to secure the No. 3 seed for the upcoming West Coast Conference Tournament.
4. Corner Canyon pulls away from Jordan to claim first state championship
Hayden Welling scored a game-high 29 points and Gabe Toombs added 14 as Corner Canyon claimed its first boys basketball 5A state championship with a 62-45 win over Jordan Saturday.
5. American Fork shuts down Pleasant Grove, ends 40-year state championship drought
Trey Stewart and Tanner Cuff scored 18 apiece, and American Fork ended its decades-long championship drought with a 66-57 win over Pleasant Grove to claime the 6A state championship Saturday.
×