Estimated read time: 3-4 minutes
This archived news story is available only for your personal, non-commercial use. Information in the story may be outdated or superseded by additional information. Reading or replaying the story in its archived form does not constitute a republication of the story.
PROVO — BYU is headed to Las Vegas with the No. 3 seed in the West Coast Conference Tournament, but San Diego didn't make the Cougars' final regular-season game easy.
After leading by as much as 20 midway through the second half, the Cougars held off a spirited charge in a game in which it never trailed.
Next stop: the Orleans Arena.
TJ Haws poured in 26 points with four assists, and Yoeli Childs added 29 points and 13 rebounds as BYU pulled away for a 87-73 win over San Diego in the regular-season finale Saturday night in the Marriott Center.
Nick Emery added 15 points for the Cougars, including three 3-pointers for just the third time this season and the 36th time of his career. Zac Seljaas added 10 points for the Cougars (19-12, 11-5).
"Those games are good for us," said Haws, who shot 5-of-6 from the field and 3-of-4 from 3-point range. "That's a good win against a really good team. But to have a win like that, when anyone can beat anyone on any given night, and when you play a team that has great shooters all around the board, they can make a run at any time.
"You really have to be locked in for 40 minutes, because those runs can be quick. But I'm proud of my guys for fighting. We finished out tough at the end."
Isaiah Wright led San Diego with 19 points, and Olin Carter III chipped in 15 points and three assists for the Toreros (18-13, 7-9 WCC). Isaiah Pineiro supplied 10 points and 10 rebounds, and Tyler Williams scored 11 for USD.
#BYUhoops comes out on top of San Diego 87-73. Our AAA MVP for tonight's game is @yochilds22 who achieved his 36th career double-double tonight against the Toreros with 29 points & 13 rebounds. #GoCougs#WCChoopspic.twitter.com/smD8UEyUNB

— BYUtv Sports (@byutvsports) March 3, 2019
BYU had already clinched the No. 3 seed in the upcoming West Coast Conference Tournament by virtue of San Francisco's 74-69 loss to Loyola Marymount earlier Saturday. The Dons (21-9) locked themselves into the No. 4 seed, giving BYU a spot in No. 2 seeded Saint Mary's side of the bracket.
The Cougars will open the tournament next Saturday, March 9 at the Orleans Arena. Tipoff is scheduled for 9 p.m. PST on ESPN2.
"Hopefully we can make some adjustments in the next week or so," BYU coach Dave Rose said. "We may see them again; It think they might be on our side."
But the Cougars' senior night wasn't about the WCC tournament.
"Coach addressed it before the game, but he made it very clear that isn't what it's about," Childs said. "It's about going out in every single game and competing; it's about giving it your all, to make sure we go out and get a win for those seniors.
"I think we really played for them tonight. There were times where we were down, but we pulled together."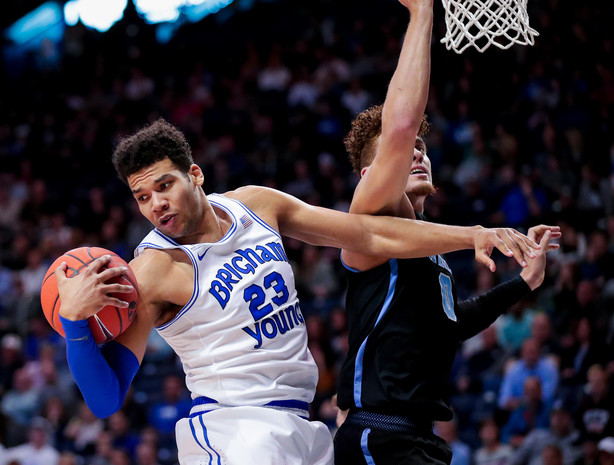 BYU held San Diego to just 25 percent in the first half, and took a 41-32 lead into the break. The Cougars were cruising midway through the second half, with Haws and Childs pacing an 8-0 run out of the gate.
Emery added a shot-clock buzzer-beating three with 5:43 left to push the Cougars lead to 75-59. But San Diego didn't go away.
Carter's triple with 5:24 left highlighted a 13-4 run as San Diego held the Cougars without a field goal for the rest of the game.
But the Cougars made 12 free throws down the stretch to hold on for the win.
"I thought it was a hard-fought game, and a pretty physical game, which we anticipated," Rose said. "I'm happy for our guys; we get a big win, and a little bit of momentum going into the tournament.
"It's a long week, after you get beat a couple of times. But we played right, until the last 6-8 minutes."
×
Related Stories