This archived news story is available only for your personal, non-commercial use. Information in the story may be outdated or superseded by additional information. Reading or replaying the story in its archived form does not constitute a republication of the story.
SALT LAKE CITY — In an instant, life can change. No one knows that better than West Bountiful man Mark Haley, who was in a horrible drag racing accident.
After months in the hospital, Haley awoke to a new reality. When he walked down the hallway of Intermountain Medical Center in Murray, it was everything. He even chose a soundtrack.
"I chose Boston, 'Don't Look Back,'" Haley said.
Doctors and nurses lined the hallway to tell him good-bye and wish him well.
"He had a birthday, and now he had a re-birthday," said Bonnie Larsen, an occupational therapist at Intermountain Medical Center. "The old Mark was never going to be seen again."
The old Mark loved drag racing.
"It was a 1926 Ford Roadster," he said. "It was a fiberglass body, and I rebuilt the frame, rebuilt the engine. I either built or restored everything on that car."
Last January, at a race in Tucson, Arizona, Haley was "lined up, ready to go, and the starting lights went, and I accelerated and I hit second gear, and I accelerated and I'm not real sure what happened after that," he said.
His car took a hard right turn into the wall, flew across the racetrack and caught fire. Haley was trapped inside, unconscious, while rescuers raced to free him.
"It was all very intense," said his partner, Joycelyn Haley, who was at home in Utah at the time of the accident. "A stranger came to my door and told me my husband had been in an accident, and I'm here to take you to Phoenix, and you need to pack a bag, and we're going to the airport right now," she said.
When she first saw him in the hospital, he was unrecognizable.
"He was mummy-wrapped," she said. "You know, bandages head-to-toe."
With severe burns over 43 percent of his body, Mark Haley wasn't expected to survive. But Joycelyn Haley never doubted he'd pull through, "because he's strong, and determined, and a fighter."
Doctors kept him sedated for six months. "I woke up in a daze, and I'm told it was the end of July," he said.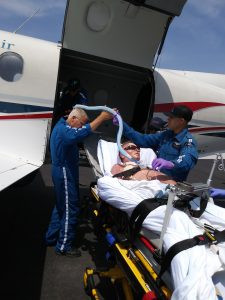 He awoke to a new reality. Doctors had amputated one of his hands and removed all his fingers on the other.
"I'd been working with my hands my entire life, so that was a huge change," he said.
He began rehab in Utah, relearning how to do everything.
"Bathing, dressing, grooming feeding himself, scratching his nose," said Dr. John Frampton at Intermountain Medical Center.
Using assistive devices, and through problem solving and repetition, he's getting it. "Through his stay, I was kind of waiting for reality to set in for him," Frampton said. "The Mark that you see is the Mark that you get, and so throughout everything and every setback and every challenge, he remained positive."
Life is very different now, and that's why the walk down the hospital hallway was so meaningful. After almost a year in the hospital, Mark Haley was going home. Doctors and nurses lined the hallway to give him a proper sendoff.
The things he's learned and the people he loves sustain him.
"There are people around you and near you who are willing to help, who will stand with you and do the things with you and for you that you have difficulty on your own," he said. "The children have been phenomenal. I'm actually closer to my boys now than I might have been."
Volunteers with RAMMP, an Intermountain Hospital program that inspires and supports patients through mentorship, helped Haley adjust to his new life.
Next year, Haley hopes to give back as a volunteer.
×