SAN DIEGO — Nearly a month into Major League Rugby's second season, the Utah Warriors got ready for just their second match Sunday afternoon.
It's a scheduling quirk that included the Warriors playing an exhibition match last week against the New England Free Jacks, the Boston-based team set to join the league next year.
But that lack of experience caught up to Utah against a San Diego Legion squad playing its fourth match of the year.
Devin Short scored a try just before halftime, and San Diego held Utah to just three first-half points in handing the Warriors their first loss of the season, 21-10, at Torero Stadium in San Diego.
USA Eagles international Angus Maclellan scored a try for the Warriors (1-1), who were playing just their second match of the season after opening with a road win two weeks ago in Austin.
"We were a little slow to get into the match, we had too many mistakes and poor decisions at crucial times," Warriors coach Alf Daniels said after the match. "San Diego played well and made the most of their opportunities. We are building and will be better next week against Glendale."
San Diego (3-1) opened the scoring 18 minutes in when JP du Plessis barreled into the corner for six, and the Legion were off and running.
The Legion held Utah to just three points in the first 40 minutes and took an 18-3 lead on Short's corner try with two minutes to go until halftime.
Devin Short with a try in the 37th minute. pic.twitter.com/C8GEb4WtCI

— San Diego Legion (@SDLegion) February 17, 2019
"We were out here and we knew Utah brought in a good side," Short told ESPN+ after the match. "They have big runners on the outside and the inside. We took the hit on the nose and knew we could play on the outside."
But the Warriors scored almost immediately out of the halftime break. Big Angus Maclellan picked up the ball following a lineup and followed a big-bodied maul across the try line to pull Utah within eight, 18-10.
The Warriors' defense also stiffened up to start the second half, forcing turnovers on a pair of San Diego pushes deep into Utah territory.
But offensively, the Warriors could get no closer in dropping their first game of the season.
Next up
Utah opens its home slate next Saturday against the Glendale Raptors (0-2). Kickoff is scheduled for 7 p.m. MT at Zions Bank Stadium and will be broadcast on KMYU and ESPN+.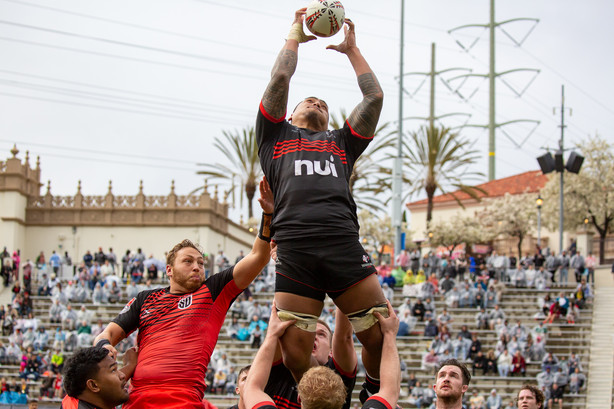 Scoring summary
First half
18' SD — JP du Plessis try (Pietersen kick)
22' SD — Joe Peitersen penalty kick
29' UT — Tim O'Malley kick
32' UT — Peitersen penalty kick
38' SD — Devin Short try (kick failed)
Halftime: San Diego 18-3
Second half
44' UT — Angus Maclellan try (O'Malley kick)
73' SD — Pietersen penalty kick
Final: San Diego 21-10
×
Photos
Related Stories