SALT LAKE CITY — Birmingham's Alliance of American Football team only led for the final four minutes and change of its second-ever league game Saturday afternoon.
But the appropriately named Birmingham Iron moved to 2-0 in their inaugural season.
Luis Perez threw for 184 yards, former NFL first-round draft pick Trent Richardson ran for 40 yards and a touchdown, and the Birmingham Iron rallied for a 12-9 home win Saturday afternoon at Legion Field in Birmingham, Alabama.
The Salt Lake Stallions, which has yet to play a home game, become the first team to fall to 0-2 in the inaugural season of the Alliance of American Football.
Salt Lake out-gained Birmingham 257 yards to 216, but the Stallions were hurt by turnovers and stalled drives early and often. The first-year team coached by former Utah offensive coordinator Dennis Erickson opened its offensive set with Matt Asiata's end-zone fumble during a scoreless first quarter, an omen that perhaps set the tone for the first-year franchise still searching for its first regular-season win.
"We had the ball for a long time, but when you don't score points for a long time, you've got problems," Erickson told reporters after the game. "You can't keep giving them chances and chances. Eventually, things aren't going to work out for you. That's exactly what happened. They hung in there, we didn't take advantage of it, and they made plays in the end.
"I've been in a lot of games like that, on both sides."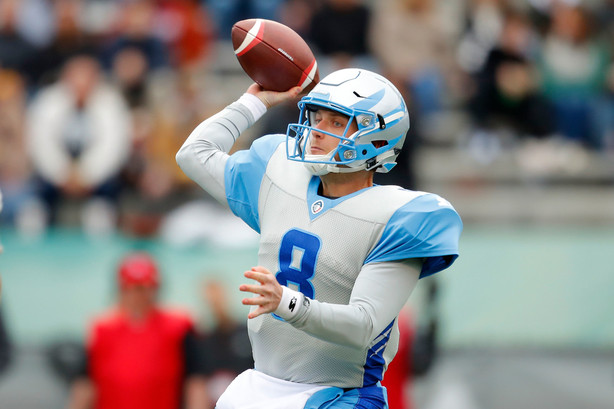 Joel Bouagnon led the Stallions with 70 yards on the ground, including a 3-yard touchdown that opened the scoring in the second quarter.
Austin Allen, who made his first start in relief of injured quarterback Josh Woodrum and previous backup Matt Linehan, completed 15-of-31 passes for 115 yards for Salt Lake.
Branden Oliver added 59 rushing yards, and also caught two passes for 21 yards to rank among the Stallions' top receivers.
Richardson ran for 27 yards on 12 carries for the Iron (2-0), which was held to just 157 yards, including 33 on the ground through the middle of the fourth quarter.
But that's when Perez led an 11-play drive that ended with Richardson's 3-yard TD up the middle to give Birmingham its first lead of the game, 12-9 with just over four minutes remaining.
Salt Lake's offense could get no closer, and the Stallions missed three field goals in addition to its offensive woes.
Taylor Bertolet converted a 53-yard field goal in the final minute of the half to send the Stallions into the locker room with a 9-0 lead.
It was the first points allowed by Birmingham in the first-year franchise's history after the Iron shut out Memphis 26-0 in the season opener a week ago.
Halftime:

🐎 @aafstallions 9
⚒ @aafiron 0#SLvsBHM || #FullSteedAheadpic.twitter.com/TFdcq5v3eC

— The Wild Stallyns Podcast (@Wild_Stallyns) February 16, 2019
Karter Schult led the Stallions' defense with six tackles including two sacks, four quarterback hurries and a forced fumble. Former Utah State cornerback Will Davis had seven tackles and three passes defended, while former Utah linebacker Gionni Paul tallied a game-high 12 stops, including taking down Richardson by the dreadlocks to preserve the first-half lead.
"I thought we played better on defense and we ran the football better," Erickson said. "But that's it. In the red zone last week, we were pretty good. This week, we weren't very good."
The Stallions open the 2019 home season next Saturday, Feb. 23 at Rice-Eccles Stadium. Kickoff is scheduled for 1 p.m. MT against the Arizona Hotshots, which beat Salt Lake 38-22 in the franchise's inaugural game a week ago in Tempe, Arizona.
"Is that where our team is at, Salt Lake?" Erickson deadpanned when asked about finally playing at home. "There are no excuses, but we need to get back to Salt Lake and see what happens there. That's how this league is. It's a good league and we played two games on the road and lost both of them."
×
Photos
Related Stories