SALT LAKE CITY — It wasn't the start to the season that Salt Lake's newest professional franchise wanted.
But there wasn't a sense of gloom after the Salt Lake Stallions' 38-22 loss to the Arizona Hotshots on the opening weekend of the Alliance of American Football last Sunday.
It's a long season, head coach Dennis Erickson admitted after the game. Or at least, it's longer than one week for the eight-team league who will hold a championship game April 27 in Las Vegas.
So what's next for Salt Lake?
"In this kind of league, it's hard to tell exactly what you got," Erickson told AAF.com last Monday. "So now you're going to start finding out what you got. We just have to make some adjustments in a number of different areas and go forward."
One of those adjustments will be at quarterback. Stallions starter Josh Woodrum injured his hamstring in the first half of the loss to Arizona, and Matt Linehan finished out the game.
Linehan finished out the loss to the Hotshots, completing 7-of-13 passes for 56 yards, a touchdown and an interception. That's comparable to Woodrum, who had 103 yards, a touchdown and an interception on 10 completions in the first half of what was then a three-point game.
The Stallions are confident with whoever breaks the huddle.
"We need him," Stallions running back Branden Oliver said of Woodrum, before adding, "but Matt is a good quarterback as well, and we rallied around that. I don't think it was anything negative. I don't think we lost a step.
"Most importantly, we let him know that we were there for him, and we just kept it moving and kept it rolling."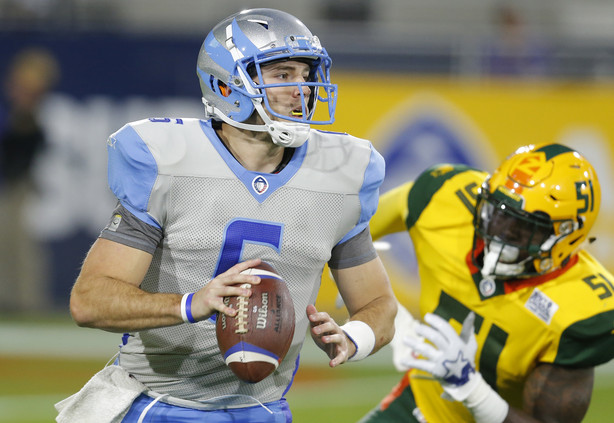 Salt Lake remains on the road for Saturday's kickoff at noon MST against Birmingham. The Iron trounced Memphis 26-0 in the first game, holding the Express to just 3.7 yards per play and 103 net rushing yards.
But the Iron (1-0) also struggled in the red zone, taking a 9-0 lead after three quarters with three field goals by Nick Novak. Trent Richardson eventually found his form, rushing for two late touchdowns to help Birmingham pull away for good and finishing with 58 yards on 23 carries.
Both teams will be looking to start faster than their first game of the year, especially Salt Lake, which fell behind 8-0 after the first quarter and had to play catch-up the rest of the way.
"I feel like we came out flat, and that's something we have to get better at," said Oliver, who ran for a team-high 40 yards on nine carries against the Hotshots. "No one is going to feel sorry for us. But we have to come out on fire, and that's the most important thing.
"The second thing is to just continue when we get up, to stay up. Don't give into the environment."
Saturday's game will be broadcast on TNT, and with the 2.5-hour average game times, will serve as a lead-in to the network's NBA All-Star weekend coverage.
That's a big showcase for a first-year league, and one a first-year franchise in a smaller market like Salt Lake doesn't take for granted.
"When I saw the schedule a week ago, I was very excited, in general," Oliver said during a conference call with local media. "The networks that we have and the impact, for my family, for other guy's families, friends and fans, it's exciting. If someone is watching TNT leading up to All-Star weekend, we definitely want that exposure."
AAF, Week 2: Salt Lake Stallions (0-1) at Birmingham Iron (1-0)
Saturday, Feb. 16 at 12 noon MT
TV: TNT
Radio: ESPN 700
×
Related Stories