OREM — There are a lot of wrestling powers in the small-school classifications among Utah high schools.
Delta. Morgan. Juab. Even American Leadership, the private charter school from Utah County, is making a name for itself every February during the Class 3A state tournament.
One name stood out during Friday's opening round, though: Emery.
After the dust had settled on the first round, the Spartans finished atop the leaderboard, clinging to a 43.5 to 43-point lead over Delta in what may be the state's most competitive classification.
When the day was finished, the Spartans still held a spot in the top three with 84.5 points, just behind powerhouses Juab and Delta.
"We've really tried to change the face of wrestling at Emery," coach Kirk Christiansen said. "It's happening. The boys are showing up."
There's a lot of wrestling left. State semifinals will begin Saturday morning at the UCCU Center in Orem, with the championship matches scheduled to begin at 4:45 p.m. MT.
But the Spartans are in as good a position as just about anybody, and with a young class that includes all freshmen and sophomores from 170 pounds and up.
"We've got a long ways to go," Christiansen said. "We have great teams and great wrestlers in every weight class. But we've just told our guys to wrestle for the set of points in front of us. It's really helping them, to stay focused in the match they are in, and not look ahead or behind a match."
Emery sent seven wrestlers to the semifinals, led by a gaggle of lightweights in Byron Christiansen and Jess Christiansen at 106 pounds, Jarin Allen at 113, Korby Christiansen at 120.
It's enough to put pressure on Juab (100.5), which advanced seven to the semifinals, and second-place Delta (89.5). The Rabbits will look to build on their state-record 34 wrestling titles in program history with seven wrestlers in the semifinals.
"Emery has really tough lightweights and they score a bunch of points early. Then us and Delta come along and catch up. But you know in the next round, they'll jump right back up," Juab coach Joel Holman said.
"The truth of the matter is these tournaments are won in the semifinal round and with the consolations. If you can punch guys into the finals, there are a lot of big points there," he added.
Morgan (69) and American Leadership Academy (68) round out the top five.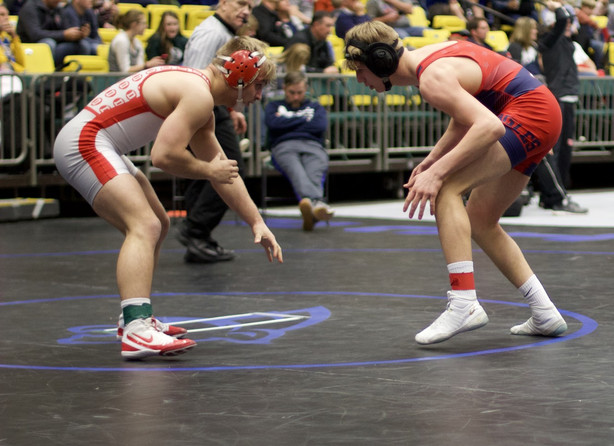 CLASS 4A
Team scores
Juab 100.5, Delta 89.5, Emery 84.5, Morgan 69, American Leadership 68, South Sevier 67.5, Richfield 61, Union 60, Grantsville 55.5, Carbon 48.5, Summit Academy 45, South Summit 40, North Sanpete 39, Manti 38.5, Maeser 8, Grand 4, San Juan 4.
3A semifinals at 10:30 a.m. Saturday at UVU
106 — Byron Christiansen, Emery, v. William Korth, Morgan; Lukus Carrillo, ALA, v. Jess Christiansen, Emery.
113 — Jarin Allen, Emery, v. Blake Woolsey, Morgan; Denim Torgerson, Richfield, v. Richard Jenkins, Union.
120 — Channing Warner, Juab, v. Maverick Caldwell, Delta; Korby Christiansen, Emery, v. Jarett Jorgensen, Morgan.
126 — Conner Ingram, Juab, v. Jayden Petersen, Delta; Rhett Miner, ALA, v. Thomas Coates, Grantsville.
132 — William Haight, Summit Academy, v. Montana Cragun, Morgan; Quenton Mortimer, ALA, v. Ryker Ogden, Richfield.
138 — Jed Lee, South Summit, v. Spencer Belinski, Morgan; Triston Fillmore, South Sevier, v. Robert Blake, Carbon.
145 — Cade Browning, Juab, v. Austin Chase, Delta; Tate Willougby, Delta, v. Conner Fausett, Carbon.
152 — Tyler Lynn, Juab, v. Cannon Fuellenbach, South Sevier; Dyllin Broughton, Delta, v. McKay Meccariello, Emery.
160 — Agustus Dalton, Emery, v. Kade Jensen, Richfield; Damon Mayfield, Manti, v. Colby Hyder, Union.
170 — Jate Frost, Union, v. Dillon Sorenson, Richfield; Luis Rodriguez, North Sanpete, v. Koby Johnson, Grantsville.
182 — Charles Watts, Juab, v. Wyatt Morrison, South Sevier; Jake Jackson, Delta, v. Brice Clegg, South Summit.
195 — Blake Mangelson, Juab, v. Seni Latu, Manti; Bowen Shields, Delta, v. Talmage Brown, Summit Academy.
220 — Shan Jackson, Juab, v. Tyson Clark, Summit Academy; Braden Howard, Emery, v. Nolan Bullethead, Union.
285 — Kayden Atwood, Summit Academy, v. Blake Green, Delta; Dalton Anderson, North Sanpete, v. Dalton Clark, Union.
×
Photos
Related Stories