This archived news story is available only for your personal, non-commercial use. Information in the story may be outdated or superseded by additional information. Reading or replaying the story in its archived form does not constitute a republication of the story.
OREM — Pleasant Grove's return to the top of Class 6A state wrestling wasn't about a sheer number of individual titles or permanent spot for head coach Brock Moore in one corner of the title match.
The Vikings sent four wrestlers to Thursday's state finals, a number that was dwarfed by Layton's nine finalists.
By the end of the night, only senior Cole Zorn and Maika Tauteoli claimed individual titles.
But it was enough to easily secure back-to-back Class 6A state titles, marking the Vikings' eighth championship in the past nine years.
Pleasant Grove piled up 311.5 points, easily outdistancing second-place Layton's 267.5. Syracuse finished third with 203.5, followed by Herriman (152) and Westlake (135).
"This was my last match, and I just wanted to finish strong. Finish as strong as I could," Tauteoli said. "(Coaches and teammates) pushed us all season. At the beginning of the season, we struggled. But the end of the season, the score is what counts at state."
Jaxon Moore and Talmadge Woodhouse each added a second-place finish for the Vikings, who built up a lead nearly 80-points strong before the first final had commenced.
Even with Layton's six individual champions — led by four-time gold medalist Terrell Barraclough at 138 pounds — the Lancers couldn't make up the difference.
Quade Smith (106), Tyson Humpherys (132), Alec Bolingbroke (170), Cole Faust (182) and Jon Hunt (285) each added an individual title for Layton, which stunned the Vikings two years ago to end what was then a run of six-straight championships.
But Pleasant Grove has responded.
"We definitely felt challenged two years ago," Tauteoli said. "But we bounced back, and now we've won it two years in a row. Our whole team was motivated to come and win this."
In addition to the individual champs and finalists, the Vikings got top-six finishes from Jackson Visser (106), Kody Keith (113), Michel Stock (126), Zeke Kelley (126), Kollin Slade (132), Oakley Ridge (138), Damon Dodson (152), Reed Taylor (160), Cannon Carlson (170), Matt Smith (182) and Philip Boban (220).
So while the top of the leaderboard may not be as dominant as recent Pleasant Grove programs, the Vikings' depth was more than enough to carry them to a team title in dominating fashion.
"It's very important to have depth," Tauteoli said. "We worked so hard this whole season, for this tournament. This is where we wanted to shine the most."
Bingham's Marco Herrera Tok first at 113 pounds, and Westlake's Jacob Finlinson successfully defended his state title at 120. Fremont's Mason Denton (126), Herriman's Mark Rausch (152) and American Fork's Elijah Wilson (160) each added individual titles in 6A.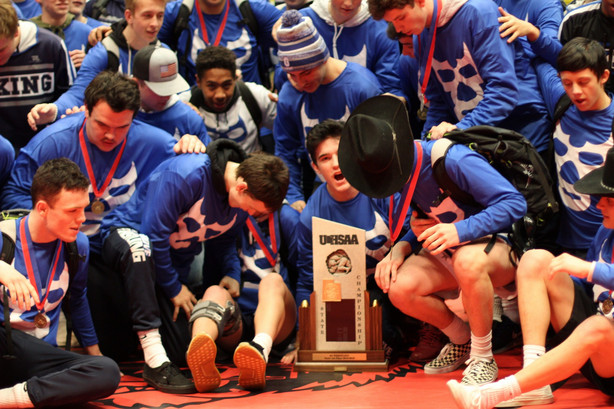 Class 6A state wrestling tournament
Team scores
Pleasant Grove 311.5, Layton 267.5, Syracuse 203.5, Herriman 177, Westlake 152, Fremont 135, Bingham 107, American Fork 95, Davis 76.5, Cyprus 36.
Championship final results
106 — Quade Smith, Layton, d. Dallan Hunsaker, American Fork, 3-1.
113 — Marco Herrera, Bingham, d. Aidan Harris, Layton, 7-1.
120 — Jacob Finlinson, Westlake, p. Jeff Rogers, W. Jordan, 5:11.
126 — Mason Denton, Fremont, d. Tayton Bennett, Layton, 7-2
132 — Tyson Humpherys, Layton, d. Parker Coffey, Davis, 10-0.
138 — Terrell Barraclough, Layton, p. Talmadge Woodhouse, P. Grove, 3:13.
145 — Cole Zorn, P. Grove, d. Braden Henson, Taylorsville, 12-2.
152 — Mark Rausch, Herriman, d. Canyon Brann, Layton, 1-0.
160 — Elijah Wilson, American Fork, v. Jaxon Moore, P. Grove, 9-5.
170 — Alec Bollingbroke, Layton, p. Samuel Sprehn, Syracuse, 3:11.
182 — Cole Faust, Layton, d. Heston Percival, Davis, 12-9.
195 — Kolton Kammeyer, Fremont, p. Cache Kelley, Syracuse, 2:58.
220 — Maika Tauteoli, P. Grove, d. Mafi Mahuiga, Herriman, 22-7.
285 — Jon Hunt, Layton, d. Kaden Montano, Syracuse, 8-4.
×
Photos