OREM — Wasatch 145-pound wrestler Zak Kohler stood at the center of the mat for the final match of his freshman year: cheers, boos, yells and taunts raining down on him.
It was the last match of the year, the final match of his prolific four-year career with the Wasps, and the last time he would ever stand at the center mat in front of a full, loud UCCU Center for the Utah high school wrestling tournament.
And it was loud.
It was also the culmination of a lot of hard work — work that began in fifth grade, lasted through Heber City's Little Wasps wrestling program, the junior high program, and finally with Wasatch.
But the culmination of it was real: for just the third time in Wasatch's storied wrestling history, the Wasps had a four-time state champion.
Take a bow, Zak Kohler.
"Everything was running through my mind; my whole life was put on fast forward," said Kohler, who will wrestle for the Air Force Academy next year. "These last three years, all the state titles, all the feelings; none of them were like this. It felt so good to stand out there."
Kohler wasn't the only successful Wasp to hang a gold medal around his neck at the UCCU Center when all was settled Thursday night. Six Wasatch wrestlers were crowned individual state champions, leading the Wasps to an overwhelming 287 points and their fourth team title in five years.
Box Elder finished second with 209 points, followed by Viewmont (165.5), Skyridge (153.5) and Maple Mountain (153).
But Wasatch, the third-winningest wrestling program in the state of Utah, added its 22nd team title to the trophy case Thursday night.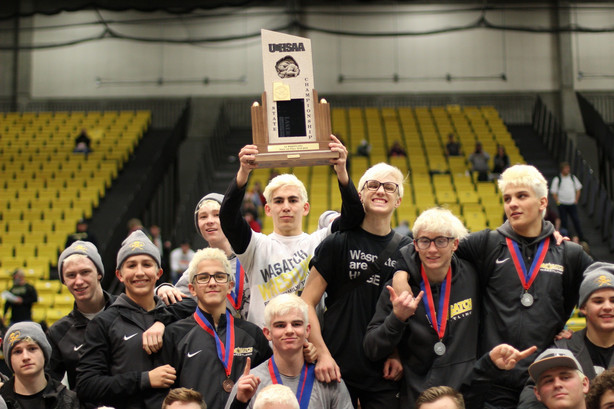 Few will remember it like Kohler, though.
Before the morning's semifinals, Kohler was nervous — he described it as a pit in his stomach, "like an elephant was sitting on my chest" kind of nervous.
Then something weird happened. As soon as Kohler stepped on the mat, all of his worries and nerves went away.
He was home — and home was where he dominated, including in a 13-8 win over Lorince Essig of Viewmont in the title bout.
"When I stepped out on the mat, everything went away," Kohler said. "This team has probably been the closest I've been on than any other.
"Having to walk away from this team, knowing they worked so hard, busted their butts every day, it's going to be hard to walk away."
Kohler will walk away a champion, though — just like his team.
Besides the four-time champ, Mitchel Slack (120), River Wardle (126), Sammy Heywood (132), Stockton O'Brien (138) and Porter Chamberlain (170) each walked away with individual championships.
"It's better with the team," said O'Brien, whose team lost to Viewmont last year to have its title streak snapped. "It feels good. It feels a lot better than last year."
O'Brien won his third state title for the Wasps. He did so by starting early, jumping out to 10-2 lead after the first period and cruising to a second-period technical fall over Farmington's Austin Gillette.
"They were all great," O'Brien said. "But each one gets better."
West's Drew Lang edge Skyridge's Joshua Millward, 5-4 for the 113-pound title, while Timpanogos's Holland Knudsen, the 5A lower weights' most outstanding wrestler rolled to the 152-pound title over Viewmont's Jeremy Evans.
Box Elder's Lucas Cochran added a title at 182 pounds, as did Viewmont's Tyson Zesiger at 195.
Olympus' Isaac Wilcox, who was named the 5A most outstanding wrestler for the upper weights, won the 160-pound state title, joining Titan teammate Emerson Conlin (220) atop the leaderboard.
Heavyweight James Tomasi won Provo's first individual state title since 2006, using a third-period touchdown to topple Box Elder's Ryan Gunn, 3-2.
Class 5A state wrestling tournament
Wasatch 287.5, Box Elder 209, Viewmont 165.5, Skyridge 153.5, Maple Mountain 153, Farmington 93.5, Olympus 75, Timpanogos 72, Corner Canyon 68.5, West 60.
Championship final results
106 — Bridger Ricks, Box Elder, d. Brock Morris, Maple Mtn., 7-5 (OT).
113 — Drew Lang, West, d. Joshua Millward, Skyridge, 5-4.
120 — Mitchel Slack, Wasatch, d. Deklan Kelly, Wasatch, 1-0.
126 — River Wardle, Wasatch, d. Colby Eastmond, Skyridge, 13-0.
132 — Sammy Heywood, Wasatch, p. Hadley Cowan, Skyridge, 1:58.
138 — Stockton O'Brien, Wasatch, tf. Austin Gillette, Farmington, 18-3.
145 — Zak Kohler, Wasatch, d. Lorince Essig, Viewmont, 13-8.
152 — Holland Knudsen, Timpanogos, d. Jeremy Evans, Viewmont, 14-4.
160 — Isaac Wilcox, Olympus, p. Brock Lloyd, Wasatch, 2:40.
170 — Porter Chamberlain, Wasatch, d. Zack Johnson, Maple Mtn., 10-2.
182 — Lucas Cochran, Box Elder, v. Parker Gasser, Maple Mtn., 4-2.
195 — Tyson Zesiger, Viewmont, d. Dawson Woods, Alta,15-7.
220 — Emerson Conlin, Olympus, d. Kade Carlson, Corner Canyon, 5-2
285 — James Tomasi, Provo, d. Ryan Gunn, Box Elder, 3-2.
×
Photos