HERRIMAN — Some people watch the Super Bowl purely for the game, and some watch it for the entertaining and exciting commercials in between. If you happened to watch the NFL 100 Super Bowl commercial, you may have seen a familiar face.
Sam Gordon, a 15-year-old football sensation from Herriman who is extremely skilled at tackle football, was featured in the 2-minute ad that included generations of the all-time greatest NFL legends called "The 100-Year Game."
The ad features 44 of the game's greatest athletes, past and present. The commercial depicts a black-tie gala celebrating the 100th season of the NFL turned impromptu game that starts when a golden football falls from atop a cake. Gordon is shown near the end of the commercial keeping the ball from player Richard Sherman, then passing it to Saquon Barkley.
"You want this?" says Gordon to Sherman in the ad. "Come and get it!"
The ad was meant to celebrate 100 years of great players and featured the likes of Marshawn Lynch, Peyton Manning, Joe Montana, Deion Sanders, and many more.
"It's just amazing to think about being on the Super Bowl commercial with all these other legendary football players and kind of getting to have this little moment where I took the ball, and I'm talking with all these other star players and it's just so amazing to see myself out there with all these other legends," Gordon said of her experience.
The ad has received the number one spot in USA Today's Ad Meter, which ranks Super Bowl ads based on consumer ratings. It received a 7.69 out of 10 rating.
Gordon became a viral internet sensation in 2012 when her father, Brent Gordon, posted a highlights video on Youtube, which now has over 4 million views.
"It's a little bit of a whirlwind," her father, Brent Gordon, said of all the attention they've been receiving in an interview Monday.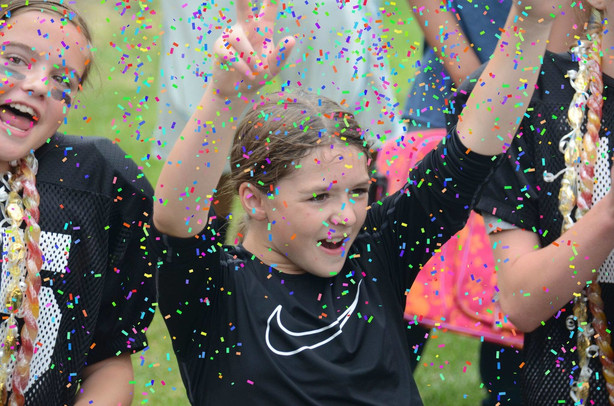 In her very first season of football at age 9, Gordon made 65 tackles, scored 35 touchdowns, and rushed 1,911 yards on 232 carries, averaging 8.2 yards per carry.
She was also featured in a video recently posted by the NFL titled "Game Changer." The video honors her as the winner of the Inaugural NFL Game Changer Award and advocates for girl's tackle football in Utah high schools.
In 2015, Gordon and her father partnered with Crystal Sacco to start the nonprofit Utah Girls Tackle Football League. Sacco is the president of the league and Gordon and her father sit on the board of directors along with four other members, according to their Facebook page.
According to its site, the UTGFL is the first full-contact, all girls tackle football league for girls between fourth and 12th grades in the U.S. They are now in their fifth year and registering for the spring 2019 season.
Sam Gordon doesn't currently play on the league, as the season doesn't start until March. "Right now, soccer is kind of my main thing," she said. Gordon explained that she currently plays on a competitive soccer team and her high school basketball team until she begins playing tackle football in the spring.
Related story:
She also noted that she plays the positions of linebacker and quarterback for her football team.
Sacco said in an interview that this is the first league of its kind in the United States. "It's been a lot of work, but now we're getting to the point where it's gonna start running itself," Sacco said.
Brent Gordon said he expects to see about 400 girls registered this year. You can register on its website. "We serve a lot of girls who really don't have a lot of opportunities to play other sports, and that makes me feel really great about what we're doing," said Gordon's father of the league.
Sacco also said of Sam Gordon, "She's perfect at everything she does when it comes to sports and she's very humble."
In June 2017, Gordon and her father Brent, along with six other female football players, filed a lawsuit asking a federal judge force the Canyons, Jordan and Granite school districts to comply with Title IX. The law forbids gender-based discrimination in educational institutions that receive federal funding. The case is still ongoing.
Brent Gordon said in Monday's interview that the federal court has taken his side in the lawsuit so far, but he still awaits a decision.
He also said, "The lawsuit would be over today if the school districts just acknowledged that they haven't provided opportunities for girls to play football in their schools.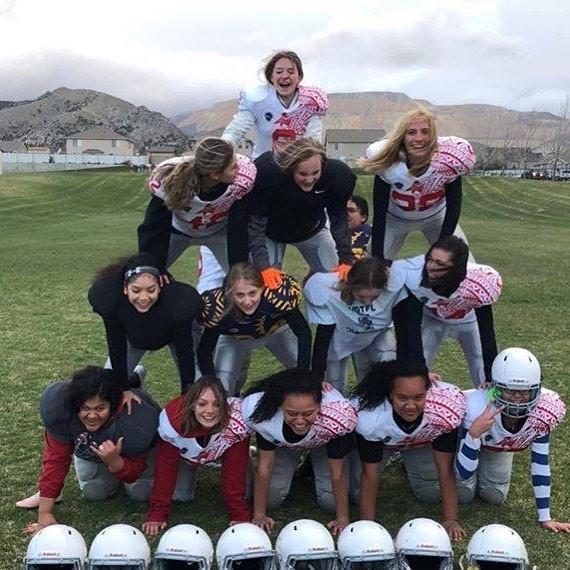 "Why don't they just get behind this? That's a little bit frustrating that the schools wouldn't be supportive of the girls they serve. Get behind it don't fight it."
Gordon and her father have shared a special relationship in working together to advocate for equality in the most popular sport in America.
"As Sam said it's like, 'Hey you know, there's that moment where it's like "What's the next 100 years going to be?"' and they focus on a girl and the rookie. It's like well, OK, in the next 100 years lets see an expansion of girls participation in football."
Gordon's father noted of the successful Super Bowl ad. Asked of her father's contribution to her success and the success of the Utah girls tackle football league, the teen said, "He's really like the backbone of this league in helping us grow and expand, so he's really been there for me building this and then just with football in general, kind of supporting me through the whole process. He's been really great."
Gordon continues to inspire and advocate for more opportunity for more girls to be involved in football. When asked what her goals for the future are, Gordon said, "I just want to keep building that league, and we want to get it into high schools and you know really expand it all over Utah, and then hopefully we can get it out all across the nation."
Nakisha Rigley is currently a Junior at Weber State University majoring in Public Relations and an intern as a news writer at KSL.com.
×
Photos
Related Stories