This archived news story is available only for your personal, non-commercial use. Information in the story may be outdated or superseded by additional information. Reading or replaying the story in its archived form does not constitute a republication of the story.
Editor's note: This is the 11th of a weekly series featuring highlights from a KSL investigative podcast series titled "Cold" that reports new information about the case of missing Utah woman Susan Powell.WEST VALLEY CITY — Police investigating the 2009 disappearance of Susan Cox Powell had exhausted nearly all conventional tactics, with no success. So during 2011, they began considering more arcane approaches.
Their brainstorming sessions eventually blossomed into a coordinated, multistate operation codenamed Tsunami. Police executed elements of that plan in August of 2011.
The linchpin of Tsunami was a court-authorized wiretap on the phones of Susan Powell's husband, Josh Powell, and his father, Steve Powell. Police hoped Josh Powell would inadvertently incriminate himself or provide information leading to the discovery of his wife's body.
Details of Operation Tsunami are coming to light for the first time in episode 11 of the investigative podcast series "Cold" by way of secret police planning documents and warrant affidavits.
West Valley police had previously obtained a judge's permission to use what are known as pen register and trap-and-trace devices to capture information about incoming and outgoing calls on the Powells' phone lines. However, the wiretap allowed detectives to listen in on and record calls in real time, with some limitations.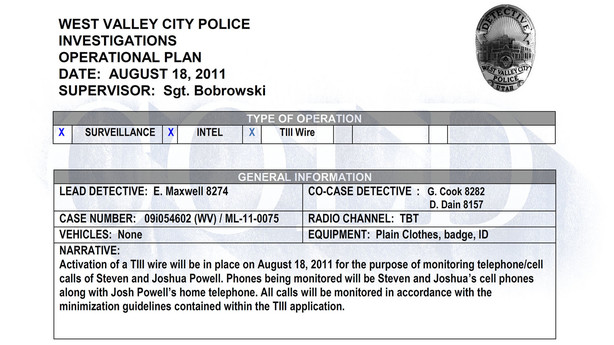 Third District Judge Judith Atherton signed a warrant authorizing the wiretap on Aug. 11, 2011. Police began actively monitoring three lines on Aug. 16. The phones under monitoring were Josh Powell's mobile, Steve Powell's mobile and the landline at Steve Powell's Washington home.
Two days later, police announced they would be holding a press conference in Ely, Nevada, on Aug. 19 regarding a new "possible lead" in the nearly 2-year-old investigation.
Ely, Nevada
West Valley police had recovered cached internet files referencing Ely from computers seized with a search warrant at Josh and Susan Powell's West Valley home on Dec. 8, 2009. Timestamps on the files showed they had last been accessed as late as 5:27 p.m. on Sunday, Dec. 6, 2009, the day Susan was last seen alive.
Intelligence analysts also discovered someone, presumably Josh Powell, had viewed motel listings and online maps of the area.
Police had already conducted a secret search of hundreds of abandoned mines in Utah's western desert. They decided to take their search of abandoned mines around Ely on Aug. 19 and 20, 2011, public, in the hopes of drawing Josh Powell's attention.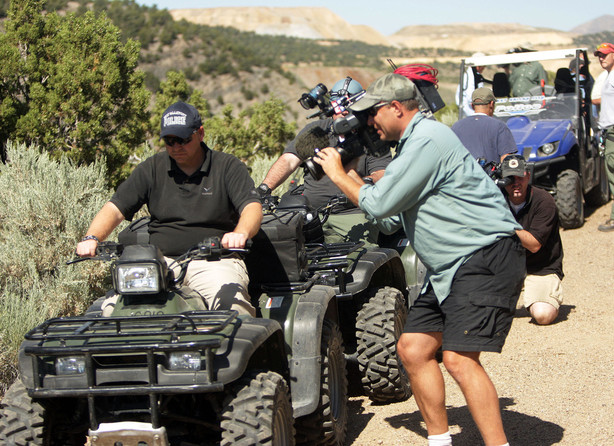 "Yes, we wanted Josh to see this on the news and see what he had to say about it and see if it would give us some direction," retired detective Ellis Maxwell said.
Maxwell, who acted as lead investigator on the Powell case, declined to discuss specifics of the strategy, citing a concern that doing so might compromise law enforcement tactics.
Affidavits reviewed by "Cold" showed that Josh Powell did not seem concerned by the search. One reported that in a captured call, Josh Powell said law enforcement was "wasting its time" in Ely.
"Only somebody familiar with the location of a missing individual would make such a definitive statement," a West Valley police detective wrote.
Remember me
Even as the mine search in Nevada was unfolding, police were also conducting surveillance on Josh and Steve Powell in Washington.
Susan Powell's father, Chuck Cox, and the Susan Cox Powell Foundation held a honk-and-wave event for the missing woman that same weekend. The timing was no coincidence.
"I was assisted in the best place to put that honk-and-wave and I didn't understand exactly why," Cox said. "(Police) gave me a kind of 'getting warmer, getting colder' approach to where I should set up."
Cox and others stood outside a Fred Meyer grocery store near the Powell family home holding banners with Susan Powell's picture and the words "Remember me." Steve Powell spotted them there and stopped to confront Cox.
"Then to see Steve pull up to the drive-thru and I went, 'Ah, I get it,'" Cox recalled. "'So, I'm the bait.' That's fine with me."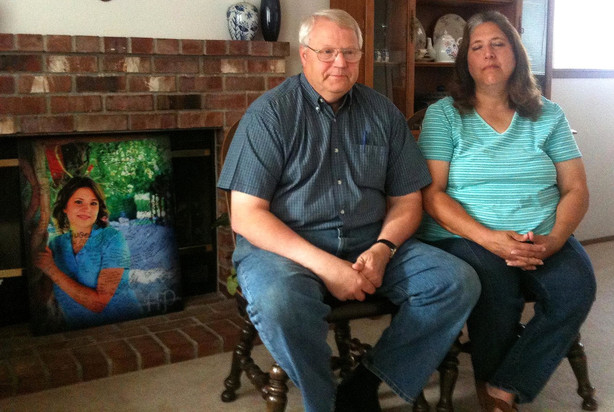 The elder Powell was irate. He called to let his son know what was happening. According to one affidavit, Josh Powell then made multiple phone calls of his own.
"He also solicited help from family members and a media consultant about how to look and sound more sympathetic when questioned about Susan Marie Powell's disappearance," a detective wrote.
Fox 13
Police had anticipated media coverage of events surrounding Tsunami, but took additional steps to ensure any interviews granted by the Powells would prove substantial.
A draft of the wiretap warrant shows that West Valley police intended to provide "inflammatory" information about the case to a trusted member of the media. The final version of the affidavit filed with Utah's 3rd District Court does not include that line, but instead says the media would ask questions "related to information obtained by police as a result of forensic testing, without disclosing the contents of the evidence."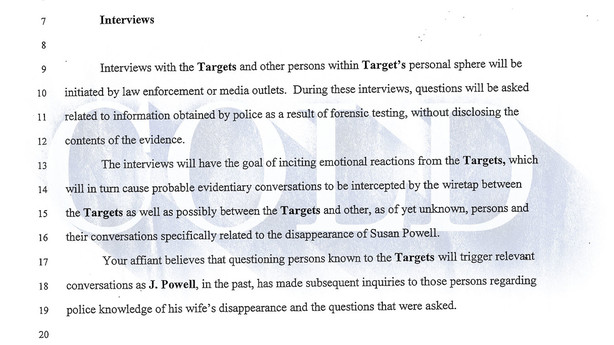 Planning documents show West Valley police reached an agreement with a Salt Lake television station, Fox 13. The police offered the station advance notice of the operation. In exchange, an unnamed Fox 13 editor agreed to send a reporter to Washington to confront Josh Powell. The documents indicate Fox 13 promised to publish the complete, unedited video of any interviews with Josh or Steve Powell online, allowing police access to them.
A Fox 13 reporter and videographer attended the honk-and-wave event on Aug. 20, 2011. Afterward, the station published a story on its website with the headline "Raw videos: Josh Powell interviews, confrontation between Cox, Powell families." That story has since been removed.
When asked to comment on the station's apparent collaboration with police, Tim Ermish, president and general manager of KSTU, said in a statement: "In August of 2011, Fox 13 News sent a reporter to Washington state to interview Josh Powell and also cover a 'honk and wave' organized by Chuck Cox. We made the editorial decision to share the unedited video of both newsworthy events with our audience online."
Business meeting
One of the most significant pieces of the Tsunami plan involved the service of a search warrant at Steve Powell's home.
The well-publicized raid on Aug. 25, 2011, had as its primary goal the seizure of Susan Powell's childhood journals. Josh and Steve Powell had already published small segments online and publicly announced plans to continue doing so.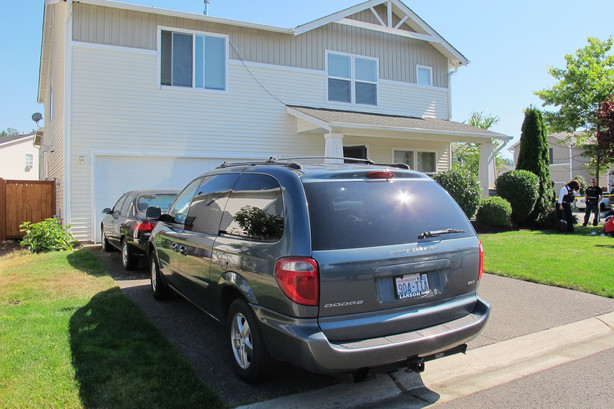 However, police also wanted to stimulate further phone conversations between Josh and Steve Powell. They believed those calls were unlikely to happen if both men were present at the house when they served the warrant.
In the days ahead of the raid, Steve Powell received an invitation to discuss a business opportunity over lunch at the Red Lobster restaurant in Kennewick, Washington. Making the drive to the Tri-Cities area would take him hours away from home.
The stratagem proved effective. Steve Powell was not at home when detectives from West Valley City and Pierce County, Washington, served the warrant. Josh Powell left the house as police conducted their search. He and his father were repeatedly in contact by phone during the hours that followed.
"In one of the intercepted telephone calls, Steve Craig Powell specifically stated that he did not want to place a laptop computer he possessed into a vehicle listed in the search warrant because he did not want the computer seized," a detective later wrote in an affidavit.
Police located a cache of voyeuristic photos and videos during their search of the house. Those included many still images taken from videos of two prepubescent neighbor girls, who were filmed while undressed. Police determined Steve Powell had surreptitiously filmed the girls from his own bedroom using the zoom lens on a Hi-8 camcorder to peer through the open second floor bathroom window of the house next door.
Those images led to Steve Powell's arrest on voyeurism and child pornography charges less than a month later.
"Even at that time I didn't feel that Steve was involved and obviously my primary focus is Josh and trying to locate some sort of evidence to give us direction as to where Susan was," Maxwell said.
However, Operation Tsunami did not prove successful in that goal.
Domestic violence victim resources
Utah Domestic Violence Coalition operates a confidential statewide, 24-hour domestic abuse hotline at 1-800-897-LINK (5465). Resources are also available online: udvc.org.

Help for people in abusive relationships can be found by contacting:
____
____
Subscribe for free to the KSL podcast at thecoldpodcast.com. Engage with "Cold" on Facebook, Instagram and Twitter at @thecoldpodcast.
×
Photos
Related Stories