This archived news story is available only for your personal, non-commercial use. Information in the story may be outdated or superseded by additional information. Reading or replaying the story in its archived form does not constitute a republication of the story.
LEHI — The Alpine School District in Lehi, one of Utah's most rapidly expanding cities, is rezoning elementary school boundaries for the fourth time in nine years. Their actions are inciting local parents to action as they seek a favorable proposal for their children.
"On January 10th, I received an email from the Alpine School District that indicated new proposed school boundaries for the Lehi west area," said Katie Koivisto, a Lehi resident with elementary-aged kids. "I was taken aback and shocked when I read those numbers," Koivisto continued. "I felt that [they] were grossly underestimated, and created the horrendous opportunity for the new school in my neighborhood to be overcrowded within a year or two."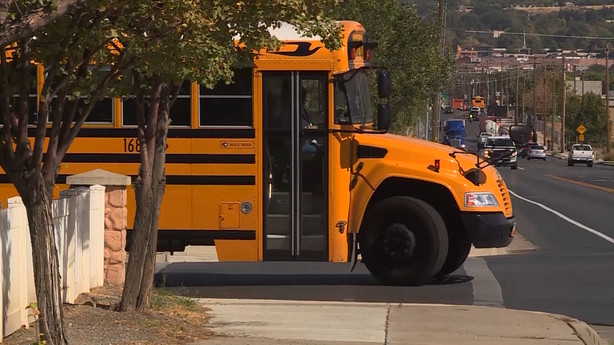 The rezone changes the boundaries for five different Lehi elementary schools and will involve thousands of families, according to the school board's Jan. 8 meeting during which the matter was discussed. Parents in neighborhoods around the city have organized their own QR code optimized survey and have been going door to door to get household head counts of children as well as parent opinions on the change.
"The QR code survey was born from North Point PTA doing their due diligence when Alpine School District officials boasted about their projections being within .05 percent error rates," said Brandi Worle, a Lehi parent and activist. "We found out that their student count projections are based on utility bills."
"North Point PTA began knocking on doors and asking people to take their survey," Worle said. "It simply asked about the number of children living in each household and ages of each child. This would help (with) the student projections."
North Point PTA also called builders around the area of North Point and the new school to ask about lots approved and lots already sold to gain a more full understanding of the possibility of homes coming in within spring and fall of 2019.
The participating parents reported that their results showed the school board's estimates may have been off by hundreds of children. Shiloam Chapman, a Lehi parent and active participant in survey collections, said that after consulting with land developers in the area, it's reasonable to expect heavy development of new homes, townhomes and apartments in the next couple of years.
In other words, another redrawing of boundary lines might be necessary in a couple of years.
"The west part of Alpine School District is one of the fastest growing areas in the state and the nation," David Stephenson, Alpine School District's administrator of public relations said. "It's unprecedented growth that we're dealing with."
He added that because of this rapid growth, they passed a bond election to get funding to build a number of new schools. The redrawing of boundaries is a necessary part of that process as they seek to accommodate for growing populations.
"It's a difficult process and we've definitely appreciated the input and participation from many parents sharing thoughts and ideas about different boundary proposals we've put out there," Stephenson said.
"We are trying to reduce the amount of change that has to happen," Chapman explained.
Originally the school district only had one proposal, but they were asked to put out additional options to the community for input. They are currently in the midst of that pitching and feedback process.
"Proposal No. 3 shown at the Alpine School District Board meeting on Jan. 8 was the best fit (for) keeping neighborhoods and communities intact," Worle said. "Within one day, Alpine School District emailed out new boundary proposals A, B & C, which were completely different."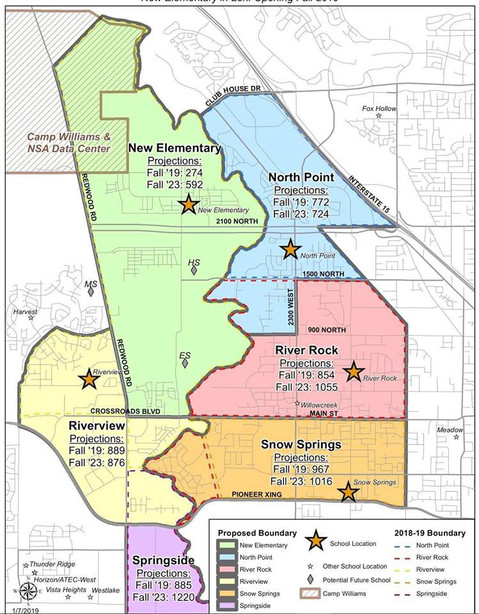 A letter from members of the community to the Alpine School District Board explained that they are united in believing that the three options on the boundary survey sent on Jan. 10 do not achieve Alpine School District's stated goals of maintaining proximity to schools, keeping neighborhoods together and stabilizing enrollment.
The letter explained that, "The options unnecessarily move significant numbers of students to different schools and all but guarantee that these same students, and others, will be required to change schools within a few years."
It also added that the changes create an unsafe walking route for many Lehi children affected. The crossing at 2300 W. 1500 North is dangerous for children, according to concerned residents, because it is a major north/south corridor. It is frequented by commercial and building trucks, and it is expected to become a five-lane road.
"I guarantee that the staff and the board will look closely at all of the responses on the survey and consider input from everyone," Stephenson said. "If it's an idea that has been put out there then the board and the staff will look at those ideas. We want to do what's in the best interest of all of our students and all of our families."
The boundary divisions will be discussed at Alpine School District's Tuesday night board meeting. Stephenson explained that, "They could look at the feedback and decide on the boundary or say 'let's do more study.'"
Some Lehi residents don't have very strong opinions on the matter. One parent who wished to have his name kept anonymous said, "People in my neighborhood and around us are pretty up in arms. I'm really not. I'm fine with my kid going to either school."
He explained that his kids were in a charter school until a couple of years ago, so they haven't had to go through as many changes as other children in the community. He added that almost his whole neighborhood will be changing schools along with them, so most of their friends will be moving to the new school too.
Still, many residents are concerned and would like to see the third proposal pitched on Jan. 8 put into effect.
"We are advocating for the original option 3 with a bit of a tweak," Chapman explained. "It allows for growth and expansion to continue to happen west. It would be cost-effective based on bus routes and teachers. The tweak would be to maintain the elementary schools that are already able to support their schools and maintain stability."
The official decision has yet to be made. Chapman concluded, "Let's work together and try to find a common goal."
---
Editor's note: This article has been corrected to state Alpine School District approved a bond to fund new schools and not received a grant.
×