Estimated read time: 2-3 minutes
This archived news story is available only for your personal, non-commercial use. Information in the story may be outdated or superseded by additional information. Reading or replaying the story in its archived form does not constitute a republication of the story.
SALT LAKE CITY — Utah's population has grown more rapidly than any other state in the aftermath of the economic recession, new estimates from the U.S. Census Bureau show.
"That is consistent with what we've experienced here, which is an economy that's growing, if not the fastest, among the very fastest in the nation," said Pamela Perlich, the state's top demographer. Perlich calls the new figures "demographic confirmation of the economic data."
The roughly 400,000 new faces in the Beehive State since 2010 amount to an increase of 14.4 percent. They are one piece of longtime expansion across the Intermountain West, notes Perlich, the director of demographic research at the University of Utah's Kem C. Gardner Policy Institute. Neighboring Nevada and Idaho are also home to surging populations, mostly due to newcomers moving from other states, according to the census figures released Wednesday.
Related story:
Utah's recipe for growth is unique, however, and the main ingredient is young, growing families. In the last year, the Beehive State had the highest rate of natural increase, a measure that considers new births versus deaths.
New arrivals to Utah from other states and from abroad play a significant role, too, in large part due to a strong job market, Perlich said. Unemployment is at 3.2 percent, a more positive picture than the national 3.7 percent.
Utah also has drawn foreigners to faculty positions at its colleges, welcomed refugees, and has raised its profile as it becomes more urban and forges global connections, she noted.
The nation as a whole swelled by 6 percent as of July 1, according to the new numbers.
At about 3.2 million, Utah's population remains relatively small. Texas, for it part, has swelled by more people than that since 2010, ranking just behind Utah for its rate of growth. The Lone Star State now is home to more than 28 million.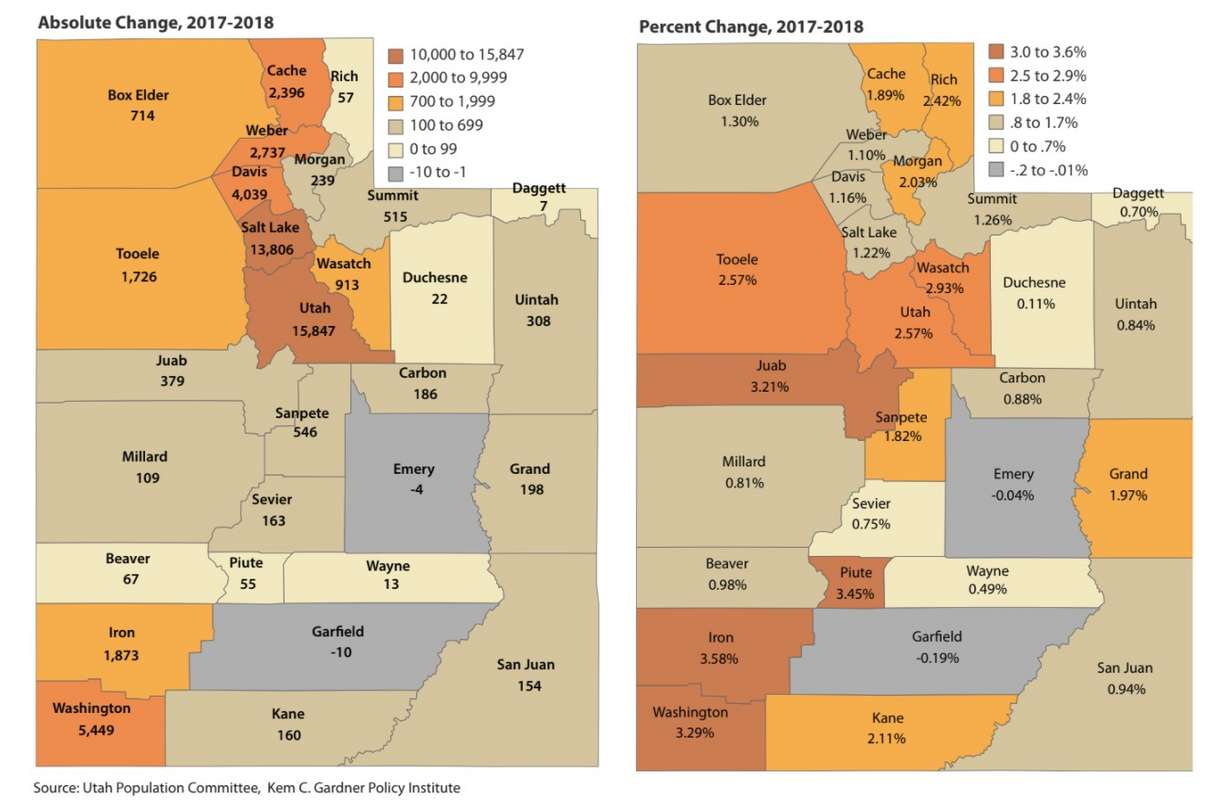 Ahead of both Utah and Texas, the District of Columbia claimed the highest growth rate, at 16 percent, raising its population to about 700,000.
The figures released Wednesday come on the heels of different projections that point to slowing expansion in Utah. More outsiders continue to move in and families are continuing to welcome newborns, but not at the same pace as in the past.
Perlich acknowledges that some Utahns fear another recession is on its way, but said she doesn't see anything foreboding in the new census estimates or the similar figures she and her colleagues on the Utah Population Committee have calculated.
"We see continued strong, but sustainable growth," Perlich said. "We're not just dependent on high fertility rates for our growth anymore. People are moving here for opportunity. And that's a vote of confidence for the continued growth of our state."
×
Related stories
Most recent Utah stories