Estimated read time: 1-2 minutes
This archived news story is available only for your personal, non-commercial use. Information in the story may be outdated or superseded by additional information. Reading or replaying the story in its archived form does not constitute a republication of the story.
SALT LAKE CITY — Despite a decline in births and the rate of people moving to the state, Utah's population continues to grow.
The state population grew by an estimated 52,664 people — an annual growth rate of about 1.69 percent — to more than 3.16 million, according to a new population estimate compiled by the Utah Population Committee and released by the Kem C. Gardner Policy Institute at the University of Utah on Tuesday.
Utah's population is believed to have increased by 402,762 residents, or about 14.6 percent, since the April 2010 census.
Utah County reported the largest population increase with 15,847 new residents, or about a 2.57 percent increase, according to the report. The largest percentage increase occurred in Iron County, which had an estimated 3.58 percent population increase from 2017 — an increase of nearly 2,000 new residents.
In all, 27 of the 29 counties in the state experienced an estimated population growth. Garfield County (-0.19 percent) and Emery County (-0.04 percent) were the only exceptions, according to the report.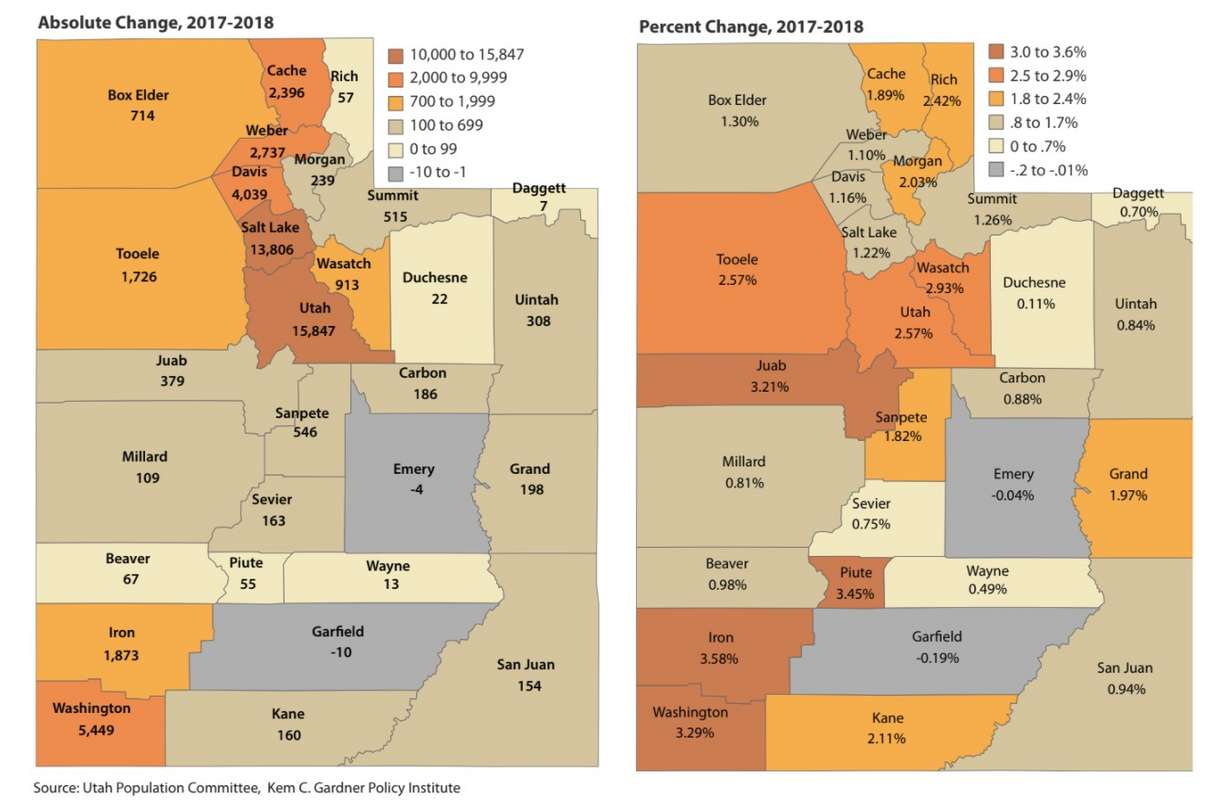 The state's growth comes even as Utah reports the fewest amount of births since 2000 — 47,310 births. The report added that birth rate has been in a decline nationally and in Utah since 2008. However, Utah maintains one of the highest fertility rates in the nation (ranked No. 2 in 2017 behind South Dakota), according to the report.
The institute also estimated that 23,248 people moved to the state since its last report in 2017, a decline of 14.2 percent from the previous report. It's the first decline in net migration since 2012, officials said.
The total state population won't be known until the results of the 2020 census are released.
×
Most recent Utah stories