This archived news story is available only for your personal, non-commercial use. Information in the story may be outdated or superseded by additional information. Reading or replaying the story in its archived form does not constitute a republication of the story.
SALT LAKE CITY — The 2018 football season hasn't ended for most teams (save a handful, like Utah State), but coaching staffs will all begin to turn the page toward 2019 and beyond when they welcome in the first of their recruiting classes during the early signing period, which begins Wednesday.
Last year was the first time recruits could send a National Letter of Intent (NLI) to colleges in December, and the result was met with near-universal acclaim from college coaches across NCAA Division I.
Players are not bound by verbal commitments, so coaches will try to get as many recruits as possible to find a fax machine and submit an NLI this week. If not, they'll wait until February's National Signing Day to make an official pledge.
Coaches cannot comment on recruits until receiving an NLI, or until walk-on athletes are enrolled in classes on their respective university's campus, per NCAA regulations.
Here's a brief look at what to expect from the three Football Bowl Subdivision schools in Utah. For up-to-the-minute updates as the faxes roll in, follow KSL's Signing Day Central beginning Wednesday morning.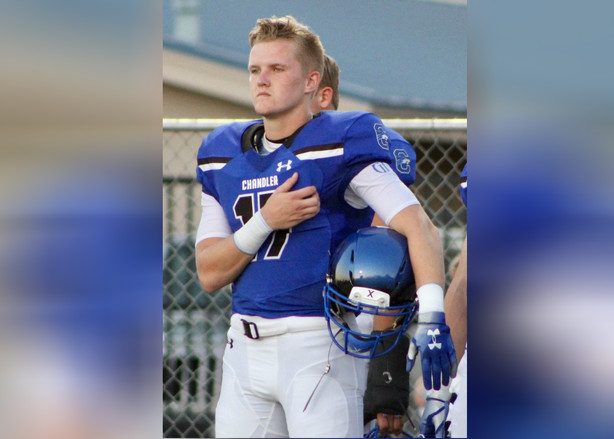 BYU recruiting
The Cougars will welcome new recruits from Boise, where they are preparing to face Western Michigan in the Famous Idaho Potato Bowl.
BYU has received 15 verbal commitments so far in the recruiting cycle, but is also expecting a transfer from former Desert Hills star Nephi Sewell. The 5-foot-11, 205-pound Sewell was a two-year starter at safety with Nevada, but transferred at the beginning of the month after reportedly suffering from homesickness.
His parents recently moved to Utah Valley, where his younger brother Noah helped lead Orem to consecutive football titles for the first time in school history.
The top of the class includes four-star quarterback Jacob Conover from Chandler, Arizona, a three-time Arizona 6A state champion who will first serve a two-year mission for The Church of Jesus Christ of Latter-day Saints in Paraguay. Other standouts in the class include a pair of Utah County locals in American Fork wide receiver Chase Roberts and Lone Peak pass rusher Michael Daley.
Utah recruiting
Utah's class will likely be lighter on numbers this year, simply because the Utes lost fewer seniors to graduation.
But it shouldn't be light on talent.
The top of the class is unquestionably Darren Jones, a 6-foot-8 wide receiver from Cajon High School in San Bernardino, California. The four-star receiver committed back in August, and is rated the No. 32 recruit in California by 247Sports.
The Utes also have commitments from Marist Talavou, an offensive lineman from national power St. John Bosco in Bellflower, California, and local standout defensive lineman Junior Tafuna of Bingham.
The class currently ranks No. 12 in the Pac 12, according to 247Sports.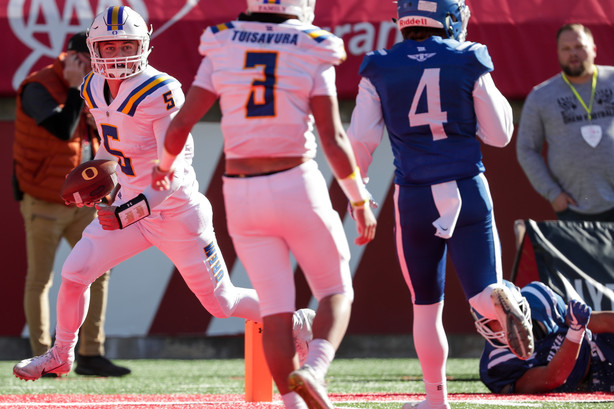 Utah State recruiting
Coaching turnover can lead to recruiting turnover in many cases, but the Aggies seem to have done well enough in handling recruiting since the hire (or re-hire) of Gary Andersen from Utah.
The 16 players in Utah State's recruiting class include East offensive lineman Jackson Owen, the 6-foot-5, 290-pound tackle who has helped pace a dominant rushing attack for several years in Salt Lake City. The Aggies also have commitments from Timpview linebacker Kani Taufa and Weber wide receiver Sione Moa to round out the locals in the class.
Christian LaVelle, a three-star linebacker from Mission Viejo, California, ranks as the third-best prospect in Utah State history, according to 247Sports.
The Aggies have the second-best rated recruiting class in the Mountain West, according to 247Sports. But it could get even better.
One name on which Aggie fans should keep an eye Wednesday will be 6-foot-2 Utah County star Cooper Legas. The Orem High quarterback and Deseret News Class 4A MVP led his team to back-to-back state titles this fall, and received a scholarship offer from Andersen on the day he was introduced as head coach. Legas, who also owns state titles in wrestling and the javelin throw, also holds offers from Air Force, BYU and Idaho.
Legas' brother Gunnar will play at BYU after he returns from a church mission.
×
Related Stories