This archived news story is available only for your personal, non-commercial use. Information in the story may be outdated or superseded by additional information. Reading or replaying the story in its archived form does not constitute a republication of the story.
OREM — Five times in school history, Orem High has been able to call itself state football champs — the last of which broke a 23-year drought a year ago at Rice-Eccles Stadium.
But the Tigers have never won repeat titles.
They've played for it before. But a team that has produced alumni such as former NFL tight end Chad Lewis, former BYU coach Gary Crowton and college football legend LaVell Edwards have never won back-to-back.
Which would make such an achievement by this year's Orem squad a little extra special.
And that same phrase describes its quarterback, Cooper Legas.
Legas and the Tigers (11-2) will face Dixie at 11 a.m. MST Friday in Orem's second-straight Class 4A state championship game at Rice-Eccles Stadium. And when the dust settles between the Region 11 champs and the Region 9 champs, Orem hopes to be victorious.
Legas is a big reason for that hope.
On a team dominated by offense, with Southern California commit Puka Nacua leading the way, the Tigers are led by Legas, a 6-foot-2, 210-pound gunslinger who already owns the second-best mark for passing yards in a season in Utah High School Activities Association history.
"I knew that the offense was going to have to step up because last year we graduated most of our defense," said Legas, a 68 percent passer who has thrown for 4,005 yards and 43 touchdowns with just 10 interceptions. "We returned most of our offense and I knew a lot was going to be on the offense. I wasn't sure if the defense would be as good. They've stepped up a lot this year, but having that mindset helped us to push all summer and during practice, so that we could put up big numbers offensively."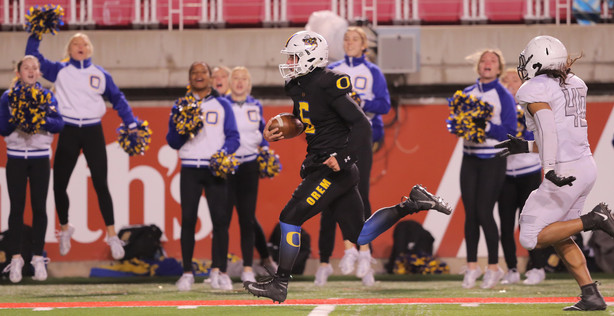 Of his eye-popping passing numbers, Nacua has come down with 94 catches for 2,154 yards and 24 touchdowns — which is just over twice of what Legas has done on the ground. The senior has rushed for 1,000 yards and 14 scores on 86 carries, and he's accounted for 12,229 all-purpose yards and 118 touchdowns in his career with the Tigers.
But the final hurdle remains — a chance to be the first repeat football champ in Orem High history and etch his name even deeper into the program record book.
"He's a different breed," said Orem coach Jeremy Hill of Legas, likening him to former BYU quarterback Tyler Anderson. "He is leading the nation in total yards, and when this season is done, he should have two of the top-five for total yards in a season in state history.
"It's mind-boggling. He's definitely one of a kind."
Even his favorite receiver is high on Legas — and Nacua believes the rest of the country is sleeping on the most prolific passer in 4A, if not more.
"Cooper is the best quarterback in the West," Nacua said of Legas, who holds offers from Air Force, BYU and Idaho. "People need to stop sleeping on him. … He's putting up numbers that are unrealistic. Everybody is sleeping on him, but they need to stop."
The stat line speaks for itself: a 63 percent career passer with 9,529 yards and 97 touchdowns with just 27 picks, Legas has thrown for around 200 yards per game dating back to his sophomore season. He also has 2,700 rushing yards and 21 scores, good for an average of 55.1 yards per game — and that's counting sacks, or at least, the few he takes behind an offensive line that numbers four seniors who have all played together since middle school.
But Legas isn't just defined as a football player. He's also a 4A state champion wrestler, winning the top spot on the podium in the 195-pound weight class in last year's state tournament.
Then in the spring, in what Legas calls his "offseason," he casually strolled to a 4A state title in the javelin throw.
But those sports were all to get him prepared for football — and a chance to make history on the gridiron.
"I think playing the other sports helps me," Legas said. "Football is my main sport, and I'll always throw (with my receivers). But wrestling season helps, and track is a lot more relaxed.
"It helps me to use my hips, and track season is a great offseason. Then all summer, it's pure football, lifting, throwing and working out with the team."
The Tigers' latest test may be among their toughest. No strangers to the state championship, whether in the old 3A, 3AA or the current Class 4A, the Flyers are no strangers to success.
Dixie (11-1) hasn't lost since a come-from-ahead defeat to 5A Springville, 26-21 back on Aug. 17, and the Flyers have allowed more than 16 points just three times all year.
"They also held Pine View to 14 points (like Orem), a very high-powered offense, and everybody else," said Hill, referencing his own team's 62-20 win over the Panthers. "They just do a good job of playing assignment football and trying to make you make mistakes. It will be a good matchup on both sides of the ball for us."
But the Tigers like their team, as well. Especially with Legas at the helm.
"Our whole team is firing well," Legas said.
×
Related Stories