PROVO — Call it an early signing day primer at BYU.
And former Desert Hills star Nephi Sewell is coming home.
The 2016 KSL Class 3AA MVP helped the Thunder to a state title as a senior, seemingly his last act in the Beehive State before moving on to join his older brother Gabe at Nevada.
But now he's back, he announced late Sunday night on Twitter.
I'm home. #GoCougspic.twitter.com/P8xeghPPzZ

— nephi sewell (@jungleboii02) December 17, 2018
Sewell's parents recently relocated from St. George to Orem, where youngest brother Noah was a two-way star for the 4A state title-winning Orem High squad in 2018. Another BYU target with recruiting interest from Alabama, Arizona, Arizona State and Florida State, Noah Sewell will be a senior for the Tigers in 2019.
The 5-foot-11, 205-pound Sewell started at safety for two seasons for the Wolf Pack. He was fitting in fine on the field, impressing as a true freshman in 2017 to finish fifth on the team with 58 tackles, 4.5 tackles for loss, an interception and three pass breakups.
But Sewell was having difficulty off it, as his brother Gabe told Nevada Sports Net he struggled with homesickness.
"Not many people get to play with their own family, so I'm thankful for the games I did get with him and I know everybody's path is different," Gabe Sewell told Nevada Sports Net. "His path is leading somewhere else, and I can only hope the best for him."
Nephi Sewell suffered a freak neck injury that cost him most of his junior season, delaying some recruiting offers. But Nevada never wavered in offering its support, and he signed with the Pack on Feb. 1, 2017, over interest from Washington State and Weber State.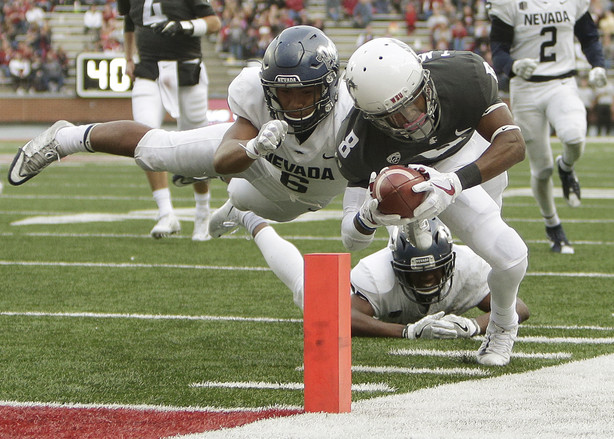 Sewell ran for 1,262 yards and 14 touchdowns in 2016, including a 247-yard, two-touchdown effort in an emotional championship game win over Region 9 rival Pine View.
While significant recruiting interest was given to Gabe before signing with Nevada and younger brother Penei, the No. 1-rated offensive one recruit a year later who is now a starter with Oregon, Nephi Sewell's mark has been more under the radar.
But he'll get a chance to play with the Cougars in 2020 after he sits out an NCAA-mandated season for transfer rules. Sewell, who has a redshirt available, will have two seasons of eligibility at BYU.
×