This archived news story is available only for your personal, non-commercial use. Information in the story may be outdated or superseded by additional information. Reading or replaying the story in its archived form does not constitute a republication of the story.
PROVO — Two teams will enter an NCAA women's volleyball regional semifinal Friday at 4:30 p.m. MT in the Provo regional.
One will come from a volleyball program that has built a dynastic platform, winning 29 out of 30 matches in 2018, including seven-straight NCAA final 16 appearances, a head coach with a 90 percent win rate, and a national ranking that reached as high as No. 1 in the country for all but three weeks of the season.
The other will be the Florida Gators.
And while the roles may be reversed from most national media observations, the Gators (26-6) are fully embracing the role of underdog against No. 4-ranked BYU (29-1).
"We'd love not to have to play a No. 1 seed on their home court, but this is the way we fell and the way the NCAA tournament now is," Florida coach Mary Wise said. "We look at BYU's record, and what an incredible season they have. It'll be a huge challenge for us … but this group has embraced the underdog mentality. We feel like it has been such a rewarding season, with all that we have faced and overcome. This would be our greatest challenge, but I think this group — behind these seniors — is up for it."
However you slice it, the Cougars will host Florida in their first NCAA regional since 1986, before the tournament expanded beyond 32 teams.
The winner will face the winner of No. 5 Texas and Michigan at 6 p.m. MT Saturday, with a spot in the national semifinals next week in Minneapolis. Friday's third round begins at 2 p.m. MT with the Longhorns (22-4) and Wolverines (22-9) on ESPNU.
But the Cougars don't see themselves as favorites, either.
"Our team has an understanding that rankings are only what the media says; it doesn't really matter once you step on the court," junior libero Mary Lake said. "Whoever plays better volleyball will play the best volleyball. I don't ever think of Underdogs vs. expectations; that just dilutes the game of volleyball.
"We just want to go out there and play the best we can, and hope Florida plays the best they can."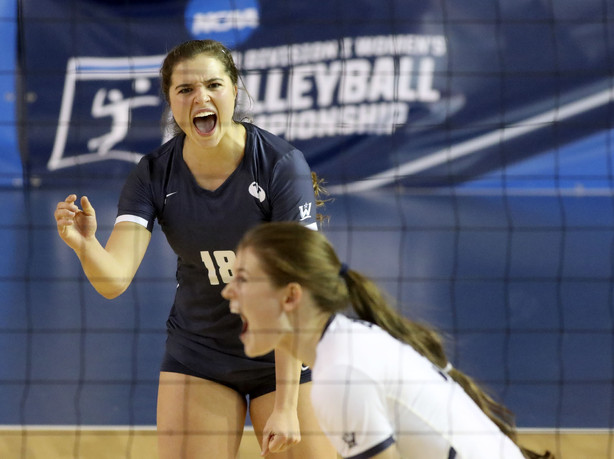 Indeed, Friday's match will feature two top-tier defenses. The Gators rank No. 10 nationally with 2.84 blocks per set, and ninth in opponent hitting percentage (.156).
"We've had some amazing plays toward the end of this season, starting with our pass game," senior setter Allie Monserez said. "We were so dialed in practice and in the past few matches that it makes everybody's lives easier."
If BYU is considered the favorite against Power 5 programs like Florida, Texas and Michigan, the Cougars have earned it. Led by outside hitter Roni Jones-Perry and setter Lyndie Haddock-Eppich, the Cougars are No. 1 in the nation in hitting percentage (.319), No. 5 in blocks per set (2.94), No. 11 in assists per set (13.46) and No. 13 in kills per set (14.27).
Jones-Perry is top-five nationally in points and kills per set, and freshman Heather Gneiting is the No. 8 blocker in the nation with 1.53 blocks per set, to go along with a .403 hitting percentage.
But what sets the Cougars apart is their defense, a notable characteristic for a team led by former Utah State defensive specialist Heather Olmstead, who holds a 116-12 record in four seasons as head coach at BYU.
Led by libero Lake (380 digs, 101 assists) and defensive specialist Sydnie Martindale (147 digs, 18 aces), the Cougars are No. 2 nationally in opponents hitting percentage (.136).
"They're a really strong defensive team, especially that back row," Florida middle blocker Taelor Kellum said. "But playing at Florida, that's something we have in our gym, as well: really great defensive players. We've been working our offense against a great defensive line.
"BYU has a great defensive line in the back, but I guess we'll see."
BYU also has one advantage over its three opponents in the regional: the Cougars didn't have to travel to get to the court. BYU last hosted a regional in 1986, well before the tournament's 64-team expansion.
"Not having to travel and being able to be in class has been really helpful at this point in the semester," Jones-Perry said. "Once the match starts, though, volleyball is volleyball. Having our fanbase here will be awesome, but it will all just come down to who plays better volleyball."
The Gators, who went 15-3 in SEC play, run a 6-2 offense, pairing two setters with three offensive options on the court, regardless of the rotation.
The Cougars are 3-5 all-time against Florida, including a 1-2 mark in Provo. BYU also hasn't lost at home in the tournament since 1994.
"They're a good serving team and they pass well," Olmstead said of the Gators. "Blocking-wise, they get up in your face. But I think we match up pretty well. We're very similar in our playing style, and I think it's going to be a great match."
×
Related Stories